iPhone 5 Pre-orders Start Shipping
The iPhone 5 won't reach stores until September 21, but those who ordered online are starting to see shipping confirmation emails.
Users who pre-ordered the iPhone 5 should soon see an email in their inbox with their shipping information. We know Verizon started sending out emails this morning, and users should start getting confirmation from other carriers and Apple soon if they pre-ordered fast enough.
Users who haven't received their shipping information yet can try to find track their packages on their own. It's just a stop-gap until the emails with tracking information arrive, but it's better than nothing.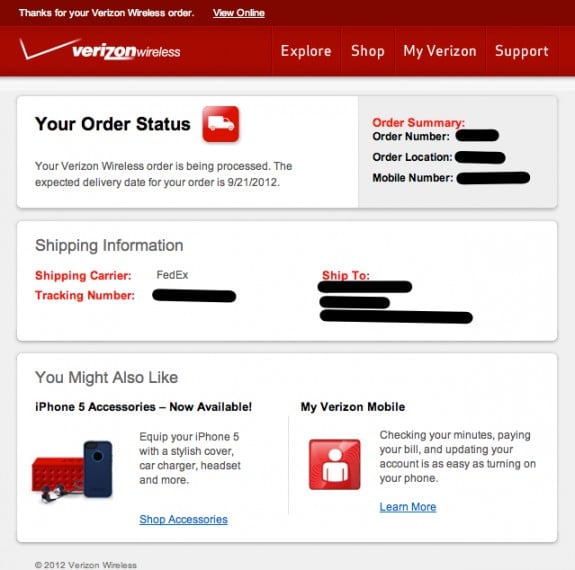 The iPhone 5 needs to travel from China before arriving on doorsteps in the nine launch countries. The orders will likely ship straight from Chinese factories to users without touching a carrier warehouse on their travels.
Accessories for the iPhone 5 are already arriving as well, days before the phone is available to most users. We know Apple's Lightning adapters are already arriving to some users who ordered them, though nobody can actually use the adapters without an iPhone 5.
Apple already sold 2 million iPhone 5 pre-orders in the first 24 hours, and retail stores will have even more units in stock to sell. We know some potential buyers are lining up in front of the Fifth Avenue Apple Store in New York City already, and we wouldn't be surprised if more stores start to see lines in the next few days.
Some analysts predict Apple could sell as many 10 million iPhone 5s by the end of September.