iPhone 5 Release: Why Launching for the Holidays Will Set Records
Apple broke the mold this year, by moving their annual iPhone launch from June to October. While this has caused a lot of angst for iPhone upgraders, it has placed the company in the position to have an amazing holiday season.
Apple has scheduled an iPhone event for October 4th, where they are expected to announce a new iPhone.
We continue to hear conflicting reports about what will be announced, but we do expect Apple to announce an new iPhone.
This could be the iPhone 4S or the iPhone 5. Apple will also announce iOS 5, an updated version of the software that runs the iPhone and iPad, which brings over 200 new features and helps Apple catch up to Android.
(Read: iPhone 5 Rumor Roundup: Latest on Hardware, Release Date, Carriers)
While the holiday launch puts the iPhone in competition with a number of new Android phones and the Kindle Fire, there are still unprecedented levels of excitement surrounding the iPhone 5 release date. Here's why we think a holiday launch will set records for Apple.
Why the iPhone 5 Release Will Be Out of Control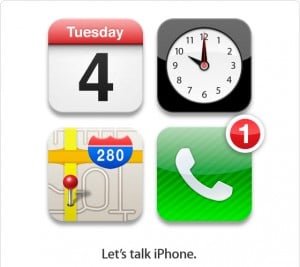 Pent Up Demand – Consumer surveys have already shown that there is more demand for the iPhone 5 than for the iPhone 4. The demand is so great that 66% of our readers would buy the iPhone 5 without seeing it or knowing anything about the new device other than the current iPhone 5 rumors.
Many of these iPhone 5 buyers have been waiting for the new iPhone for many months.
The first group is iPhone 3GS  owners whose contracts expired back in June and July.
The second group is likely why Verizon is the number one pick for iPhone 5 carrier in our survey.Verizon got the iPhone 4 back in February, but many Verizon subscribers have been waiting for a new iPhone before signing a two year contract.
Launching on More Carriers – In America, the iPhone will arrive on Verizon and AT&T. This year, we expect a Sprint iPhone 5 to make an appearance. The addition of a new carrier could add up to 1.2 million iPhone sales during the holiday season. With possible production issues causing shortages, this could fuel the iPhone 5 frenzy.
Internationally we expect the new iPhone to launch on many carriers. We believe that Vodafone, Orange UK, China Telecom, and Telus in Canada will get the iPhone 5 early on. We have heard some rumors that suggest Apple will ramp up the global launch of the iPhone 5. Typically Apple focuses on the U.S. and a few key regions, but again, we expect big things this year.
Holiday Gifts – Thanks to the holiday launch of the iPhone 5, we expect to see a the iPhone 5 battling it out with the Kindle Fire for the top of holiday wishlists.
A cell phone of any kind can be a difficult gift to give because the true cost of the iPhone is much higher than the $199 pricetag, but when it comes to spouses and children I expect to see the iPhone making an appearance on lists more than it did last year.
(Enter to Win an iPhone 5 From GottaBeMobile)
The National Retail Federation estimated that in 201o Holiday Spending would reach almost $700 per family. Of this amount, close to $400 was reserved for family gifts. This year I wouldn't be surprised if at least some of that is used on the iPhone 5.
On average shoppers said they would spend $107 on themselves in 2010, which is good news for the rumored 8GB iPhone 4S with iOS 5 that could cost $99.
What a Holiday iPhone 5 Release Means for Apple (AAPL)
The benefits of a late iPhone 5 launch aren't just for consumers, analysts are expecting a big windfall for Apple. We have heard suggestions that Apple stock will hit $530, a major increase for one of the most invested in companies in America.
(Read: Apple's iPhone 5 Event: What You Should Expect)
Apple sold 20.34 million iPhone 4s last quarter. That breaks down to 156 iPhones a minute. When you add a Sprint iPhone, Pent up iPhone 5 demand and holiday gift giving, it wouldn't be too much of a surprise to see that number smashed.
However you slice it, Apple is set to have a good holiday season. Not only do they have the hottest selling tablet, but they are also going to introduce one of the most anticipated smartphones — to more potential buyers who have been eagerly waiting.
Image: Present via Ken's Oven on Flickr