iPhone 5 Review: A Month with the New iPhone
A little over a month ago, I finally caved and bought a new iPhone 5 to replace my iPhone 3GS which I had had for three years. And after spending a solid month with the device, I wanted to share my thoughts about Apple's new iPhone with those that might be thinking about picking one up. Here is my iPhone 5 review after a month of using it as my go-to device.
Over the past month, I have been using my iPhone 5 as my primary smartphone. For those that don't know, I also own a Samsung Galaxy Nexus for Verizon. I had been waiting, with an iPhone 3GS, for Apple to release a smartphone with 4G LTE data speeds and finally, with the iPhone 5, I got my wish and made the plunge.
Read: From iPhone 3GS to iPhone 5: Five Things I Love About the New iPhone.
It wasn't an easy decision, not with the new Nexus coming up, not with the Galaxy Note 2 and not with the Windows Phone 8 launch just over the horizon. However, because of my amazing experience with the iPhone 3GS, I decided to pre-order an AT&T iPhone 5 32GB as soon as the opportunity became available and thus far, I truly feel like I made the right decision, based on my needs.
Like I said, I could have probably used my iPhone 3GS on iOS 6 for another year but I am certainly glad that I didn't because the iPhone 5 has been treating me well over the last four weeks.
So, after spending a month with the iPhone 5, here's what I've found.
Overall Performance
Coming from the iPhone 3GS, the iPhone 5 runs iOS 6 like a dream. Yes, the experience on the iPhone 3GS is good, but it has nothing on the iPhone 5 in terms of overall performance.
I can zip through my home screens. (I recently move to a single home screen.) Apps open in a flash. Games look absolutely beautiful on the larger 4-inch display and run extremely smooth. There were definitely times where iOS 6 would stutter a bit with the iPhone 3GS. There is no such stuttering on the iPhone 5. This is an extremely fast phone and a big thanks goes to its new A6 chip from Apple.
Something else I should mention, specifically, is how fast the camera opens from the home screen. With the iPhone 3GS and iOS 6, there were often moments when the camera app would take quite awhile to open. With the iPhone 5, I've never missed a photo or video opportunity and that's really something that I have come to appreciate over the last few weeks of owning it.
I should also point out that I rarely have experienced any lag. The hardware easily handles the operating system. It's definitely comparable to how well the Samsung Galaxy Nexus and Android 4.1 Jelly Bean run together. Smooth as butter.
Battery Life
Battery life on the iPhone 5 is as I expected it to be. It certainly can't last all day, especially when I take it out into 4G LTE territory but it's still extremely solid and I can definitely pull down 12 hours of web browsing, email, video watching and more with a combination of LTE, 4G and Wi-Fi.
Those who are coming from phones that do not have 4G LTE, like the iPhone 4 and iPhone 4S, are probably going to complain about battery life issues and those issues are likely going to be because of 4G LTE.
I've had a number of friends who have complained to me about battery life and I simply told them to turn off 4G LTE if and when they don't need it. Apple did a good job with the battery life on the iPhone 5, but 4G LTE definitely still has an impact.
Issues
I have certainly run into some performance issues with the iPhone 5 over the last month but they are more frustrating than deal breaking. One, I've been having issues maintaining a Wi-Fi connection. I know others are experiencing a similar issue and mine for whatever reason is sporadic. So, I often just switch to 4G LTE instead when I'm at home now. Fortunately, the issue should be fixed with the iOS 6.0.1 update.
There have also been a few times when my iPhone 5 has locked up on me. One time, it got to the point where I thought my iPhone had died because the home button and power button did nothing to get rid of the black screen. Then, suddenly, without warning, the iPhone 5 came back to life. This only happened once to this degree but there have been a few other times where my phone has seemingly locked up.
I've also experienced the static with the keyboard when in the App Store but that really isn't too big of a deal. For now.
iPhone 5 Features I Love
Instead of going into a huge in-depth analysis about everything iPhone 5, I thought I'd share what I love most about its features and then delve into the things that I dislike about my new iPhone. First, the things I love. These are the features that I find myself marveling at on a daily basis.
Design
The iPhone 5 simply has one of the best smartphone designs that I've ever come into contact with. From its aluminum back to its metal band on the outside to the glass on the top and bottom of the backing, it's simply a well-designed, well-built smartphone and certainly a step up from the iPhone 3GS and its plastic.
I've heard the cries about the aluminum scratching and what not but I have dropped my phone multiple times on its back, without a case, and I still have yet to experience any scratching on the back of my iPhone 5. Whether that's by shear luck or not hasn't been determined but I can say, without a doubt, that's not a serious issue.
That being said, this is a durable phone. I've dropped it several times and nothing has happened. It's like it's brand new. It's also extremely lightweight which I absolutely love. Picking up an iPhone 3GS or iPhone 4S after holding an iPhone 5 is just silly. It's also extremely thin and fits well inside my pockets whether I am wearing jeans or shorts.
4G LTE/4G Combo (AT&T)
For the iPhone 5 in general, I absolutely love 4G LTE and will never buy a phone without it again. Simply, it gives me a device that feels like I am connected to Wi-Fi when away from home. And because I am out and about a lot, that means that I can load up things like web pages, email, video clips and more in an extremely fast manner. The iPhone 5 is also able to pick up solid 4G LTE signals as well. I haven't experienced any data drops or dropped calls when connected, something that happened occasionally on my Galaxy Nexus.
Something else that I love is the fact that my iPhone has dual 4G and 4G LTE on AT&T's networks. This means that not only do I have access to 4G LTE but I also have access to its fast HSPA+ 4G network when I don't have LTE service.
HSPA+ 4G isn't as fast as LTE but it certainly blows 3G out of the water.
Display
Obviously, this is a huge step up from the iPhone 3GS display but to be honest, there are two features of the display that stand out to me.
One, the five rows on the home screen which makes it easier to load up my first home screen with just about everything I use on a daily basis and two, the 16:9 aspect ratio which allows for widescreen content.
Camera
What can I say? It's a massive step up from the iPhone 3GS and also the Galaxy Nexus. No longer am I afraid that a video might not turn out how I want or whether or not a picture is going to be postable on Twitter or Facebook.
I also have started to use Facetime a lot more given the quality of the front-facing camera. My iPad's front-facing camera is a joke but the iPhone 5 camera really is good enough where I want to actually use FaceTime or Google+ to talk to friends or family.
iPhone 5 Features That Need Work
While the iPhone 5 is good, it's certainly not perfect and there are definitely some things about it that need some work. There are certainly useful features like the ones I detailed above, but there are also some that I either dislike or don't care about. Here they are.
Siri
While I used Siri for the first few days that I had the phone, I no longer find myself using it. Finding sports scores or opening applications are just so much faster when I do them myself.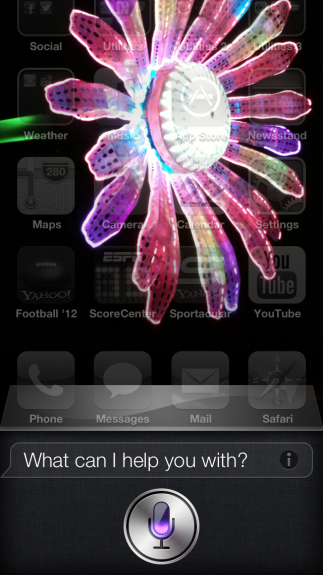 There were also times when she couldn't understand me or gave me flat out terrible results and it just got to the point where I couldn't rely on it. I'm sure there are people that use Siri and love it but at this point, I just find it to be a feature that I could do without.
Call Quality
Apple apparently included new mics in the iPhone 5 but thus far, there have been plenty of times where I could have sworn I was using an older smartphone. The call quality on the iPhone 5 is, according to people I've talked to, improved over that of the iPhone 3GS. That's great, but not when the people I am talking to sound horrible.
People have sounded garbled in places where I've had a great connection. It's frustrating when it does happen and it really makes me wish that HD voice had launched here in the U.S. with the iPhone 5.
Apps
For whatever reason, there are still applications that don't take full advantage of the iPhone 5's display. For example, Yammer, an app I use extensively for work, isn't compatible with the iPhone 5's display. Another, ESPN ScoreCenter. It drives me nuts. There are also still a few games that I play that don't have support yet and I wonder if they ever will.
Additionally, there are also stock iOS 6 apps that are pretty useless with my iPhone 5. Passbook, for instance, has yet to take off. What's more is that there really isn't an iPhone 5 iOS 6 feature that's unique to the phone. That would have been nice and no, I don't count the fact that the calendar app now looks better in portrait mode.
Final Word on the iPhone 5
For me, the iPhone 5 was a solid upgrade. It handles iOS 6 extremely well and overall, it's fast. It has quality battery life. It has a solid, durable design. The camera is stellar. And of course, it has 4G LTE data speeds.
These are all things that could be found on another smartphone though. But what sets this phone apart is the combination of those features with the experience and the future-proofing that comes with it.
Read: iPhone 5 Review: The Next Edition of a Serial Saga.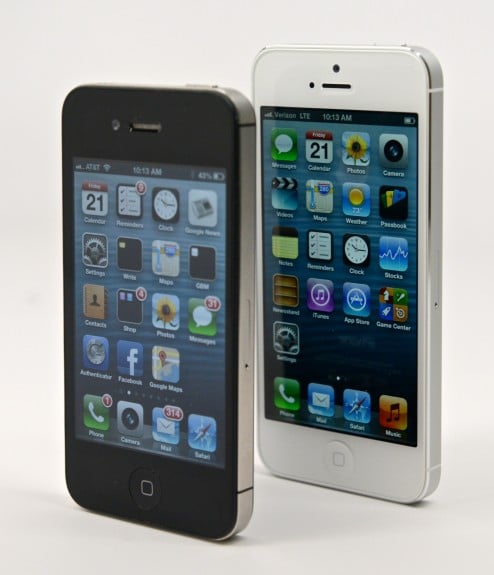 All of those are great but maybe most important is the fact that it will also be getting iOS updates for years to come, something that sets it apart from competitors like Android and Windows Phone which don't guarantee that kind of support.
That being said, there are still some competitors that should be alongside the iPhone 5 in your quest for a new smartphone, but there is no doubt that iPhone 5 deserves a spot on your shopping list.
In short, I have owned this phone for a month and I have no doubt that I will be using it for the next two years of my AT&T contract. It's hard to say that about a lot of phones these days.

As an Amazon Associate I earn from qualifying purchases.