Where The iPhone 5 Pre-Order is Still Available For Release Date Delivery
Early this morning Apple and its carrier partners started taking pre-orders for the new iPhone 5 which ships on September 21. Shortly after pre-orders started Apple's website slipped from release date delivery to "ships in two weeks." Other stores still have stock available for release date delivery.
As of this writing all of Apple's carrier partners in the U.S. still have some stock for release date availability, and there's always the option to try a few stores so potential buyers can ensure that they get the new iPhone the first day it's available.
Read: iPhone 5: AT&T vs. Verizon vs. Sprint – Which Carrier is Best?
Here's a breakdown of where you can still get an iPhone 5 on release day.
Verizon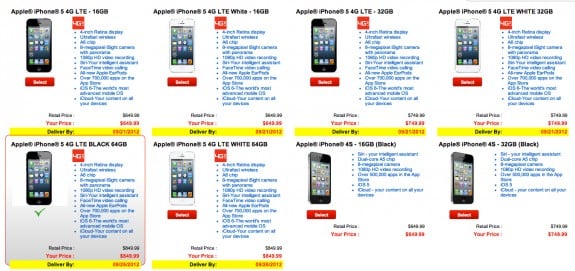 The U.S. carrier with the largest 4G LTE network still has a few iPhone 5 models to sell to potential online purchasers. The carrier still lists 16GB and 32GB of both colors as shipping by September 21. The 64GB models have a short delay, however. Verizon says the 64GB model won't ship until September 26, five days after the release date.
Sprint
Sprint, the only carrier of the big four that still offers unlimited data, also has iPhone 5s to sell online. Sprint still lists every model of the iPhone 5 as shipping on September 21. Most users who opt for Sprint won't have access to 4G LTE on release day, but they will have unlimited 4G LTE data when they do have access.
AT&T

The carrier of choice for users with grandfathered unlimited data plans also has iPhone 5 models to sell online still. AT&T's website has every iPhone 5 model available for pre-order with shipping dates of September 21. AT&T has a smaller 4G LTE network than Verizon, but a larger one than Sprint.
Brick and Mortar
This one is tougher to report for everyone, but a number of brick-and-mortar store should still have iPhone 5 stock available for pre-order. Apple stores don't take pre-orders, and carrier stores will likely only offer to help with online pre-orders.
Apple's retail partners Best Buy, Walmart, and RadioShack stores offer pre-orders, though not through the stores' websites. It's best to call ahead to make sure, but these stores should have a number of pre-orders available. While looking at stores it's worth noting that Walmart offers a $10 discount on the 16GB model, but doesn't seem to carry the other models.
Good luck in the search to find an iPhone 5 on release day. If none of these avenues work, the last remaining option is to wait outside a local Apple Store or carrier store on September 21, though don't be surprised if there's already a long line if you get there early that morning.

As an Amazon Associate I earn from qualifying purchases.