iPhone 5 to Come in 64 GB Size?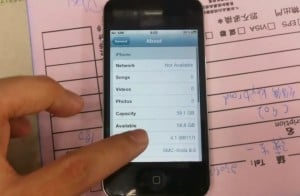 It appears that someone in Hong Kong had managed to acquire an early iPhone 4 prototype manufactured for Apple by China's Foxconn manufacturing facility in Shenzhen with 64 GB of on-board storage.
News of a 64 GB early iPhone 4 prototype has the Internet wondering if the Cupertino, California company may release a 64 GB version of the next-generation iPhone 5.
Speculation on the Internet suggests that Apple had, at the time of designing the iPhone 4, considered a 64 GB model, but decided against that due to costs of increased on-board storage.
Another possible reason is that Apple probably did not want to cannibalize sales of the iPad tablet, which was available in either 16, 32 or 64 GB sizes; the company probably wanted to differentiate its smartphone with lesser storage than the emerging tablet market by allocating more local storage capacity to the iPad.
https://www.youtube.com/watch?v=OXrT7-qyXuE
Now that the iPad has proven itself in the market as a dominant player, providing Apple with $10 billion of revenue for that market in 2010, the company may be looking to match the storage capacity of the iPad on the iPhone. If true, the next-generation smartphone may come in larger capacities, variants for AT&T and Verizon Wireless in the U.S., along with the newly announced dual-core ARM-based A5 chipset that is debuting on the iPad 2.
Another iPhone 5 rumor that has surfaced recently suggests that the device may get a re-design to bring back the all-aluminum back from Apple's first generation 2G, EDGE only smartphone. However, current speculation has it that the iPhone 5 may sport the same glass and stainless steel sides of the current iPhone 4 model, making it an incremental refresh bringing refinements, much like the transition between the iPhone 3G and the iPhone 3GS.
Via: M.I.C. Gadget

As an Amazon Associate I earn from qualifying purchases.