iPhone 5 vs iPhone 4S: What to Expect
Tomorrow is a big day for Apple and quite frankly, it's a big day for the world as well. Apple's new CEO Tim Cook is expected to take the stage and introduce a new iPhone. Thing is, we are still unsure what device or devices he is going to be announcing. There have been murmurings of a full-fledged launch of an iPhone called the iPhone 5. There are also whisperings about a phone called the iPhone 4S that might be a cheaper, improved iPhone 4.
There are rumors that Apple could be launching both of these phones. And it could be that the iPhone 4S is really the iPhone 5 or that the iPhone 5 is actually the iPhone 4S.We still aren't sure on a name or names.
That means that only one thing is for sure. Apple has done a remarkably good job of keeping this phone or phones in the shadows, keeping both consumers and those with a finger on the pulse of the tech industry at bay before the announcement.

Still, there are rumors and that means that we can at least attempt to compare both of these phones, phones t hat have had rumors swirling about them since Apple failed to launch a new phone at June's WWDC.
Two New iPhones?
1. iPhone 5 Details
It's possible that the iPhone 5 is a completely independent phone from the iPhone 4S, a full-fledged successor to the iPhone 4. There have been whispers about a fresh iPhone design, much different than the iPhone 4's, and a leak yesterday seemed to confirm that to be the case.
For quite awhile now we had heard that Apple might be toying with bumping the screen-size of the next-generation iPhone and the leak, which came from Cincinnati Bell's website, points to the possibility of a larger 4-inch display.
Previous iPhone models have been home to 3.5-inch displays.
In addition to the bump in display size, we've heard about the possibility of the next iPhone coming with an upgraded 8MP camera. That feature was listed on Cincinnati Bell's website as well.
Lastly, the leak listed "4G Data Speeds" which could mean that the iPhone 5 could be able to run on AT&T's HSPA+ 4G network. Again, we don't think the iPhone 5 is going to be an 4G LTE device.
There has also been chatter about a 64GB model but a Radio Shack inventory listing seems to have debunked that.
Other rumored specifications of the iPhone 5 include a dual-core A5 processor, the same one found in the iPad 2, 1GB of RAM because of the addition of the exciting Assistant voice control feature which might be an exclusive to the iPhone 5, a new antenna, and world roaming capabilities.
So, add all of those up and here's what we're looking at:
Display: 4-inch Retina Display
Processor: Apple A5 dual-core processor
Camera: 8MP camera
Network: HSPA+ 4G
Software: iOS 5 with Assistant voice control
That right there might be the next incarnation of the iPhone.
As for carriers, the iPhone 5 has been rumored to be heading to AT&T and Verizon at the very least with a launch on Sprint becoming more likely by the day. T-Mobile has officially taken itself out of the running.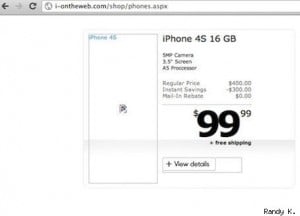 2. iPhone 4S Details
The iPhone 4S has been rumored to be a few different things. It has been thought to be an upgraded iPhone 4 with a cheaper price tag in order to compete with the low price Android handsets on the market.
Let's, for a second, assume that it's a low cost, upgraded iPhone 4, which is exactly what Cincinnati Bell had listed on its website.
That listing pegged the iPhone 4S as having a 3.5-inch screen size, same as the iPhone 4, as well as a 5MP camera, but it also listed the device as having an A5 dual-core processor.
It also has a price tag that will be considerably cheaper than previous new iPhone models. The iPhone 4S that was listed over the weekend has a price tag of $99 after a $300 rebate which falls in line with the cheap iPhone model rumors.
So, again, here is that summed up:
Display: 3.5-inch Retina Display
Processor: Apple A5 dual-core processor
Camera: 5MP camera
Network: Unknown
Software: iOS 5, most likely
As for carriers for the iPhone 4S, we haven't heard anything remotely concrete but we'd assume that it would be available on AT&T and Verizon and maybe even Sprint as well.
One Next-Gen iPhone…
John Gruber, a noted Apple insider from Daring Fireball, seems to think that Apple will only announce one piece of new hardware at the event tomorrow and because of the lack of physical evidence in regards to a redesign – besides cases from third party manufacturers, we're inclined to believe that it will be the N94 aka iPhone 4S that launches and not a phone with the rumored iPhone 5 specs.
As Gruber points out, the iPhone 4S is based on supply reports and photos of parts that are similar to the iPhone 4 but aren't iPhone 4 parts. A newly designed iPhone 5 has had no such treatment.
That being said, we might very well see a new iPhone launch that has a similar design to the iPhone 4 but possesses an A5 processor, a better camera and quite possibly, HSPA+ 4G speeds.
…But Two New iPhones?
But what about the cheaper iPhone model?
Remember, we've heard about a 8GB iPhone 4 that might be coming out alongside the next-generation iPhone and again, Gruber makes an excellent point.
Apple might indeed be announcing two new iPhones tomorrow but only one of them will be of the next-generation variety. Alongside 16GB/32GB and possibly a 64GB model iPhone 4S, we could see a 8GB iPhone 4 announced which could be the budget iPhone we've been hearing about, the phone that is set to battle Android's control of the lower-end market.
The iPhone 4 8GB could be that $99 model we saw leak out over the weekend and not the iPhone 4S. And that's because…
Why Apple Might Not Launch the 'iPhone 5'
…the iPhone 4S might actually be the iPhone 5. It's our theory that Apple might be reserving the iPhone 5 for a redesign. If you recall, the iPhone 3GS was very similar to the iPhone 3G while the iPhone 4 had a completely revamped design. If the theory about the iPhone 4S as the new iPhone is correct, then we'd imagine that Apple won't be using the iPhone 5 name instead waiting for the launch of an 4G LTE iPhone.
What No 'iPhone 5' Means
If Tim Cook takes the stage tomorrow and announces that the next iPhone has a similar design to the iPhone 4 but packs a dual-core processor and a better camera, there will surely be some disappointment out there. But we don't think it will last long.
First of all, the iPhone 4 is a phenomenal phone and the inclusion of an 8MP camera and dual-core processor make it even better. There's a reason why it's the best selling smartphone of all time.
And two, we think that the software trumps the hardware here. A revamped iPhone paired with iOS 5 and the exclusive Assistant voice control will likely wipe away most of the disappointment, probably before the event ends.
Sure, there will be the initial moans and groans but by the end, what Apple will have announced is a better version of a phone that is widely regarding as the best phone ever made with fantastic software to boot.
And those that still aren't satisfied can be sure that Apple will likely be releasing something different with the arrival of a 4G LTE iPhone that we think will carry the 'iPhone 5' name and a design different from the iPhone 4.