iPhone 5 vs. iPhone 6 Rumor Breakdown
With many Apple iPhone 5 users on the cusp of an upgrade, we want to take a look at how the latest iPhone 6 rumors currently stack up with Apple's former flagship.
Two years ago, millions of people jumped on board the iPhone 5 bandwagon. It's hard to blame them. Apple's flagship from two years ago delivered a number of powerful upgrades over its predecessor, the iPhone 4s. Those upgrades included 4G LTE data speeds, a larger 4-inch Retina Display, a new camera, the Lightning dock standard, an improved processor, and more.
In just a few short weeks, many iPhone 5 users will be coming off contract for the first time in 24 months, and many will be in the hunt for a new device. One of the key matchups that consumers are looking at is iPhone 5 vs iPhone 6, a battle of the former flagship and the flagship that is expected to arrive in just a few short weeks.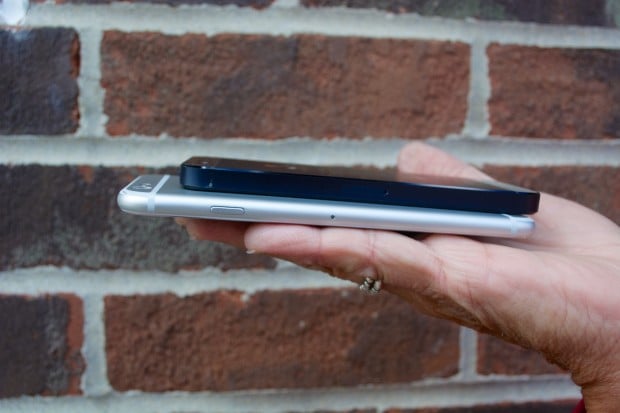 iPhone 6 rumors have been floating around since last year and as we start to push toward Apple's usual fall release window, we're starting to see new rumors emerge left and right, teasing current iPhone 6 owners with tales of an extremely powerful device. iPhone 6 rumors range from release date whispers to details about its display and design. And for casual iPhone 5 owners trying to do the whole iPhone 5 vs iPhone 6 thing, it's probably a lot to digest. That's where we come in.
We want to take an updated look at how the rumored iPhone 6 is matching up with the iPhone 5. This will explore all of the latest, most credible iPhone 6 details we have on hand. Keep in mind, nothing is official but after months and months of iPhone 6 rumors, we're finally starting to get a pretty good idea about what we can expect from Apple and its next iPhone release.
Design
iPhone 6 design rumors have become very specific over the past few months. At this point, virtually all design rumors point to a brand new design, different from the form factor found on the iPhone 5 and iPhone 5s.
The key ingredients appear to be a thinner frame, perhaps as thin as 7mm, a taller and wider footprint to accommodate a larger display, an aluminum back, and Sapphire in the front to protect the display from harm. We're also expecting Apple to make some changes to its buttons with the volume rocker thought to be far more rounded than the buttons on the iPhone 5.
To get an idea, have a look at our iPhone 6 vs iPhone 5 video below. It's based on a heavily leaked iPhone 6 mockup that is based on the rumored dimensions of Apple's next iPhone.
If you're in need of a more realistic look at the iPhone 6 design rumors, take a peek at the iPhone 6 concept video below. It may not be one hundred percent accurate but it's a good representation of what we could see from Apple moving forward.
So, here are the key design takeaways, thus far, for iPhone 5 users:
iPhone 6 is likely going to be larger than the iPhone 5.
It'll likely be very thin with curved edges.
Touch ID is a given at this point. The iPhone 5 doesn't have Touch ID.
Expect high-end materials including metal and Sapphire. The iPhone 5 doesn't feature a Sapphire display.
Display
The iPhone 5 introduced the 4-inch Retina Display that Apple has been using for close to two years now. And while it can still keep pace with many Android smartphones, it looks like Apple is going to up the ante both in the size and resolution departments.
iPhone 6 rumors continue to point to a brand new higher-resolution Retina Display that will reportedly measure 4.7-inches and 5.5-inches. The 4.7-inch model has leaked out extensively in the past few months while the 5.5-inch model has been far more reserved. Apple's iPhone 6 will reportedly deliver a 4.7-inch screen with a 1704 x 960 resolution that delivers a 416 ppi experience.
From everything we've seen, the 5.5-inch iPhone could be a lot larger than the iPhone 5. However, it does look like the 4.7-inch model is going to be much closer in terms of size. This again is accomplished by making the device taller and wider and thinning out the bezels. We could also see Apple shift around internals (like the buttons) to free up more space.
The screen size change will provide more real estate for gaming, browsing the web, reading, and watching content like movies and television shows and the resolution change will provide cleaner, crisper looking content.
At this point, it's clear that Apple has at least one large screen iPhone up its sleeve. That, or the dozens of leaks that we've seen, many from reputable sources, are completely inaccurate. Typically, when there is a lot of smoke there is a lot of fire. Same goes for iPhone rumors. Bank on the iPhone 6 having a larger display and quite possibly, one that offers higher resolution.
Key takeaways here:
iPhone 6 with at least one larger screen size, possibly two.
Higher resolution with same 16:9 aspect ratio.
Larger screen means larger device, but maybe not by much.
Specs
While the display and design will likely be in focus on the iPhone 6, Apple's brand new iPhone release will come equipped with a number of other specifications to help bolster its spec sheet. Here, we put the latest rumors together. Keep in mind, this is a partial spec sheet but it should give you an idea about what to expect from the device when it arrives.
iPhone 6
iOS 8
4.7-inch/5.5-inch Sapphire Displays
16GB / 32GB/ 64GB / 128GB storage options
3.2MP front-facing camera
802.11ac WiFi
Touch ID Fingerprint Sensor
iPhone 5
Apple A6 Processor
iOS 7.1 (will get iOS 8)
4-inch Retina display
16GB / 32GB/ 64GB storage options
1.2MP front-facing camera
8MP rear-facing camera
1,440 mAh battery
802.11 a,b,g,n,n WiFi
Here's the breakdown:
The iPhone 6 will almost certainly have a superior camera. Rumors point to a camera between 8MP and 13MP with Optical Image Stabilization. Apple goes big every year on the camera so this is an area where iPhone 5 users can expect an upgrade.
New processor. The iPhone 6 should come with a 64-bit A8 chip that puts the A6 chip in the iPhone 5 to shame.
And finally, a bigger battery. The iPhone 6's display will chew up a ton of battery but with a bigger battery and the improvements coming with the A8, we could see the iPhone 6 deliver fantastic battery life to its users.
Software
The iPhone 5 currently runs iOS 7.1.2, Apple's latest update to its iOS 7 mobile operating system. This fall, the iPhone 5 will be getting iOS 8, the software that debuted at WWDC 2014 and the software that will almost certainly make its debut on board the iPhone 6 later this year.
iOS 8, currently available to developers in beta form, doesn't look a whole lot different than iOS 7 but it will come with a number of notable changes including improved Notifications and improvements to photos. There are literally over 100 improvements inside iOS 8.
What's not clear is if the iPhone 5 will get the same feature set as the iPhone 6. Apple will often provide diluted versions of its software to older devices. The iPhone 6 on the other hand will get the full blown version of iOS 8.
Key things to keep in mind:
iPhone 6 will get every iOS 8 feature while the iPhone 5 may not.
iOS 8 will be the iPhone 5's second major iOS update, iPhones typically get three before calling it quits.
Price
Rumors tell us that if Apple does release two iPhone models, the larger iPhone 6 will be more expensive than the 4.7-inch model. Analysts continue to point to a $100 price difference between the two with rumors pointing to $199.99 and $299.99 price points.
This isn't set in stone but the takeaway here is this. iPhone 5 users coming off contract need to expect to pay at least $199.99 for the new iPhone 6. Those buying off-contract will probably encounter a $600 price tag or more. Apple usually offers for $650.
iPhone 6 Release Date
Those weighing the iPhone 5 vs iPhone 6 are going to have to wait a few more weeks (at least) to make a decision on an upgrade.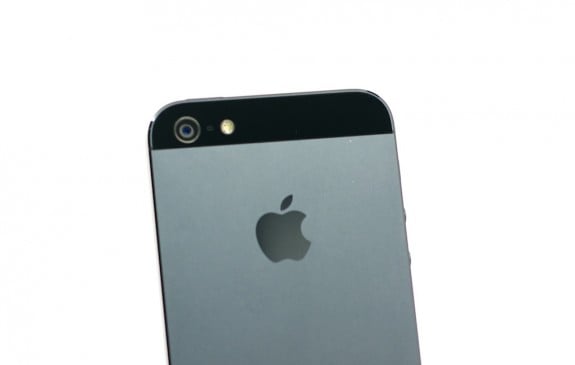 iPhone 6 release date rumors center around the month of September. The latest iPhone 6 release rumors once again put the larger 5.5-inch model outside of the initial launch date with a launch potentially coming in 2015 rather than in 2014. This differs from most rumors which put both devices inside the current year, ahead of the holidays.
While the 5.5-inch model could be delayed, sources agree that the 4.7-inch iPhone 6 will be out ahead of the holiday shopping season. September 19th has been thrown around as a possible release date as has September 25th. Apple tends to release its devices on Friday and both of those dates fall on Fridays in late September.

This article may contain affiliate links. Click here for more details.