iPhone 5: What Do You Want Apple's Next Phone to Be Like?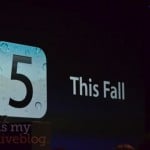 Steve Jobs didn't announce the iPhone 5 at Apple's World Wide Developers Conference at WWDC, which is a bad thing if you ask Apple fans. But it might be a good thing if you have an ounce of patience. The longer it takes Apple to release the iPhone 5, the better it'll probably be.
My top two wishes for the iPhone 5 are a new antenna design and 4G speed.
Most importantly, the iPhone 5 will almost certainly have a new antenna design. The poor antenna design was a major embarrassment to Apple and has caused many iPhone 4 owners to drop countless calls. The antenna design was 'fixed' when Apple gave early iPhone 4 buyers a free case.
Another milestone that Apple needs to hit with its mobile devices is 4G. Competitors' phones already run 4G and Apple can not afford to go another year with 3G-only versions of the iPhone. Wireless carriers are pushing 4G as an important feature to their customers and pushing a 3G iPhone 5 would seem odd to say the least.
There are challenges with 4G that may prevent Apple from packing 4G into the iPhone 5. Consumers generally don't like paying for features they can't use and 4G coverage is sparse compared to 3G. Secondly, 4G is known to eat through batteries too quickly. Just take a look at the HTC Thunderbolt, which doesn't last a full day on a single charge without watching your usage or strategizing quite a bit.
As Apple noted during WWDC, the iOS 5 will be available this fall. It would be very odd for Apple to release the new mobile operating system without new hardware.
What do you hope will be packed into the iPhone 5? Better battery performance? A bigger screen? Thinner and lighter?

As an Amazon Associate I earn from qualifying purchases.