iPhone 5c: The iPhone That Isn't Worth Buying for $0
The iPhone 5c is the most affordable iPhone Apple sells, but you should avoid at all costs. While it's free with a two-year contract, I cannot recommend this device to anyone since Apple crippled it. Read on to why we don't recommend buying the iPhone 5c and what you should buy instead.
The iPhone 5c debuted alongside the iPhone 5s in late 2013. The iPhone 5c is essentially an iPhone 5 wrapped in a plastic skin that differentiates it from the metal iPhone 5 and the newer iPhone 5s. When it debuted, the iPhone 5c debuted it cost just $99, which was $100 cheaper than the iPhone 5s. The original $99 version of the iPhone 5c came with 16GB of storage and there was a 32GB model available that cost $199.
Those two original iPhone 5c models are no longer available and Apple's replaced them with an 8GB version of the iPhone 5c.  That's simply not enough space for iPhone users in this day and age. Keep in mind that only 4.9GB of the 8GB iPhone 5c is available to the user, with the remainder reserved for iOS 8 and Apple's built-in apps.  Going with a 8GB iPhone 5c likely means you won't be able to update to the next version of iOS without completely wiping your device. How do we know that? Because iOS 8 requires 6.9 GB to install.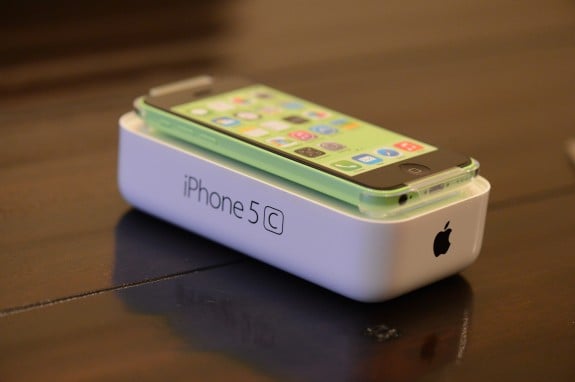 Buying an iPhone 5c means you won't have enough room to download even a single HD movie after downloading a handful of apps and shooting a few of your own videos. Yes, more and more data is stored in the cloud these days, but nothing beats the convenience of local storage. Two of the biggest complaints we get about iPhones is that they never have enough battery life and they always seem to run out of storage. Battery life can be improved by optimizing settings, uninstalling certain apps and buying an external battery pack or case.  But internal storage cannot be 'fixed' once you buy an iPhone.
The iPhone 5s starts at $99 and is the cheapest iPhone we recommend. At $99 it comes with 16GB, which is the same starting point as the iPhone 6 and iPhone 6 Plus. That's still not enough for many users, but it at least provides a reasonable starting point. It's also very likely that we'll start seeing significant price breaks on the iPhone 5s as we head into the holiday season. Apple just cut the price of the iPhone 5s in half, but that probably won't be enough to clear out stock at retailers considering the iPhone 6 will be sitting right next to it and there are tons of options that allow people to buy the newer iPhone with no money down.
The iPhone 5s has several key advantages over the iPhone 5c, which are easily worth the extra $99, including the extra 8GB of storage. The iPhone 5s has a much better camera that includes a two-tone flash for more natural lighting. It also comes with Touch ID, the fingerprint scanning feature that makes it easier to unlock iPhones and make purchases on the App Store and in iTunes. The iPhone 5c comes with a dated processor (A6) that isn't speedy enough to perform some camera functions such as burst mode and slo-mo mode The iPhone 5s has Apple's M7 motion processor that lets it provide information to apps such as fitness trackers.
The iPhone 5s also allows users to bump up to 32GB for only $50 more. It's very easy to argue that 24GB of extra storage over the iPhone 5c is worth $149 alone.
Some users may not have $99 extra to spare for the iPhone 5s, but that can be worked around too. All major U.S. carriers have payment plans that bring the upfront cost of buying the iPhone 5s down to zero. You'll have to do the calculations yourself to see if this ends up saving you money in the long run, but it definitely does for many since carriers are trying to move people off of traditional contracts and onto plans that offer monthly discounts in exchange for paying full price for devices. For example, the Verizon Edge payment plan spreads the full cost of the phone ($549 for the iPhone 5s) out over 20 months. That means a Verizon Edge customer will pay $27.49 per month for the phone. Verizon Edge payment plan for the iPhone 5c is $22.49, just $5 less per month. The monthly Verizon Edge payments are partially or fully negated by the $15 or $25 monthly service discounts Verizon applies depending on how much data you buy.
The iPhone 6 is miles ahead of the iPhone 5c and iPhone 5s in a number of departments, but we don't expect to see discounts on the latest iPhone any time soon.
Any way you cut it, the iPhone 5s is definitely worth $99 more than the iPhone 5c. We recommend paying the difference up front or you'll be left paying for it in the near future when you run out of space and your iPhone 5c becomes nearly unusable.

As an Amazon Associate I earn from qualifying purchases.