iPhone 5S: Apple Rumored to Replace Home Button With Sapphire Crystal Fingerprint Reader
Apple is rumored to be replacing the physical home button on the next iPhone, widely believed to be called the iPhone 5S, with a Sapphire crystal capacitive touch button that hides a fingerprint sensor. This will essentially be the first time that Apple has moved away from having a physical home button since the iPhone originally debuted in 2007. The new capacitive touch home button will help Apple create a more reliable iPhone model that will hold up to wear and tear better than the physical button that exists on all previous iPhone models.
One common complaint of the iPhone is that over time, the home button may fail to register a press. Over time, the hardware will wear out. With a capacitive touch button, there are no moving parts so the risk of failure is slimmer. Also, as Apple will be employing Sapphire crystal, which is the second hardest material–only diamond exceeds the strength of Sapphire–the material will help protect the capacitive surface as well as the underlying fingerprint reader.
This change was reported on Cult of Mac, which says that Taiwanese publication TechNews had spoken to Apple's supply chain.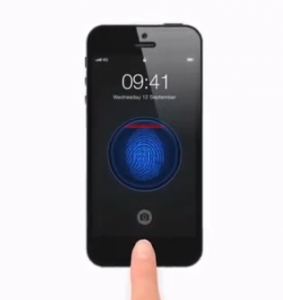 Apple had previously purchased security firm AuthenTec and it was believed that a fingerprint reader may someday come to the iPhone. However, this isn't the first time that a fingerprint reader will appear on a smartphone. In the past, the Android-powered Motorola Atrix 4G came with a fingerprint reader and the Windows Mobile-powered LG eXpo came with a fingerprint reader that served double duty as a scroll strip to navigate webpages.
Apple had also filed for a patent for a hidden fingerprint reader in the past that could be concealed under translucent glass that turns clear when needed. Difficulties with the fingerprint reader was the rumored reason for the delayed iPhone 5S launch.
The information matches earlier rumors where we heard that the "S" in iPhone 5S will stand for security and that Apple will integrate a biometric fingerprint reader on the iPhone. Security has been a big topic for mobile devices and the Internet recently with Apple, Google, and Microsoft moving towards two-step authentication methods. The use of a phone as a token to help secure log-ins on the PC will also make the Internet experience more secure. If Apple does integrate the biometric reader deeply within iOS, perhaps this will mark the end of long, complicated passwords on mobile–users can store, retrieve, and enter their passwords for websites, apps, and other services merely by swiping their fingers.

This article may contain affiliate links. Click here for more details.