iPhone 5S: Family Will be Apple's Not-So-Secret Marketing Tool
Apple has something much more powerful than ads, specs and new features to sell its next generation iPhone to me and millions of people just like me: family. My wife, son, nephews, parents and in-laws are all little marketing machines that ensure the iPhone 5S will be my primary phone, no matter what Google and its partners do in the near future.
I use a trio of iPhone 5s (AT&T, Verizon and T-Mobile) and three of the best Android phones available (Galaxy S4, HTC One and Nexus 4). Each of the Android phones has its advantages over the iPhone 5, but the iPhone 5 on AT&T continues to be my overall favorite phone because it allows me to communicate with family in ways I cannot with Android devices.
We don't know for sure what the iPhone 5S will look like or when it'll be available, but I'm certainly going to buy one and so will most of my close family members, especially those eligible for upgrades. If I want to have the best mobile experience with my loved ones I need to carry an iPhone, preferably the latest and greatest one. My family is much more important to me than the latest and greatest specs and killer features. My wife, brother, parents, mother-in-law, father-in-law, nephews, closest cousins, and all four of my brothers and sisters-in-laws are iPhone users. Most of them have iPads and/or Macs.
https://youtu.be/iu1jHtf_oUc
The more Apple gear my family buys the more likely I'm going to stick with Apple over the long haul. And of course many of them get caught up in the same cycle. For those that don't carry more than one mobile device like me, the choice isn't between Android and iOS, it's about being connected to family or being digitally isolated.
Apple's playing up family connections in its current television advertising campaign and I expect it will continue to do so through the iPhone 5S' launch cycle over the next couple of months. We're expecting Apple to introduce the iPhone 5S and iPhone 5C on September 10 and for them to go on sale soon after.
FaceTime
My FaceTime usage went up exponentially when my son was born. Relatives were able to watch him, read him books, sing to him and watch his milestones rather than just hear about them. My son regularly gets to see his best friend via FaceTime.
Yes,  there are tons of video chat apps and services out there, but being able to transition a voice call into a FaceTime video call is pure bliss compared to getting everyone on board with alternative services and then wrangling everyone onto an actual video call. FaceTime is the first video calling service that I've set my parents and in-laws up with that they actually initiate calls with.
I don't have to worry about remembering who's on Google Plus and who isn't or who leaves Skype on all the time and who I have to voice-dial before initiating a Skype video call any more. As long as the person I want to see has an iPhone I just FaceTime them with a couple of taps since it's always on.
Above is a screen capture of an impromptu FaceTime call with my son and I on one end in San Francisco and my wife and sister-in-law in Chicago.
Find My Friends 
This app is only as good as the people who are also using it. It's worthless for those who don't have a lot family with iPhones, but for guys like me it's a lifesaver. I can instantly see if my wife is on the way back from work without distracting her from driving with a voice call. I can see if my parents are on their way over to my house to watch my kid, again reducing the number of calls I need to make. I can see where my son is, since he's almost always with my wife or parents if he's not with me.
Adding temporary contacts to Find My Friends is a breeze and something I've used while on vacations with many family members and friends.
iMessage
iMessage is another service that baked into each and every iPhone that just works. Messages sent by all of my family members are simultaneously delivered to all of my iPhones, MacBooks and iPad mini. I don't have to worry about having Google Chat, Skype, WhatsApp or any other third-party service installed to get alerts on all of my devices. While I used to give out my Google Voice number for messaging, I stopped doing so since the service doesn't handle photo or video messages.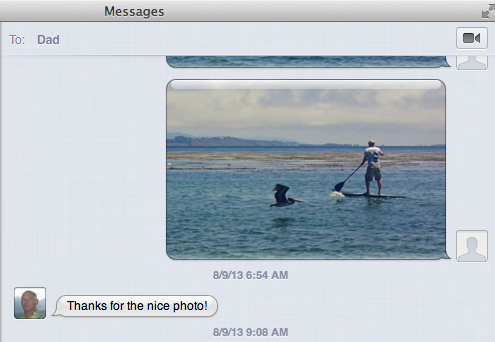 An exchange like this one between my dad and I using the Messages app on my MacBook Air can easily transition into a FaceTime call.
iTunes & App Store
We limit how much time my son sits in front of screens, but like most modern parents my wife and I give in. We've amassed a small collection of Disney, Pixar and Sesame Street movies that cost a small fortune. I was willing to buy all of these titles rather than rent them because I knew my son would be able to watch them on our Apple TV, iPads, Macs and iPhones.
Google's catalog is spotty compared to Apple's and I'm the only one that uses Android devices in my family. For example, The Polar Express is readily available in the iTunes Store, but missing in action from the Google Play catalog. Instead of a buy and rent option there's an "Add to Wishlist" icon. My wife and  I got into a TV series called Southland a few seasons late, but were able to catch up by buying seasons in iTunes. I checked the Google Play Store and the series was nowhere to be found.  After too many experiences like this I simply stopped trying to buy movies and shows on my Android devices.
My wife and I share an iTunes account for buying content and apps. This is especially handy when buying expensive apps and books. If I were to switch to Android completely we'd end up buying multiple versions of some apps.
–
Apple will sell millions of iPhone 5S units thanks to family ties. Are you tied to Android or iOS because of your family like I am?

As an Amazon Associate I earn from qualifying purchases.