iPhone 5S to Have Fingerprint Scanner and NFC on the Home Button
A patent application filed by Apple in Europe may have given us the clearest functionality of the iPhone 5S's home button. The forthcoming flagship smartphone expected to be unveiled Tuesday at a confirmed private event at Apple's Cupertino, California campus will be an evolution of the iPhone 5, but with a home button that may accommodate both a fingerprint scanner for added security as well as circuitry for near field communications, or NFC, wireless. The patent filed in Europe is similar to an unearthed patent filed in the United States earlier this year for a design that would save space on the iPhone while sharing the same circuitry for two different functions.
READ: iPhone 5S Launch Date: What to Expect
A fingerprint sensor has long been rumored for the iPhone 5S's release, where it is believed that the "S" designation in the iPhone 5S name may stand for security. Rumors were further bolstered when Apple had acquired seccurity firm AuthenTec and more recently leaked components seem to confirm that there will indeed be a fingerprint scanner for the new smartphone model. Additionally, iOS 7's focus on tighter security lends clues to the inclusion o the fingerprint sensor on the iPhone 5S's release.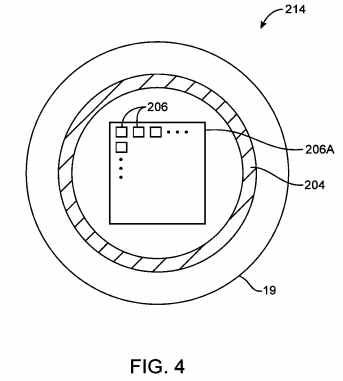 "A touch sensor or fingerprint sensor may have an array of conductive electrodes for gathering sensor data from the front face of an electronic device, an edge of an electronic device, a button in an electronic device, or other portion of an electronic device," Apple's patent application reads. "A fingerprint sensor or other sensor may also be formed using optical structures such as one or more light sources and receivers."
The European patent application was discovered by Patently Apple and the news was published on MacRumors. 
Though a fingerprint scanner is now believed by many on the Internet to be a feature of the next flagship smartphone, there has been little chatter about the inclusion of NFC. NFC, which has been used by Apple's rivals in the past as a quick way to pair Bluetooth devices easily, to share data when two devices are tapped together, or for digital wallet or mobile payment applications like Google Wallet, had largely been shunned by Apple in the past. Rather than rely on NFC for boarding pass and payment information, Apple relies on iCloud, barcode scanners, and its Passbook application on the iPhone. Instead of NFC to share, Apple had introduced a feature called AirDrop on the iOS 7 beta operating system.
The inclusion of NFC may help Apple make it even more seamless for iOS users to share data and connect with other devices and accessories. Apple had patent various uses for NFC on mobile and desktop applications in the past, but thus far its use on the iPhone 5S has not been widely discussed.
"Near field communications circuitry may be included in the electronic device. Circuitry such as filter or switching circuitry may be used to couple both the near field communications circuitry and the sensor circuitry to a common conductive structure," Apple continued in its application. "This allows the conductive structure to be shared between sensor functions such as fingerprint or touch sensor functions and near field communications functions."
Apple says that the device can "operate…in multiple modes," switching between the fingerprint sensor mode and the NFC mode.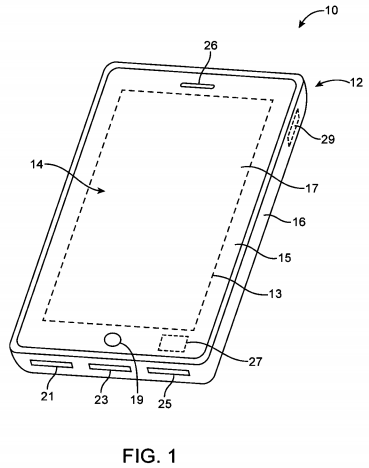 It's also been rumored that the fingerprint sensor may force Apple to change the button on the iPhone 5S for the first time. Rather than a dimpled home button like what's been seen on every generation of the iPhone to date, Apple may switch to a convex button design that's made of sapphire glass crystal. The curved out design of the button will allow Apple to add the required underlying circuitry without increasing the iPhone 5S's physical dimensions while the sapphire glass crystal will be more durable to scratches to protect the fingerprint sensor according to Ming-Chi Kuo of KGI Securities.
Additionally, this year, in addition to unveiling a budget iPhone 5C model, Apple is also rumored to be introducing a new color for the iPhone 5S. The new flagship iPhone 5S is rumored be available in the black and white that we're familiar with, along with a third champagne gold color.

As an Amazon Associate I earn from qualifying purchases.