iPhone 5s, iPhone 5c Coming to Boost Mobile on November 8
Boost Mobile has announced that it will begin offering the iPhone 5s and iPhone 5c starting on November 8. This marks the first time that the Sprint-owned Boost Mobile will sell iPhones to its customers. Previously, you could buy an iPhone from another source and use it on Boost Mobile, but the carrier will now be able to sell customers iPhones directly.
Boost Mobile's plans are some of the best in town, and you can get unlimited talk and text with 2.5GB data for just $55 a month — no contract required. Of course, this isn't the best deal around if you're simply looking for the cheapest plan: Virgin Mobile has $30 per month plans that gets limited talk, text and data for those who don't use their phones as much as others.
Rumors about the iPhone coming to Boost Mobile began earlier this year, when it was reported that we would see them arrive sometime during the fall. It looks like that report is true, and we even heard late last month about more evidence of the iPhone 5s and iPhone 5c coming to Boost Mobile, thanks to a couple of advertisements that were leaked, showing off the new devices with Boost Mobile marketing.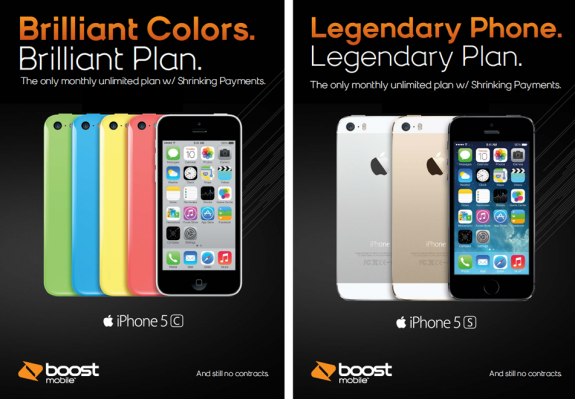 More smaller carriers have been slowly joining the iPhone 5s and iPhone 5c availability train, with even more to come next month as well. Sadly, though, US Cellular is left out of this list so far, and we have yet to hear when they'll be seeing availability for the new phone, but we wouldn't be surprised if it came later this year as well.
Apple has a list of carriers that the iPhone has supported, and in the past, the company has slowly and gradually rolled out its iPhone to more and more carriers after the initial launch. So, if you see your carrier on the list, but it's not offering the new iPhones yet, you'll have to be patient, as Apple usually waits to release its newer model on smaller carriers and in other countries. However, by the time the holiday shopping season officially begins, the new iPhones should be available on mostly all carriers that Apple wants it to be in.
Hopefully by then inventory will be back up to where Apple wants it to be. As of now, the iPhone 5s is hard to find, especially the gold model. The initial launch rush is over, but the holiday season is about to start, and that means another wave of iPhone buyers will be incoming.

This article may contain affiliate links. Click here for more details.