iPhone 5s, iPhone 5c, iPhone 4s: Which One Should You Buy?
If you're in the market for a new iPhone, which one do you get? It's a tough question when you don't know much about the devices that you're deciding over, but hopefully this guide can get you going into the right direction.
Apple currently offers the iPhone 5s, iPhone 5c and the iPhone 4s. The iPhone 5s is the company's flagship device, while the iPhone 5c is the middle-of-the-road option and the iPhone 4s being the entry-level budget selection. All three phones cater towards specific users, and we'll tell you some of the differences between these three phones and which one is best for you.
While the iPhone 6 is most likely just a few months away, many users are eligible for an upgrade and are looking to get a new iPhone now; the iPhone 5s is still a really great phone and one of the top smartphones on the market, so it's still a great time to upgrade.
If you're eligible for an upgrade or just looking for a change when it comes to your daily device, here's what you need to know about the three iPhones that Apple currently has available.
iPhone 5s
If you want the best of the best, the iPhone 5s is the one to get. It comes with a 4-inch Retina display that gives users a crisp and sharp image, as well as a really good camera with exclusive camera features that you'll only find on the iPhone 5s, including slo-mo video and a rapid-fire photo mode called Burst Mode.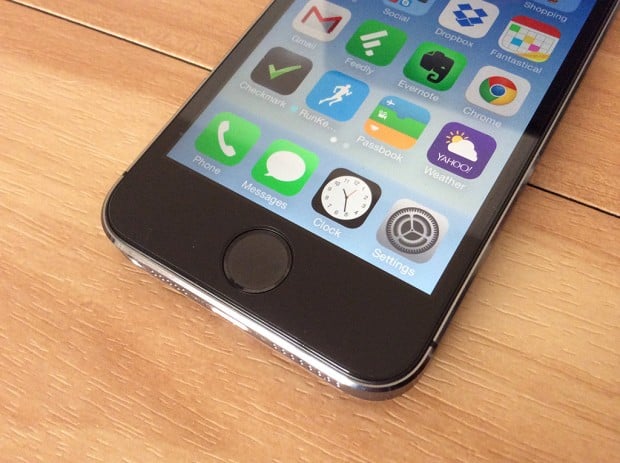 Perhaps the biggest feature of the iPhone 5s is its Touch ID fingerprint sensor, which allows you to unlock your iPhone with just the tip of your finger. It can also be used when you go to buy apps in the App Store. Normally, you would have to enter in your Apple ID password, but the fingerprint sensor adds a layer of convenience to that.
Read: iPhone 5s Review: 6 Months with Apple's Flagship
Of course, if performance is your thing, the iPhone 5s has the best processor out of the three iPhones, and any apps and games you load up will run admirably, no matter what you throw at it.
The iPhone 5s starts at $199 after you sign a two-year contract, or it will cost $649 if you decide to buy the phone without a contract.
iPhone 5c
The iPhone 5c is the step down to the iPhone 5s. It's essentially an iPhone 5 wrapped in a new design with a slightly better camera. If you remember the iPhone 5, it was released back in 2012 and is the predecessor to the iPhone 5s.
The iPhone 5c comes with a slower (but still capable) processor, and it also comes with an inferior camera when compared to the iPhone 5s. It also doesn't come with a fingerprint sensor and just sticks with the regular home button that we've grown to love over the years.
What's perhaps the biggest selling point of the iPhone 5c is the different color options you can choose from. It comes in white, blue, green, red or yellow, and it adds a bit of character to your iPhone, which is great for the younger crowd or those who simply like to be festive. However, the shell that encloses the iPhone 5c is plastic, so if you prefer a metal and glass design, the iPhone 5c may not be the device for you.
You'll pay a bit less for the iPhone 5c, though, starting at $99 when you sign a two-year contract, or $549 when you buy the device without a contract.
iPhone 4s
The iPhone 4s is the oldest iPhone that Apple still sells. It was released way back in 2011 and it definitely shows a bit of its age, but it's a perfect option for casual users who don't need a lot of power.
The iPhone 4s is slightly thicker than the iPhone 5s and it comes with a smaller 3.5-inch screen. It's also much more underpowered than the iPhone 5s, but I've found that the performance difference is a bit negligible. The jump from the iPhone 4s to the iPhone 5s is better as far as software performance is concerned, but it's not something that will blow your socks off. Apps load up quickly on both devices, and navigation is smooth and snappy on both the iPhone 4s and iPhone 5s. Of course, if you were to put them side-by-side and compare, you'd notice a difference, but separately, it's really not a huge gain.
This makes the iPhone 4s a good option for those on a budget. You can grab it for free when you sign a two-year contract or buy it for $449 without a contract. You can even get for much cheaper if you buy a used model on eBay, where you can usually grab one for around $200 off-contract. That's not a bad price at all.
Which One Is Right for You?
So now that you know some of the differences between these three devices, the toughest question comes next: which one should you get?
For the most part, it comes down to whether or not you're signing a contract and if you're on a budget. If you're signing a two-year contract, we'd recommend getting the best phone you can, which would be the iPhone 5s. Yes, it's $200 more than the free iPhone 4s, but that difference is incredibly negligible when compared to how much you'll spend on your cell phone bill over the next two years.
However, if you're buying an iPhone off-contract and are on a budget, you'll have to be a bit more careful. The iPhone 4s is probably the device for you in this case, since you can get one for fairly cheap. However, off-contract service plans are fairly cheap as well, so even if you buy the iPhone 5s at full price, you might still pay less over two years compared to a contract plan.
As for the iPhone 5c, it's one of those phones that's hard to recommend to prospective buyers, especially since you can pay just a bit more cash and get a much better phone in the iPhone 5s. This is probably why the iPhone 5c hasn't been selling well.