iPhone 5s iSight Camera May Not Look Smart on Paper, But Image Samples Say Otherwise
To the average onlooker, Apple's the iSight camera on the new flagship iPhone 5s that will be available for purchase starting September 20th looks the same as the rear-facing camera on the outgoing iPhone 5 model. Both devices could take images with 8-megapixel resolution, and with iOS 7, both the iPhone 5 and the iPhone 5s will have access to the same camera software that delivers live filters, video zooming, and easy HDR capture modes. However, Apple did make a number of notable improvements to the camera. Let's explore some of the improvements by taking a look at the image samples that Apple has provided.
True Tone Flash
For low light photography, one big improvement is that the iPhone 5s will now have two LED flash units. Apple is dubbing this True Tone flash as when the flash is fired off for night portraits, the flash will have better white balance correction so skin tones will be more natural.
It's made up of two LEDs, one white and one amber. But they don't simply fire in tandem. When you take a picture with the flash enabled, the iSight camera uses software algorithms to assess the color temperature of the scene. That allows iPhone 5s to determine just the right percentage and intensity of white light versus amber light you need — using over 1000 unique combinations.
While LED flash is still not as strong as Xenon flash–like the module on the Nokia 808, Nokia Lumia 1020, Samsung Galaxy Camera, and Samsung Galaxy S4 Zoom–the more accurate rendition of skin tones may be a huge benefit. On the Lumia 1020 and Lumia 928, both with Xenon flash, Windows Phone's white balance is highly thrown off when the flash is used, resulting in orange looking skin hues.
Also, the more powerful flash addresses instances of a ghosting light where photos captured sometimes exhibit a white layer of light that makes it look unnatural.
Larger Pixels and Larger Aperture
Apple is increasing the amount of light that hits the sensor in a number of ways with subtle improvements to the iPhone 5s camera mechanism. This would allow for better low light photography, even if the flash isn't used. One way is to increase the sensor area. Not quoting specific sensor size, Apple says the sensor size is now 15 percent larger than the iPhone 5 sensor. The aperture has been widened as well to f/2.2, and the result is that you'll get about 33 percent more light than the sensor on the iPhone 5.
This isn't anything new. The larger sensor size coupled with the same megapixel resolution will mean that each pixel on the sensor will capture more light. This is an idea that HTC had toyed with on the Ultrapixel camera technology on the HTC One, which helps that model with low light photography. Still, HTC's 4-megapixel sensor has larger pixels than Apple's meaning you'll get more light still with Ultrapixel. Sony is experimenting with both larger sensor and higher resolution on the 20-megapixel Sony Xperia Z1 phone, a device with a sensor size that's the equivalent of what's found on a point-and-shoot camera. Nokia is even more ambitious with a 41-megapixel resolution and a larger than point-and-shoot sized sensor. That will benefit when you're digitally zooming or cropping into an image to blow up a certain area of your picture.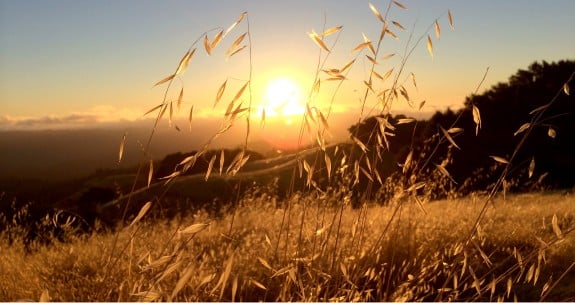 Larger sensor area also helps in isolating the subject matter and creating effects such as shallow depth of field and bokeh, features that are traditionally found on DSLR systems. You can see subject matter isolation in a few sample images that were posted by Apple.
Faster Focus and Burst Shooting Mode
This is nothing new. Burst shooting mode has been available on a variety of smartphones by holding down the shutter button, and now the feature is on the iPhone 5s, which is assisted by the faster processor that Apple is using. This will help you not miss a shot as your camera is hunting to focus. It will also allow you to capture motion beautifully as well.
Auto Image Stabilization
Image stabilization has been a hot topic this year. HTC, Nokia, and LG are all opting to use optical image stabilization, a mechanism that adds ball bearings, springs, or other mechanics to help the lens or sensor counteract camera shake when you're holding the camera. The effect is that you can capture images in low light without the use of a flash and not have blurry images.
Apple is taking this approach in a slightly different way by using digital image stabilization. It's a cheaper solution and one that uses software, rather than hardware, to counteract shaky hands.
We're going to have to wait to review the iPhone 5s for ourselves before evaluating the effectiveness of stabilization.
One thing about digital stabilization is that to do this, Apple will have to increase the ISO to keep the shutter speed fast to counter shaky hands. This may result in more noise than optical image stabilization, but that's something we'll have to test out in greater detail later.
There's also a second type of blur. The first deals with camera shake from the photographer side. The second deals with motion–if you have a fast moving subject with low light, that could also result in blurry images. This is something that requires a fast shutter speed, or a flash to freeze the motion for the camera to capture the image, to counteract, not stabilization.
HDR Panoramas
A cool part about panoramic image captures on the iPhone 5s is that the camera will now adjust the shadows and lighting throughout the image, giving you better dynamic range. This way, if you start in a bright area, your darker areas of the panoramic won't have shadows with little details or if you start in a dark exposure, you won't end up with a resulting panorama with blown out highlights where the sky is concerned.
Early Reactions
Consumers seem to love the camera improvements on the iPhone 5s. Despite the phone not having optical image stabilization, high megapixel count for cropping, Apple nails the user experience and capturing images with the new iOS 7 camera app is simple, easy, and requires little thought. If the Nokia Lumia 1020 is aimed at the entry level DSLR market for an all-in-one smartphone camera solution, then Apple's iPhone 5s is achieving similar status with point-and-shoot users who want a solid camera that delivers in a variety of settings without having to be overly complicated.
This means that the iPhone 5s doesn't have the best camera specs, but through careful integration of software and hardware, Apple seems to be delivering.
Some sites were still skeptical. CNET thought that the camera software created images that were too overprocessed and Apple's DSLR camera claims were overly hyped in its marketing. Still, I think the iPhone 5s will still be the most popular camera on the market and it's one that every iPhone 5s user will always have with them. It's about compromises between good image quality, portability, cost, and performance.