iPhone 5S Release & Rumor Roundup
As WWDC 2013 approaches we don't expect to see a new iPhone 5S unveiled, but we are bearing down on a rumored iPhone 5S release date this fall.
While we approach the release date, the iPhone 5S rumors don't stop. While we are already seeing a lot of iPhone 6 rumors and interest, the iPhone 5S remains the iPhone we expect to see later this year.
In recent public appearances Apple CEO Tim Cook did not talk about the iPhone 5S, but many sources claim production of the next iPhone will start in June or July. We are on the cusp of an iPhone 5S release and here are the latest and most plausible iPhone 5S rumors.
In a few minutes you can catch up on what the iPhone 5S might look like, when the iPhone 5S release date may land, possible iPhone 5S features and stepping stones on the way to the iPhone 5S.
Users searching for a new phone may be in for a four month wait to get the iPhone 5S, so we're not yet to the point where every iPhone shopper should wait, but that cutoff time is approaching.
iPhone 5S Release Date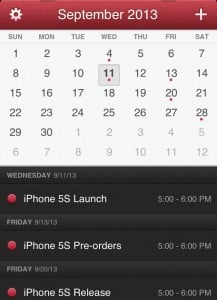 The iPhone 5S release date is not going to be this summer, so get ready for a short wait. Apple CEO Tim Cook told investors to look forward to amazing products this fall. WWDC served as an iPhone launch venue in the past, but this year expect the focus to remain on new software like iOS 7 and OS X 10.9.
The iPhone 5S release date will likely land in September, a year after the iPhone 5 release. Apple isn't tied to iPhone releases exactly at the one year mark but three sources point to September as the most likely month for an iPhone 5S launch.
Analysts from Morgan Stanley, Wells Fargo and Jeffries all point to September as the month Apple will launch the new iPhone. Wells Fargo cites an Apple supplier who spoke about a component that is likely hitting the iPhone 5S, where the company plans a major ramp up in production for October. Jeffries points to data from over 400 suppliers in Asia and Morgan Stanley points to supply chain sources.
In order to meet a launch and possible iPhone 5S release in September production of components may start as early as June, with talk of Sharp making iPhone 5S displays next month.
While the iPhone 5S rumors often talk of a launch, it is very possible that we will see an iPhone 5S launch event in September followed one week later by the iPhone 5S release at carriers and Apple Stores. This also points to an iOS 7 release to the public sometime in September as Apple typically rolls it out a few days before the new iPhone.
Current rumors suggest Apple will hold a separate event for the iPad 5, which could come in October.
iPhone 5S Design & Display
The iPhone 5S will likely look like the iPhone 5, as a typical iPhone "S" release does. Katy Huberty at Morgan Stanley already claimed as much in a report earlier this year. However, we are hearing about possible changes to the iPhone 5S features that will impact how the iPhone looks.
The iPhone 5S display is expected to stay at 4-inches, but a new rumor claims the iPhone 5S will feature narrower bezels and a higher resolution display. The higher resolution display is said to double the number of pixels from about 730,000 to 1.5 million. This move would allow Apple to jump to a higher resolution and set the stage for an iPhone 6 with a bigger screen.
This same rumor claims the iPhone 5S will feature an edge-to-edge display. An alleged iPhone 5 part leak from 2012 pointed to an edge-to-edge display in the iPhone 5, something Apple may have been working on but chose not to implement. The iPhone 5S concept video below shows what the iPhone 5S could look like and discusses a possible Retina+ Display.
Several reports claim the iPhone 5S will deliver multiple color options for the iPhone, similar to the iPod touch line. This remains a possibility, but with a possible cheaper iPhone in the works we could be hearing confused reports.
A set of alleged iPhone 5S parts, if legit, show Apple is redesigning the inside of the iPhone 5S which could line up with a collection of rumored new iPhone 5S features.
iPhone 5S Features
The iPhone 5S design may not change dramatically, but look for Apple to pack in a number of iPhone 5S features to encourage users to upgrade from previous models.
One of the most interesting rumored features is that the iPhone 5S will include a fingerprint reader to secure the smartphone and possibly enable a mobile digital wallet. Apple bought AuthenTec in the middle of 2012 for their mobile security tech and smarts, and we may finally see it come to fruition in the iPhone 5S.
This may also include NFC as part of a digital wallet that users can secure with their fingerprint. While neither feature is guaranteed  it appears that Apple is making room for a new internal design with new parts. Many other phones feature NFC to make payments and share files, including most modern Android and Windows Phone 8 devices.
iPhone 5S Camera
Apple routinely upgrades the camera with a new model, and the iPhone 5S could bring new cameras to the front and rear of the iPhone.
Multiple rumors claim Apple is adding a 12MP or 13MP camera to the iPhone 5S, a jump up from the 8MP sensor in the iPhone 5. We are also hearing that Apple could add a dual-LED flash for a brighter burst of light. Apple may stack the LEDs on top of each other or pair them up as we show in out iPhone 5S concept.
Apple supplier OmniVision announced a new front-facing camera sensor that is smaller than the one found in the iPhone 5 but is capable of shooting 1080P and taking higher resolution photos. This new sensor could make its way into the iPhone 5S to deliver a better FaceTime experience.
iPhone 5S Software
The iPhone 5S should ship with iOS 7, the new version of iOS that is under the direction of Jony Ive. This new version is rumored to deliver a new look for the iPhone and iPad software. We may see a flatter design with less gloss and less use of real world textures in the OS and in Apple Apps.
We expect to get a good look at iOS 7 on June 10th when Apple is holding a Keynote for WWDC 2013. Here we should see many new features and possibly see a few hints about what features could be on the way to the iPhone 5S. Typically Apple holds back one feature for the latest iPhone. This year it could be mobile payments, which might tie into the fingerprint reader and NFC, which are both rumored.
iPhone 5S Carriers & Price
Apple will absolutely sell the next iPhone on the four major carriers on the release day. This means we should expect to see the iPhone 5S on T-Mobile, AT&T, Verizon and Sprint.
We may also see it arrive on pre-paid carriers soon after release. Possible pre-paid iPhone 5S carriers for a near launch partnership include Straight Talk, Virgin Mobile and Cricket Wireless.

This article may contain affiliate links. Click here for more details.