iPhone 5s Reportedly Coming to Boost Mobile This Year
We already know that a handful of smaller, regional carriers will be getting the iPhone 5s shortly, but a familiar face will be joining the crowd for the first time. According to mobile insider evleaks, Boost Mobile is prepping its launch of the iPhone 5s, as well as the iPhone 5c. A launch date hasn't been set yet, but evleaks says it'll be sometime during the third quarter of this year.
Several smaller carriers are rumored to begin offering the latest iPhones starting on October 1. Nothing has changed on that front, and we have yet to receive any official word from smaller carriers about iPhone 5s availability. This will be the first time that Boost Mobile will sell the iPhone.
evleaks posted up press material for the Boost Mobile iPhone 5s and 5c launch, and the carrier is leading the charge by advertising its no-contract unlimited plans, saying that it's "the only monthly unlimited plan w/ Shrinking Payments." Of course, Boost Mobile will be going against competition that already carry the iPhone, such as Cricket, Straight Talk and Virgin Mobile (Boost Mobile and Virgin Mobile are both owned by Sprint).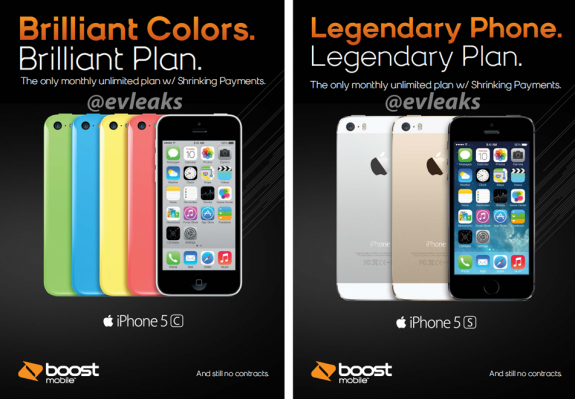 We've heard rumors earlier this year about the possibility of the iPhone coming to Boost Mobile sometime this fall during the third quarter of this year, and it seems that those rumors will come true. Aside from Boost Mobile, nine regional carriers in the US are said to be a launching the iPhone 5s on October 1 (again, we have yet to hear a date from Boost Mobile). These carriers include Appalachian Wireless, Bluegrass Cellular, C Spire, Cellcom, GCI, MTA, Nex-Tech Wireless, Ntelos and Strata.
More regional carriers are expected to join in on the October 1 launch date, so maybe Boost Mobile will be one of them. Sadly, though, US Cellular is left out of this initial list and we have yet to hear when they'll be seeing availability for the new phone, but we wouldn't be surprised if it came on October 1 alongside the rest of the pack, or soon thereafter.
Apple has a list of carriers that the iPhone has supported, and in the past, the company has slowly and gradually rolled out its iPhone to more and more carriers after the initial launch. So, if you see your carrier on the list, but it's not offering the new iPhones yet, you'll have to be patient, as Apple usually waits to release its newer model on smaller carriers and in other countries.

This article may contain affiliate links. Click here for more details.