iPhone 5s Review: The Best Phone for Almost Everyone
The iPhone 5s is the best phone Apple's produced to date and the benchmark of what a smartphone should be. Though there are some worthy competitors, the iPhone 5s is the phone I recommend without reservation and suggest people put at the top of their shopping lists. Instead of attempting to blow past the competition with bigger everything, it improves on a popular device and is now the keystone to the most mature mobile technology ecosystem.
The iPhone 5s is the only device designed and engineered specifically for iOS 7. While the iPhone 5c and Apple's older devices do run iOS 7, the iPhone 5s is the only iOS device that unlocks iOS 7's full potential. If you're heavily invested in the Apple ecosystem and have a lot of friends and family that you communicate with over FaceTime and iMessage, then there's no better phone than the iPhone 5s.
Apple's excellent quality standards, world-class customer support, and continued focus on features that are easy to use  earn the iPhone 5s a Gotta Be Mobile Editors' Choice Award. It sits firmly at the top of my recommendation list. Other phones may compare favorably to the iPhone 5s in some areas, but no other device comes close to matching the iPhone 5s in its entirety.
For a bit of background, I use several devices as part of my duties here at Gotta Be Mobile. I'm currently using the following devices on a regular basis: iPhone 5s (Verizon, AT&T and Sprint), iPhone 5 (T-Mobile), iPhone 5c (AT&T), HTC One (AT&T), Samsung Galaxy Note 3 (AT&T) and Samsung Galaxy S4.(AT&T). While there are things I like about each of my Android phones and a couple of other flagship devices, my AT&T iPhone 5s is my favorite and my primary device.
Pros

Excellent Build Quality
Touch ID Fingerprint Sensor
Best Smartphone Ecosystem

Cons

Screen too small for some activities
Expensive
Google services are better on Android devices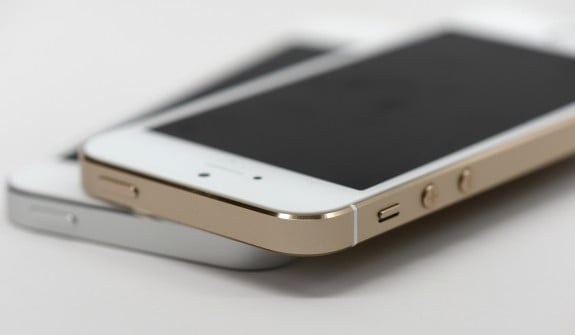 iPhone 5s | $199 to $849

iPhone 5s Review Guide

Related Reviews 

Buy the iPhone 5s
Read: Apple iPad Air Review
Hands On/Video Review
Here is a quick overview of the iPhone 5s on video. In the video, I show how the iPhone 5s looks in all three colors compared to the iPhone 5, iPhone 5c, Galaxy S4 and the HTC One. In the video you can see a quick demonstration of photo burst mode and why you might want to pick the iPhone 5s over the iPhone 5c.
iPhone 5S Design
I don't mind that Apple recycled the iPhone 5's design at all and spit out a near clone in the form of the iPhone 5s. The iPhone 5s is nearly indistinguishable from the iPhone 5 at first glance, with only the new color choices, extra flash and fingerprint scanner differentiating the newer iPhone from the old one.  The build quality is superb, putting its cheap plastic competitors to shame. The only other smartphone I've used that is on par with the iPhone 5s in terms of external design and build quality is the HTC One.
Apple's added a gold color option for the first time and done away with the black color scheme in favor of a space grey option. The white and silver iPhone 5s is a carry over from the iPhone 5. The gold iPhone 5s is much more popular than most people expected and was nearly impossible to find at launch. The Apple Store where I bought my gold iPhone 5s only had seven gold iPhone 5s tickets available on launch day out of the more than 300 tickets Apple employees handed out before the doors opened. The gold iPhone looks surprisingly classy thanks to a muted champagne tone rather than the traditional yellow-gold finish common to gold jewelry.
The space grey iPhone 5s is a clear improvement over the black iPhone 5. Its most vulnerable edges are now plain metal rather anodized black. The back of the space grey iPhone 5s is lighter than the black iPhone 5. Both of these changes should mean less visible wear and tear during normal use for Apple's darkest iPhone 5s. You can read more about the black vs white iPhone 5 issue here.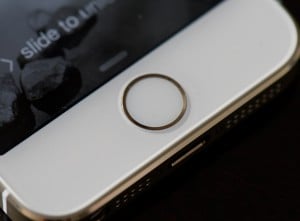 The iPhone 5s is the first iOS device to feature a fingerprint scanner, which Apple calls Touch ID. The fingerprint scanner unlocks the iPhone 5s and can be used to make purchases in the App Store.The fingerprint scanner recognizes up to five fingerprints, which means you can register both thumbs and index fingers, which are what most people use to tap the home button. Setting up and using Touch ID is painless. I didn't realize how often I punched in my iPhone pass code everyday until I started using the iPhone 5s and Touch ID. It is much more convenient than punching in a pass code. The only times Touch ID doesn't work is when there's excessive moisture on my fingertips or my fingerprints are wrinkled, such as just after washing my hands or after climbing out of a swimming pool.
There are a couple of other annoyances with Touch ID. Apple requires a pass code everytime the iPhone 5s restarts or after it's turned on for the first time after the battery is completely drained. It also requires a pass code to be entered to purchase items from the App Store if 48 hours have elapsed since you used a finger to buy an app. Apple's sending a mixed message here and should make up its mind if a fingerprint is secure or not. If it is secure, then Apple should remove these limitations and open up Touch ID to other apps that require their own pass codes.
iPhone 5s Display
The iPhone 5s is equipped with a 4-inch Retina Display. That's a lot smaller than what's found on the Samsung Galaxy S4 and other high-end Android devices, but it's plenty big for most uses. The iPhone's screen size makes easy to use with one hand, something that can be challenging on a 5-inch display. As we've come to expect, the Retina Display is crisp and clear. It has a more natural tone than the overly saturated displays on the Galaxy S4 and Galaxy Note 3.
As with previous iPhones, the iPhone 5s responds instantly to taps and swipes. It also feels like it's much easier to accurately hit small items on the iPhone 5s display than on my Android phones.
My only complaint about the iPhone 5s display is that it's just a tad too small for watching videos for extended periods. Larger phones and tablets, such as the Galaxy S4 and iPad mini are better suited for watching entire movies or football games.
iPhone 5s Performance
The iPhone 5s is the fastest iOS device to date thanks to its A7 processor, blowing past the iPhone 5 and iPhone 5c in terms of performance, at least according to the benchmark scores that you can see below. This is the first time someone's packed a 64-bit processor into a phone, which doesn't mean a whole lot to most people. What really matters is that the iPhone 5s is the only iOS device that's able to handle some new iOS 7 features.
Overall, the iPhone 5s is smooth, responsive and snappy. However, in everyday tasks such as launching apps and web browsing, it doesn't feel any faster than the iPhone 5c. Where the difference between the two phones is noticeable is in the camera app.  The iPhone 5s is the only iOS device that can capture slo-mo video and  photos at a rate of 10 frames per second using the default camera app.  The iPhone 5c simply doesn't have the muscle to snap and process images as quickly as the iPhone 5s. This might not sound like that big of a deal, but I'm sure there will be plenty of future apps that require the faster processor.
I ran the below benchmark scores (GeekBench 3) to illustrate how much faster the iPhone 5s is than other iPhones and iPads.The iPhone 5s scored 1,345 on the single core test and 2,216 in the multi-core test. The iPhone 5s eclipses every previous iOS device by a wide margin.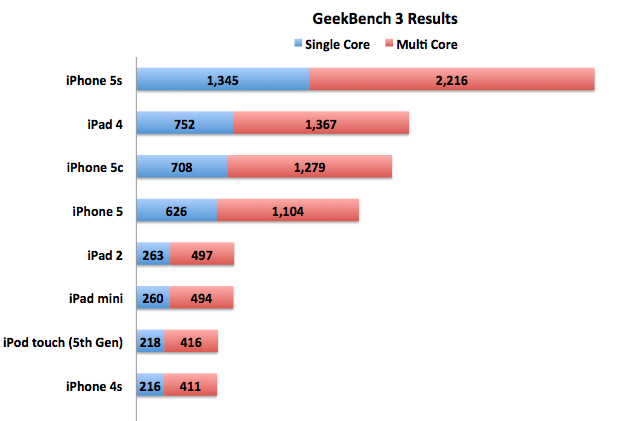 iPhone 5s Battery Life
The iPhone 5s comes with a battery that's larger than the discontinued iPhone 5 ( (1570mAh vs 1,440 mAh). As with all phones, battery life varies wildly depending on how the iPhone 5s is used, which apps are used other factors. The good news is that the iPhone 5s can last all day on a single charge with moderate usage. However, those who constantly tap, play and browse will need to plug in partway through the day.
My Verizon iPhone 5s is my secondary device, serving primarily as a mobile hotspot and entertainment device. To the right is a snapshot of the Usage page under settings on this device. I took it off a charger at 10:24 AM Friday morning. I let my son use it to watch several YouTube videos and a Netflix movie on Saturday. He also played some educational games with it. I spent a bunch of time browsing the web with Safari, ran a few Speedtests and used it to make a couple of calls. As of Sunday night at 6:55pm, the iPhone 5s battery had 40% charge remaining. This phone could easily last into Monday afternoon with light usage.
On the other hand, my AT&T iPhone 5s is my primary device and I use it nearly non-stop. I talk on it for at least a couple of hours per day, have three email accounts synced to it and take pictures of my son with it almost every day.  I almost always have to plug it in before my workday is done. I could stretch the battery to last all day by dimming the screen or cutting back on some of my activities, but I don't need to since I always have more than one device with me and carry spare external batteries when I need them.  One thing that I love is that the iPhone 5s uses barely any juice when it's not in use. That might sound obvious, but my Android devices gobble up a lot of juice when they're at rest. I didn't use my AT&T iPhone 5s as much usual on Sunday because I forgot it at home. It still has 84% of its battery charge remaining.
Most people's iPhone 5s battery life experiences will likely fall somewhere between my two descriptions above.
 iPhone 5s Call Quality and Audio
Phone calls are crisp and clear through the earpiece, speaker and included headset, so long as it's in an area with good wireless coverage.
To get the best audio call quality however, iPhone 5s users should place FaceTime Audio calls. This new high-definition calling feature can only be used to place calls to other iOS 7 users. FaceTime Audio calls are clearer than any other kind of call I've ever heard, including land lines. In some instances FaceTime Audio calls are almost too clear, making the other party's lips smacking and swallowing a little too intimate.
iPhone 5s Camera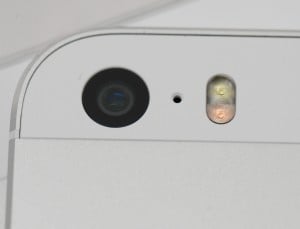 Apple equipped the iPhone 5s with an improved camera that still shoots 8MP images, but with larger pixels than the cameras on the iPhone 5 and iPhone 5c. This means clearer images, especially in low light. There are now two LED flashes next to the camera that are designed to produce more natural light, but it's still difficult to produce good photos in a dimly lit room with the. The flash color is indeed more natural, but the lag between when you press the shutter button and when the phone actually takes the pictures can be several seconds. Good luck capturing kids at a birthday party or a bunch of drunk friends with that kind of lag.
Image quality is excellent so long as there's decent light. Its wide aperture (f2.2) means that you can shoot in lower light and subjects pop from the background. The iPhone 5s camera doesn't beat a good point and shoot camera, but it's pretty close.
The Slo Mo feature sounded gimmicky to me when Apple first announced it, but it's become one of my favorite features on the iPhone 5s. This is real Slo Mo. Instead of just slowing down standard videos, the iPhone 5s actually shoots at 120 frames per second, which is four times faster than normal video captures. The slo mo videos are then played back with a full-speed intro, then a chunk of video that slows down by four times, followed by a full-speed ending. You can easily adjust what part of the video is slowed down and trim it down.
 iPhone 5s Apps and Software
One of my favorite things about iOS is that it's clean and uncluttered. Apple controls the entire experience and it's clear that iOS 7 was designed specifically for the iPhone 5s.   There's no crapware to clutter up the homescreen. When you start up the phone there's no splash screen with your wireless carrier's branding all over it. Apple's clearly the only chef in the kitchen and it's a relief after unboxing Samsung's latest phone, which requires users to sign up for three separate accounts just to get started (carrier, Google and Samsung).
Apple gave developers a preview versions of iOS 7 all the way back in June, which means they had plenty of time to update their apps to match the iOS 7 aethstetic.  Apple publishes design guidelines, which developers generally follow. This means that apps will feel familiar, even if it's your first time using them.
Siri, Apple's virtual voice assistant, is more useful with iOS 7, but unfortunately the service isn't as reliable as it used to be. I'm seeing more and more requests time out and Siri apologizing about not being able to help me right now. This issue doesn't appear to be isolated to the iPhone 5s however and may be due to capacity issues.
Is the iPhone 5s Worth It?
The iPhone 5s is definitely worth Apple's $199 subsidized asking price, but it's tough to justify paying full price for the device if you're upgrading from an iPhone 5 and ineligible for a discount. It is certainly worth the $100 premium over the iPhone 5c. Unfortunately, Apple's $199 iPhone 5s only comes with 16GB of storage and you'll need to pay $299 for the 32GB model or $399 for the 64GB model. I highly recommend buying as much storage as you can afford since the iPhone 5s can eat up storage like no other iPhone thanks to its 120fps slo mo video feature and the photo burst mode.
The iPhone 5s is more expensive than most alternatives, but keep in mind that the upfront cost of any phone is only a tiny fraction of the total cost of ownership. One thing that you get for paying premium Apple prices is access to the best app, digital content and accessory ecosystem. Most developers still put iOS users ahead of all others and I don't see this trend changing in the near future.
The iPhone 5s isn't for everyone, but that's ok. Most people will be very happy with this device, even though there are cheaper alternatives that integrate better with Google services and boast more gimmicky features.

As an Amazon Associate I earn from qualifying purchases.