iPhone 5S Thoughts and Expectations
It's not even 2013 yet but that hasn't stopped a number of supposed iPhone 5S leaks from surfacing. The iPhone 5S is rumored to be the successor to Apple's iPhone 5, the company's smartphone that launched in September of this year. And while details are extremely light at the moment, it's time to take a closer look at my thoughts and expectations about the Apple's next iPhone which presumably be called the iPhone 5S.
Read: iPhone 5S Release Date & Features: What Not to Expect.
As many of you know, I held onto my iPhone 3GS for three years, waiting for the day that Apple would release an iPhone with 4G LTE data speeds. The fact that it bumped the size of the display up to 4-inches was just the cherry on top for me and I'm sure, many others as well. However, there was definitely a part of me that wondered whether I'd be better off just waiting for the next iPhone.
The reasons are and were simple. One, my iPhone 3GS was running perfectly fine with iOS 6 on board. There were some hiccups, but nothing I couldn't handle. It would have lasted me until 2013 or beyond. And two, Apple tends to release a new design and then follow it up with a new model sporting the exact same design, just with a host of improvements and in the case of the iPhone 4 and the iPhone 4S, a unique feature for the latter in Siri.
So, like a good smartphone shopper, there was a part of me that thought about waiting for the iPhone 5S or whatever it's going to be called. Ultimately, I decided that I couldn't pinpoint, at the time, what Apple would upgrade in the next generation iPhone 5S that would make me regret my purchase of the iPhone 5. In the last few weeks, as rumors of an iPhone 5S have started to heat up, my mind has been at work, thinking about what might be in store with the iPhone 5S.
Here now are my thoughts and expectations of Apple's next iPhone, for now, called the iPhone 5S.
Mid-2013 iPhone 5S Release Date Possible
There have been rumors suggesting that Apple may return to a mid-year launch for the iPhone, a move that hasn't happened for two years. I'm sure there will be quite a bit of speculation leading up to WWDC 201 about whether or not the iPhone 5S will be a part of the event and at this point, while I think the odds are low, I wouldn't bet against it quite yet.
Read: iPhone 5S Rumors Arrive, Point to Early 2013 Release.
For one, some of the very first rumors about the iPhone 5 pointed to a fall launch. Some of the first rumors we've seen from the iPhone 5S are in regards to a mid-2013 launch. Secondly, Apple has not had a problem moving release dates up as of late. We saw it happen with the iPhone 5 going from October to September and we saw it happen with the iPad with the iPod fourth-generation launching much sooner than its usual yearly cycle.
Third, the Galaxy S3 had a huge head start on the iPhone 5 as it arrived in May and went on to sell over 30 million devices worldwide. Needless to say, it took a chunk out of iPhone sales. Apple is a business that likes to make money and by launching it closer to the Galaxy S4, expected in April or May, it could lessen the blow.
Gut Still Says September/October
All that being said, my gut still thinks that Apple will bring the iPhone 5S to shelves next fall. iPhone 4S owners will be coming off contract around then and it's positioned nicely right ahead of the holiday shopping season.
Same Design
Without a doubt,  I expect the iPhone 5S to feature a virtually identical design to the iPhone 5. It may have some tweaks like the iPhone 4S did with its antennas, but expect the core design of the iPhone 5 to stay intact. Not like that's a bad thing at all. In fact, it's a good thing.
Read: Alleged iPhone 5S Pictures Leak.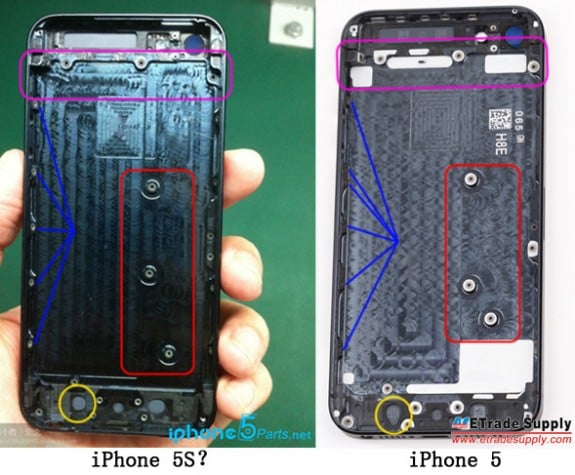 The iPhone 5 has one of the best smartphone designs in existence, featuring a combination of glass, metal and aluminum that not only looks sleek but is both nice to grip and durable.
It's also extremely thin, sitting at 7.1mm and very light for a smartphone. There were even people complaining that it was too light when it first came out. Those complaints have died down and for good reason. It's a perfect weight.
Expect the Usual Upgrades
While Apple keeps the design intact, it makes other changes to bolster the iPhone. Faster processor for better gaming and multitasking, improved cameras for better photos and video, better antennas for crisper calls. Apple will definitely be making some changes with the iPhone 5S and those are places where it will likely improve over the iPhone 5.
Read: iPhone 5S Release Date & Features: What to Expect.
https://youtu.be/xNsGNlDb6xY
We'll also likely see iOS 7 arrive on board the iPhone as well as Apple tends to release its latest mobile software with its latest iPhone. No rumors in regards to iOS 7 have leaked out yet but with iOS Chief Scott Forstall out of the picture, I think we could see some big changes.
It's clear that iOS needs a breath of fresh air as iOS 6, while nice, just feels a bit stale. Hopefully, iOS 7 offers a change of pace from the previous versions.
Expect all of these improvements with no change in battery life. In fact, the battery life on the iPhone 5S might even be better than that of the iPhone 5 which is up there with the best that money can buy.
What the 'S' in iPhone 5S Could Mean
The successors to Apple's revamped designs have not only featured similar designs, but they have also gotten an 'S' attached to their name. In the case of the iPhone 3GS, it was 'Speed'. With the iPhone 4S, the S stood for 'Siri'. So, we can only assume that the iPhone 5's successor will also likely have an S in its name as well. But what will it stand for?
One theory is that it will stand for 'Security.' Apple's iPhone is becoming a fixture in the enterprise market due to the decline of BlackBerry and it could be adding some unique security fixtures to the mix with the iPhone 5S. A fingerprint scanner is one feature that comes to mind.
Another possibility and one that I haven't seen anywhere else is that the 'S' stands for sales. NFC is a feature that has long been rumored for the iPhone. And with PassBook, a feature in iOS 6 that allows for users to use their phone like a virtual wallet of sorts and the presence of mobile payment services like ISIS and Google Wallet, now could be a good time for Apple to finally include Near-field Communication support with its iPhone.
https://youtu.be/ZY56_7qJV_A
Something else that the 'S' could stand for is 'Smart.' With Android 4.1 Jelly Bean, Google added predictive software called Google Now. Google Now brings up cards that show users information based on information it acquires. For instance, when I received an email from Amazon the other day, it immediately brought up a card tracking my package.
It will also show me things like traffic on routes I take, before I even leave the house. It's possible that Apple could add some sort of predictive, smart, technology to its software in iOS 7 though what that is, Siri or otherwise, remains to be seen.

This article may contain affiliate links. Click here for more details.