iPhone 5s vs HTC One M8: Which One Should I Buy? (Video)
The iPhone 5s and the new HTC One M8 are two excellent smartphone choices that offer a solid metal design and attractive software features, with distinct advantages for each phone. Users looking for the best metal smartphones on the market in 2014 need to compare these two smartphones, which will likely go head to head for buyers that value design until the iPhone 6 release later this year takes a spot on this comparison.
For shoppers asking, "Should I buy the new HTC One M8 or the iPhone 5s?" this guide will offer a rundown of features that matter most to smartphone shoppers. We'll touch on some important specs, but the focus will mainly be on what each phone can do for the user, and why a feature may be more attractive to one user than another.
If you want to know why the new HTC One M8 is better than the iPhone 5s, you can check out our editorial that outlines where the HTC One M8 and Android shine.
The new HTC One M8 is a brand new device, announced and released on March 25th. This new phone comes with the latest version of Android and we are already seeing deals for shoppers that want to buy this device.
Apple's iPhone 5s is an older phone, released in September 2013, but it is still one of the best smartphones on the market with a small metal and glass design, consistent and reliable camera and wide range of app and accessory support.
The iPhone 5s starts at $199 for a 16GB model on a two-year contract and the new HTC One is $199 for a 32GB model on a two-year contract. There are deals available for both phones that can drop these prices significantly, especially when trading in an old phone.
iPhone 5s vs HTC One M8 Video
This 15 minute video compares the design, features and overall value of the iPhone 5s and the new HTC One M8. Users can get a good look at the screen size differences and see some of the features in action.
Design
From a design standpoint Apple and HTC go against the trend of plastic and polycarbonate smartphones, allowing both to stand out in a sea of Samsung and LG devices. Apple and HTC delivered new smartphone designs on the HTC One and the iPhone 5, and with the new models came small revisions. HTC changed the looks for the new HTC One and the iPhone 5s metal finish is more resistant to scratches than the iPhone 5.
The iPhone 5s' design features pronounced edges, while the new HTC One's design is curved and tapered.  The iPhone 5s features a physical home button with a fingerprint unlock option, while the new HTC One uses on-screen buttons and no biometric unlock option.
iPhone 5s
The iPhone 5s features an aluminum and glass back that is available in silver, gold and space gray. The overall look is the same as the iPhone 5, and slightly taller and thinner than the iPhone 4s. The iPhone 5s dimensions are 123.8 x 58.6 x 7.6mm and it weighs 112 grams. Chamfered edges set apart the sides of the device and give a mirror-like shine to any edge on the phone.
New HTC One M8
The new HTC One M8 is made of 90% metal, a jump from 70% on the original model which HTC accomplished by engineering the design to allow antennas to communicate better through metal. The new HTC One is thicker and heavier than the iPhone 5s, measuring 146.4 x 70.6 x 9.4 mm and weighing 160 grams. The thickness is not an issue due to the curved back that tapers to fit a hand. The 48 gram weight difference is noticeable, but a worthwhile trade-off for a bigger screen.
Display
The display is arguably the most important part of a smartphone. It is where you tap, where you read, where you game and where you watch movies. Because the display is the primary interaction point of any smartphone, users should look closely at it before buying a smartphone like the new HTC One or the iPhone 5s. There is a 1-inch size difference between these two phones, which means the new HTC One is bigger overall. A 5-inch display is still usable with one hand for some users , but others may appreciate the smaller display and design of the iPhone 5s.
iPhone 5s
Apple continues to stick with the 4-inch Retina display and an 1136 x 640 resolution that came on the iPhone 5. This was also a minor jump up from the iPhone 4s' 3.5-inch display. Apple is slow to increase display sizes, opting for a consistent size and resolution for app developers to optimize for. The resolution is not as high as the new HTC One, but on a smaller display users still get a very nice looking display.
New HTC One M8
The new HTC One comes with a 5-inch display running a 1920 x 1080 resolution. That's the same as most HDTVs. This high-resolution packs pixels together to offer a higher pixel per-inch rating than the iPhone 5s, even with the larger size. The iPhone 5s display offers 326 pixels-per-inch compared to 441 pixels-per-inch on the new HTC One. The higher the pixel count the harder it is to see an individual pixel on the display, leading to better looking text, photos and videos.
Ultimately both displays look good, but for some users the larger display is a big advantage.
Camera
Apple and HTC are both holding out of the megapixel race, pushing for better looking photos through improved sensors and bigger, better pixels instead of just adding more pixels. The iPhone 5s camera app is low on features compared to the new HTC One M8, which includes special modes to edit photos and to make use of the dual-cameras on the back and the front facing 5MP camera.
The iPhone 5s features an 8MP rear facing camera with a ƒ/2.2 aperture and a dual LED flash. The new HTC One features a 4MP Ultrapixel camera with a ƒ/2.0 aperture and a second camera to take a photo at a different focus point. The iPhone 5s features a front-facing 1.2MP camera capable of recording 720P video. The new HTC One delivers a better 5MP front-facing camera that can take nicer looking selfies.
The top photo shows everything in focus, but users can edit the photo on the new HTC One later, and blur the background for a more visually appealing photo shown below.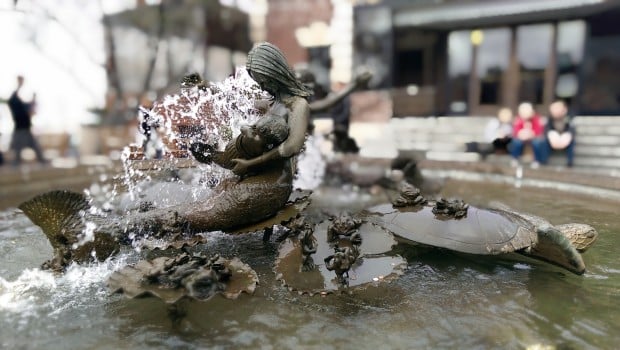 New HTC One M8 vs iPhone 5s Sample Photos
iPhone 5s Sample Video (Slow Motion)
New HTC One M8 Sample Video
iOS 7.1 vs HTC Sense 6
Apple and HTC take a different approach to software, that is similar to any iOS vs Android comparison. Apple offers fast updates to all supported iPhones and iPads on all carriers, but along with this comes more control and less customization. HTC promises faster software updates and adds features to the stock version of Android through HTC Sense 6, which includes gesture controls, themes and special apps like BlinkFeed.
iPhone 5s
The iPhone 5s runs iOS 7.1, which is a recent update to the iOS 7 software Apple announced last year. iOS 7.1 includes the personal assistant Siri, a Control Center to quickly toggle settings and a Notification Center to keep alerts in one place. Users can customize notifications but not many other parts of the user experience. You can read our iOS 7.1 review for a deeper look at the performance and the new features.  The video below shows what's new in iOS 7.1
New HTC One M8
The new HTC One runs HTC Sense 6 an Android 4.4.2 which are the latest versions from HTC and Google. Notifications are easier to dismiss in Android, with a swipe, and users can customize the look of the new HTC One with themes in Sense 6. HTC BlinkFeed is a continually updating customizable newsfeed from multiple social networks and sources. Users can tap or swipe when the display is off to launch directly to specific parts of the phone. Google Now offers access to voice controls and information and Google Wallet lets users pay with the phone.
Entertainment
If you plan to use the new HTC One M8 or the iPhone 5s as an entertainment device and to connect and control a home theater there are several things to consider.
The larger display on the new HTC One offers a bigger canvas to read, game and watch movies. If you like to watch TV shows or movies while traveling or at the gym, a larger screen is a very nice thing to have in your hand. If you are watching without headphones, or listening to music, the front-facing BoomSound speakers make a big difference and are clearly better than what the iPhone has to offer.
There is also an IR blaster in the new HTC One and software to control a cable box, TV and home theater, turning the phone into a universal remote control. The iPhone 5s does not offer this feature without a pricey accessory.
Some games will come to the iPhone first, and movies will occasionally arrive in iTunes ahead of Google Play, but the two stores are much closer than in 2013 and 2012. Sometimes the Google Play HD movie rentals and purchases will be $1 cheaper and Google Play rentals are good for 48 hours, double what Apple offers.
Conclusion
There is no best smartphone for every user, which is why it is especially nice to see two great choices with premium designs and competing features. The iPhone 5s is a good choice for users that need a smaller device with a proven track record of fast updates and who want consistently good photos without editing them using the on board software. The iPhone 5s is also a great option for users that need fingerprint security.
The new HTC One M8 is a well-built smartphone with many features we don't see on the iPhone 5s like dual cameras and a better front-facing camera. Users get a bigger screen and more customization than on the iPhone 5s. The new HTC One features more camera editing modes to change focus, show action and remove unwanted objects from the photo.
Buyers should take this feature comparison and pick the few major things they need to compare in person and stop into a local store to go hands on with each phone before buying.

As an Amazon Associate I earn from qualifying purchases.