iPhone 6: 6 Things Android Users Can Tell You About Big Screens
This week the all-new iPhone 6 was announced, and it finally has a bigger screen. In fact, in case you missed it Apple released a new 4.7-inch iPhone 6, and a massive 5.5-inch iPhone 6 Plus. Two things many iPhone users never expected to happen.
Big smartphones are nothing new though, and Android users have been enjoying smartphones with 5-inch or bigger screens for years. In fact, the Samsung Galaxy Note was the first huge device that was popular and sold millions. It had a 5.3-inch display, and now the new Note 4 coming next month delivers an iPhone 6 Plus beating 5.7-inch 2560 x 1440 Quad-HD display.
Read: iPhone 6 vs LG G3
Android users know a thing or two about big screens on a smartphone, and if you're looking to jump up and get a new iPhone 6, we have a few things we wanted to mention below. My daily smartphones are the Samsung Galaxy S5, and the LG G3. One has a 5.1-inch 1080p display, and the LG G3 has a large 5.5-inch screen. Having a big smartphone is nothing new to me, but for iPhone 6 users this will be a major change.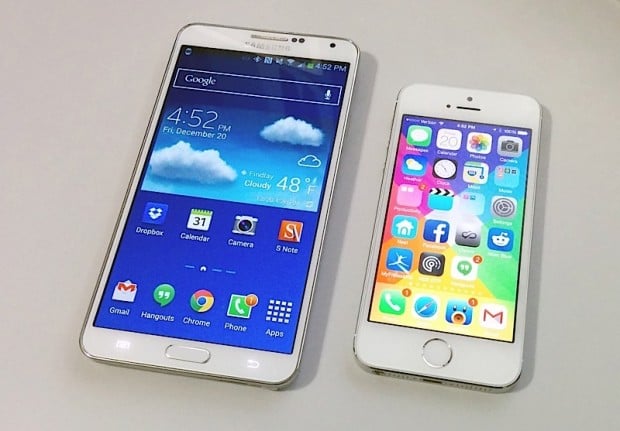 For years Apple made fun of Android (most notably Samsung) for the huge and "unrealistic" screen sizes they used, but now they've finally caved to consumer demand and are offering the same thing. We'll call the iPhone 6 Plus the iPhablet, because that's what it is. Android users have been calling these phablets for a long time, considering a 5.7-inch smartphone is more a tablet than a phone, but that's a good thing.
Over the years many iPhone faithfuls have switched to Android simply because they wanted a bigger screen and liked what their friends had. It's this, that is likely the reason Apple finally changed tunes and went to a bigger screen. When I use an old iPhone 4 it just feels so small, typing is hard, and enjoying content isn't the same. Big screens are here to stay, and Apple confirmed that this week with the all-new iPhone 6.
Movies and Games
The iOS ecosystem and Apple App Store has a rich library of some of the best apps, games, and movies available today. It's arguably better than Android, and is what has kept so many iPhone users on Apple's side for so many years. While watching a movie on Netflix, playing Clash of Clans, or enjoying some fun casual games on your phone is fun, it's even better on a big screen.
The new iPhone 6 finally has a 1334 x 750 (720p) HD display, and games will look amazing. Even though the "retina" screens before were good, they'll be even better with the new iPhone 6. The iPhone 6 Plus even has a full 1080p HD screen, and it will deliver the best gaming and movie experience, hands down.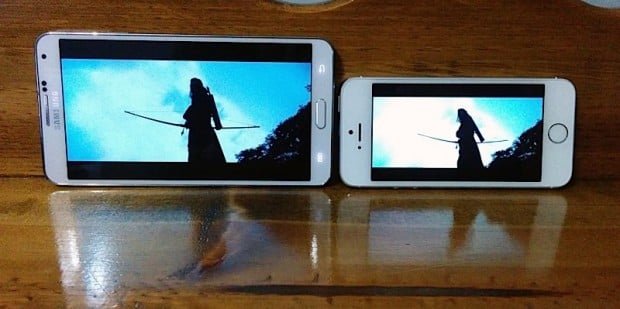 Android users have been enjoying Netflix, YouTube, Hulu, and movies uploaded to micro-SD cards on a big screen for years, and in many cases their phones have replaced the tablet. I know my 5.5-inch LG G3 is all I need, and I rarely use my Samsung Galaxy Tab Pro 8.4-inch tablet these days. If you get a new 128GB iPhone 6 you'll have plenty of space to load up movies, and now you'll actually be able to enjoy it because you'll have a big screen.
Many analysts say content is king, and now all that content can finally be enjoyed as intended. With a big 4.7 or 5.5-inch iPhone 6 display.
Adjust Your Grip
We all probably hold our smartphones in a similar fashion. Your thumb is on the side, a few fingers are on the back, and your pinky is used for support. At least that's how I do it, and now that iPhones are bigger you'll probably be doing the same thing if you don't already. Apple's made fun of Android's big screens for years, as shown below, but now that they offer bigger screens you'll all need to adjust your grip.
In fact, the iPhone 6 Plus is so tall you'll probably have a hard time accessing things with one hand, and typing with one hand isn't very easy either. I find that using Swype, SwiftKey, or Google's Keyboard with gesture-typing is easiest, and with iOS 8 you can now use other keyboards, which should help ease this transition.
It's also worth noting that your wrist may get tired from the changes, but after a few days you'll get used to your bigger screen, and comfortable with the fact that you'll likely have to shuffle the phone a bit in your hand to get the device in the right spot in order to tap certain aspects of the screen. I'll roll my fingers up and let my Galaxy S5 slide down a bit so I can reach things at the top. Have fun with that iPhone 6 buyers.
Landscape Mode
iPhone owners are probably all very familiar with landscape mode. Using the phone horizontal instead of vertically to enjoy more content on the small display. The new iPhone 6 and 6 Plus will offer tons more screen real-estate, and you may not need to use landscape mode anymore, but you should.
Typing will be easier, and using two hands to hold your phone in landscape will make writing long emails, essays, or other things a breeze. Everything from browsing the web, watching YouTube videos, and more will all be better with the new iPhone 6. Just don't forget to hold it in landscape mode from time to time.
Don't Drop It
The iPhone 6 isn't available yet, so we haven't seen any drop-test videos testing out the durability when a user drops their phone. These are popular videos all over the web, and the same will likely arrive with the iPhone 6 launch next week. A bigger screen means a few things. For one, it's heavier and will incur more damage when dropped, and there's more room for the screen to flex while it's in your pocket. The small square iPhone's of old were pretty durable, but don't drop or sit on your new iPhone 6, as it could crack.
Dropping the phone will also go hand in hand with changing how you grip and use your smartphone. Personally, the 5.7-inch Galaxy Note 3 and 4 are just too big. There's no way to type with one hand unless your hands are massive, or you use the one-handed mode which moves the keyboard to one side of the display. As a result almost everyone types with two hands, simply because they have to.
I've almost dropped my phone on many occasions for this same reason, trying to type with one hand. When buyers start getting the new iPhone 6 you may want to buy insurance at the same time, as we have a feeling there's going to be a lot of cracked and broken screens from drops. Mostly because people will need to get used to the bigger display, and have a more secure grip. It sounds silly, but it's true. Be careful.
iPhone 6 Screen Protectors
The iPhone 6 was rumored to come with a break-though in screen protection, called Sapphire Crystal. This glass is extremely durable, shatter-proof, and nearly impossible to scratch. It's also quite expensive, hard to manufacturer, and didn't make it on the iPhone 6. We've seen it on watches, even the new Apple Watch, but not on the iPhone.
With a bigger phone comes more screen real-estate. This is more glass that can be scratched when you drop your phone, from keys in your pocket, or the array of other things in a woman's purse at any given time. My girlfriends purse is a black hole of danger for electronics, and my smartphone stays in my pocket.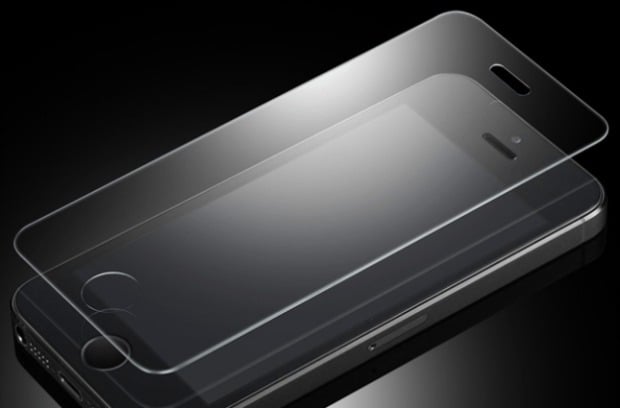 If you pickup a shiny new iPhone 6 or 6 Plus you'll probably want to get a screen protector too. At least until we can see some scratch test videos and see how well the new iPhone 6 screen holds up to damage from daily wear and tear. Nothing is worse than watching some Breaking Bad on Netflix and having a huge scratch in the middle of your screen.
Stylus
Sorry iPhone 6 Plus buyers, the Galaxy Note 4 is still better. Mainly because it has a higher resolution display, a bigger battery, and an S-Pen stylus. Content creation is a huge selling point for the Galaxy Note lineup, and now that there's an iPhone with a huge 5.5-inch display, we can expect more drawing apps to arrive for iOS.
Getting a stylus may be a good idea for those with the iPhone 6 and 6 Plus, as it will make things even easier. From playing Draw Something 2, to performing other tasks. There's even tiny stylus options that fit in the 3.5mm headphone jack, so you'll never lose it. Give one a try, and enjoy it.
Final Thoughts
Apple's Tim Cook took the stage and said "Bigger than bigger" when talking about the new iPhone. What does that even mean? The iPhone was announced a few days ago, and I still have yet to receive a reply regarding what exactly "bigger than bigger" actually means.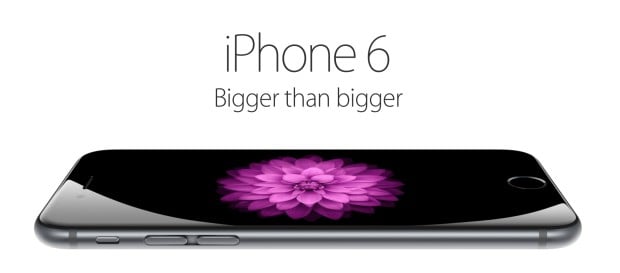 One thing I do know though, is that bigger IS better. Welcome to the party iPhone users!