iPhone 6 Ads Feature U2, Justin Timberlake, Jimmy Fallon
Apple's first iPhone 6 and iPhone 6 Plus television ads feature  U2 performing its latest single, while a separate spot features Justin Timberlake and Jimmy Fallon singing the theme from 2001: A Space Odyssey. While U2 is front and center in one ad,  the other two celebrities' faces don't appear in the ads.
Apple introduced the iPhone 6 and iPhone 6 Plus today at a launch event near its Cupertino headquarters. The phones are larger than their predecessor, featuring 4.7″ and 5.5″ (respectively) Retina Displays. The new phones are the first to launch with iOS 8, Apple's next-generation mobile operating system. The below iPhone 6 ad was first shown at the launch event, where Apple CEO Tim Cook revealed who the voices and hands belonged to.
https://youtu.be/-ZrfXDeLBTU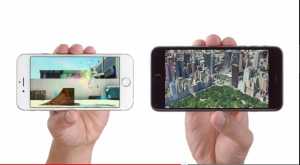 Apple's commercials are often understated and this new spot is an example of how the company subtly introduces products to mainstream consumers. Rather than jamming in specs, prices and other details, the commercial simply lets viewers know that there's new, bigger iPhones coming soon.
The ad runs through several features that are new to the iPhone 6 and iOS 8. For example, we can see a Keynote presentation being edited with the new iOS 8 keyboard that offers smarter auto-correction.  Next, the ad shows a quick glimpse at the Health app, which tracks daily activities and workouts. A few seconds of the ad demonstrate the iPhone 6's new slow-motion capture, which records at 240 frames-per-second, while an improved Maps Flyover view is displayed on the iPhone 6 Plus. The ad then demonstrates that iOS 8 will allow users to send voice recordings through the Messages app. There's then a very quick glimpse of the home screen in landscape mode rather than the portrait mode the iPhone's been stuck in until now. After that ther'es a quick look at how two panels can be easily displayed on the iPhone 6 Plus in some apps, such as Garage Band.
The ad closes with the tagline "bigger than bigger." This is perhaps a goof on Samsung's tagline "The Next Big Thing is Already Here."
https://youtu.be/SHPACRa6Vq8
That's a ton of visual info packed into a 30 seconds spot and it's obvious that Apple needs to slow things down a bit to get consumers to understand what the company is actually offering with the iPhone 6 and iOS 8. Thankfully, they've put together more commercials that explain new benefits of the new iPhone models one at a time. In the below ad, Jimmy Fallon and Justin Timberlake demonstrate the Health app and show how it can track what users eat and how active they are.
Jimmy Fallon has been an Apple fan for years. He keeps a MacBook Pro prominently displayed on his desk on the set of  The Tonight Show and on the set of his previous gig, The Late, Late Show. Above is an example of a segment where Fallon's MacBook Pro is clearly visible as he speaks to Microsoft founder Bill Gates.
https://youtu.be/nXJz3C12bWs
Apple's also enlisting the help of U2 to launch the iPhone 6 and iPhone 6 Plus. The band performed at the launch event and joined Tim Cook on stage to announce that its new album Songs of Innocence will be available for free, exclusively on the iTunes Store and iTunes Radio through October 13. U2 stars in a promotional spot called "Echoes," which will likely start running on national programs to promote the free album.

As an Amazon Associate I earn from qualifying purchases.