iPhone 6: 6 Amazing Concepts
The iPhone 6 represents the hope for a all-new iPhone. While we expect a small update this year, the iPhone 6 is when we could see a larger screen, a brand new design and new iPhone features Apple can't squeeze into the same old design.
With this in mind, and chatter about iPhone 6 prototypes with big, high-resolution displays and no home button, designers are working at a fevered pace to deliver iPhone 6 concepts.
These iPhone 6 concepts are like concept cars in that they show what a company could do with a piece of technology, but unlike car concepts, Apple is not making these iPhone 6 concepts to show what it can do. These new iPhone 6 mock ups, iPhone 6 concepts and iPhone 6 videos come from Apple fans that want to show what the iPhone 6 could look like.
Read: Best iPhone 6 Concepts
The best iPhone 6 concepts blend Appel design with rumors, iOS 7 features and more to deliver an iPhone that Apple could actually call the iPhone 6. Some of these iPhone 6 concepts stretch when it comes to specs and features, but in general these are plausible renderings of what the iPhone 6 could look like and what it might be capable of.
iPhone 6 Concept Based on iOS 7 Features
The new iOS 7 beta shows the direction Apple is taking for the new iPhone software, and while it will debut on the iPhone 5S this year, it hints at what we can expect on the iPhone 6.
This iPhone 6 concept from ADR Studio shows an iPhone 6 that includes a 4.3-inch Retina+ Display with a higher resolution that should make reading the slim new font easier and it features a new home button that doubles as a fingerprint reader to help users secure their data easier. This could also help users make mobile payments without the fear of someone stealing their credit card numbers.
The home button is now a touchpad that supports left and right taps for greater control. It's been rumored that Apple is changing up the home button, so perhaps we'll see a new control scheme.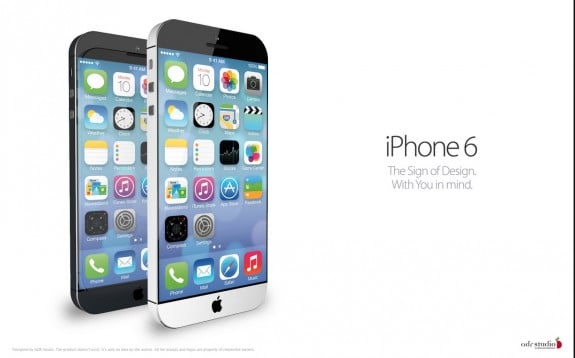 Even though the megapixel rating on the iPhone camera is jumps almost every year, a 18MP camera sensor for the iPhone 6 might be a bit much, even for a smartphone launching in 2014. The decision to move the power button to the middle of the top is interesting, but could make sense with a larger display, allowing users to reach it no matter which hand they hold the iPhone in most often.
iPhone 6 Concept From Apple
While most of the iPhone 6 concepts on this list come straight from talented designers, this iPhone 6 concept is based directly off an iPhone patent filed by Apple. An iPhone patent shows off an iPhone with a curved display that wraps-around the iPhone offering a cool way to interact with the iPhone from the front or back.
This iPhone 6 concept comes to life from an Apple patent, and seems outlandish at this point in time, but it's important to remember the iPhone 6 is over a year away by most accounts. Given all the work on flexible displays by Sharp, Samsung, LG, Toshiba and others it's possible that Apple could make a unique display part of a standout iPhone 6 feature.
It's not clear if all of the features shown in this iPhone 6 concept from T3 could come to life on such a device, but it's still an exciting iPhone 6 concept based off of an Apple schematic.
Waterproof iPhone 6 with Notification LEDs
In another look at the iPhone 6, we get to see a waterproof iPhone that delivers a larger HD display, slimmer design, notification LED and wireless charging to name a few of the features found in this iPhone 6 video. This concept comes from Ran Avni and Uygar Kaya.
As we look out into 2014, an iPhone 6 that is waterproof, or at least water-resistant makes sense. Sony and Samsung are pushing smartphones that can survive a small time in water and many companies are developing similar technology. Well-known case maker Case-Mate told GottaBeMobile that it sees manufacturers addressing water and dust damage in the next several years.
It's also not a shock to consider a 1080P HD display in an iPhone 6, as Tim Cook said Apple is merely waiting for the best screen technology to reach higher resolutions. The same goes for wireless charging which could easily become a standard iPhone 6 feature by the time 2014 rolls around. The notification LED would be a blessing for former Android users that enjoy a constant non audible alert system.
Even as technology advances, battery life is the limiting factor in many designs, which means the super-slim look of this iPhone 6 concept might be a non-starter.
iPhone 6 with Edge-to-Edge Display
This impressive looking iPhone 6 concepts pairs a display that goes all the way to the edge with a new set of gesture controls made possible with a new smart bezel that replaces the iPhone 6 home button. The iPhone 6 concept below comes from Concepts iPhone and is created by JohnnyPlaid.
This new edge-to-edge display would allow Apple to increase the size of the iPhone 6 display without dramatically increasing the size of the iPhone. This is part of the reason we see an iPhone 6 with a 4.5-inch display in the video above, but this design would require a very strong glass as the edges of the iPhone are able to absorb some impact during a drop, and prevent a crack that will overtake the display.
The smart bezel would replace the home button, offering a new way of controlling the iPhone with gestures and taps. This is a more plausible iPhone 6 feature, which would remove a part that fails all too often and deliver more functionality.
iPhone 6 with a 3D Camera
This iPhone 6 concept is one of the most far-out mock ups we've seen combining two features we wouldn't expect Apple to include in an iPhone, but one we couldn't help sharing.
The concept above comes from RedmondPie and includes a 3D camera on the back of the iPhone and a curved display on the front. Smartphones with 3D cameras are not new, but like 3D on computers and in home theaters it hasn't really taken off. This is likely due to the lack of support across devices and an easy way to watch 3D videos anywhere, but also just as likely due to the lack of compelling 3D footage sot by smartphone users.
The curved glass iPhone 6 display in this concept is also not a likely iPhone 6 feature. It's not that Jony Ive wouldn't allow a curved display, but we don't see any benefit to using the touch screen or the iPhone.
iPhone 6 With 5.7-Inch HD Display
Another iPhone 6 concept carries the iPhone 5.7 name in the video, but with a 5.7-inch display its clearly in the iPhone 6 release realm.
This concept takes some cues from the new iOS 7 operating system and could compete with phablets like the rumored Galaxy Note 3 and HTC One Max. It is very likely that Apple will deliver a larger screen with a higher resolution on an upcoming iPhone and the iPhone 6 would make sense.
This concept from T3 shows the many benefits of a larger, higher-resolution display including more room for icons and more room to use apps like Safari as well as additional screen real estate for watching movies.
Read: iPhone 6 With Bigger Display Pegged for Early 2014
Reports point to an iPhone 5S in 2013 and an iPhone 6 in 2014. It's still too early to talk about definitive features, but with talk of larger displays and new designs, it's not too early to share what designers think Apple could go with the iPhone 6.

As an Amazon Associate I earn from qualifying purchases.