iPhone 6: AT&T Next vs AT&T 2-Year Contract Price
Buying an iPhone 6 with an AT&T Next plan is one way to get an iPhone 6 without spending $199 or more up front. As of right now, with rare exceptions, there's simply no reason for those buying an iPhone 6 to sign a traditional two-year contract and pay $199 up front. Instead, they should find the AT&T Next program that best suits their needs.
AT&T and other wireless carriers traditionally subsidize the full cost of new iPhones. The $199 starting price that Apple typically advertises includes a $450 subsidy that the carriers pay directly to Apple. Of course AT&T isn't discounting iPhones to do you a favor, the carrier simply builds that subsidy into the required two-year contract. Carriers have spent the past couple of years shifting away from this model and are encouraging customers to pay full price for their iPhones in exchange for lower monthly service rates.
Visit ATT.com to See Exact Calculations, Terms and Additional Details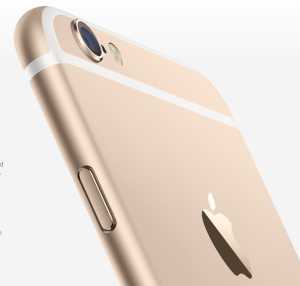 Of course most wireless customers would balk at paying $649 plus tax for a new iPhone 6. To help iPhone buyers get around the sticker shock, AT&T offers interest-free financing through a program called AT&T Next. The program allows iPhone 6 buyers to acquire a new iPhone 6 by just paying tax up front and making installment payments on the purchase price of the iPhone 6 over 20 or 24 months.  If a customer wants to get the next iPhone early they can simply pay off the balance or trade in their iPhone 6 for the iPhone 7, or whatever Apple's going to call it. AT&T Next 12 customers pay slightly more than AT&T Next 18 customers for the privilege of being able to trade in their phones once per year rather than once every 18 months.
The biggest difference between AT&T Next and a two-year contract is not the upfront cost of the iPhone 6 however. The biggest difference is that you are not married to AT&T service for two years. This is important to some people, especially those that move often or aren't sure if they'll have the funds to continue paying for expensive wireless service long term. While AT&T Next customers are on a contract for paying off the value of a device, they can leave any time by paying off the balance they owe on the cost of the device. This is similar to paying an Early Termination Fee (ETF) on a two-year contract, but there are a lot of people that complain about expensive ETF fees.
Another huge difference between AT&T Next and two-year AT&T contracts is that AT&T customers can get substantial discounts on data plans. AT&T customers get $25 per month on Mobile Share Value plans per line, so long as they're signed up for 10GB per month or more. Those on AT&T Next plans that are under 10GB per month save $15 per line per month.  How much money AT&T Next saves you really depends on your family's situation, including how much data is used each much.
Thankfully, AT&T's put together a handy chart to help explain it all. For a device that has an advertised price of $199, such as the 16GB iPhone 6, the customer actually has four options. The iPhone 6 can be bought outright for $649, purchased for $199 with a two-year contract, purchased with an AT&T Next 12 contract or purchased with an AT&T Next 18 contract.Paying full price for a device is for people that don't need to stretch their budgets and those who may not pass AT&T's credit check. If you pay $649 upfront however, you won't be eligible for the $25 or $10 per month AT&T Next monthly service credits.
The chart above illustrates the total cost of 16GB iPhone 6 ownership over the first year for those on a 10GB or higher Mobile Share Value plan.  The amount within the dark blue background is the cost of the device and the amount in the lighter blue is the cost of the wireless service.  The AT&T Next 12 plan hardware costs include 12 installment payments of $32.50, while the AT&T Next 18 bar includes 12 payments of $27.09 each.  The AT&T Next 12 Plan is $149.99 cheaper than going with a two-year contract over the first year. Buying an iPhone 6 on the AT&T Next 18 plan is $199 cheaper over two years compared to buying the device on a two-year contract.  Keep in mind that all of the prices above exclude sales tax.
iPhone 6 Total Cost on AT&T Over 2 Years w/ 10+GB Mobile Share Value Plan
AT&T Next 12: $3,540
AT&T Next 18: $3,410
2-Year Contract: $3560
Right now AT&T is offering a $100 statement credit with the purchase of an iPhone 6  on an AT&T Next plan. That means you can save up to $300 by going with a Next plan over the next two years rather than going the old-fashioned contract route.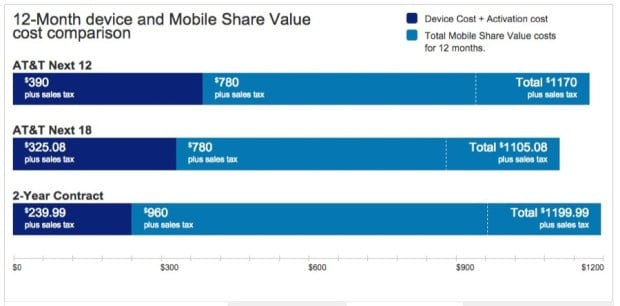 But before you rush off and sign up for AT&T Next, keep in mind that the numbers change if your family doesn't use a lot of data. Those on a 2GB plan for example don't see the same kinds of savings since AT&T drops the credit down from $25 per month to $15 per month. Above is a chart illustrating the costs of each plan over the first year. As you can see, things are a lot closer. In the 10GB chart there's a $214 gap between the AT&T Next 18 and 2-year Contract total cost of ownership for the first year. In the 2GB chart the gap narrows to just $95.
iPhone 6 Total Cost on AT&T Over 2 Years w/ Mobile Share Value Plan LESS than 10GB
AT&T Next 12: $1,950
AT&T Next 18: $1,885
2-Year Contract: $2,160
The AT&T Next 12 plan is $210 cheaper than the two-year contract if you end up keeping the iPhone 6 for two years. The AT&T Next 18 plan is $275 cheaper compared to the two-year contract price over two years if you keep the iPhone 6 for the entire period.
So who shouldn't switch to AT&T Next? Those on grandfathered AT&T contracts should tread carefully. AT&T's tried to get people off of those plans for years and the savings may not offset having to count bits and bytes as you stream content.  You should also avoid the AT&T Next Plan if you don't plan on taking good care of your iPhone 6. AT&T requires trade-ins to be in good condition.

As an Amazon Associate I earn from qualifying purchases.