iPhone 6 Concept Teases Future iPhone Buyers
The real iPhone 6 launch may not be coming until the summer or fall of 2014 but that hasn't stopped designers from dreaming up their own iPhone 6 concepts ahead of the big day. The latest is a beautiful rendition from a well-known designer and it's a concept that shows prospective buyers what a big screen iPhone with an iPad Air, iPad mini design might look like.
iPhone 6 rumors suggest that the next iPhone, the one that will replace the iPhone 5s as the company's flagship, may arrive as early as summer of next year. Furthermore, rumors suggest that the device could have a larger display, possibly 4.8-inches in size, something that many iPhone buyers have been looking for for years.
While it will be several months at least until the iPhone 6 makes its debut, designers have been issuing their own take on the iPhone 6, teasing buyers with concepts for the future. We've seen a number of beautiful iPhone 6 concepts including one called iPhone Air. Today's concept, from our friend Martin Hajek, takes a similar approach as Hajek combines a large screen with a gorgeous design that takes after Apple's iPads.
It has extremely thin bezels, something that we've seen on Apple's iPads and it has a massive display like the one that is rumored to be on board the real iPhone 6 when it arrives next year. We also see familiar features like the speaker grills and headphone jack on the bottom of the device. The device also utilizes Apple's Lightning dock standard. This iPhone 6 concept also comes in gold, just like the iPhone 5s.
The device, oddly enough, doesn't have a home button which means that it doesn't have Apple's TouchID fingerprint reader for convenience and added security. While it's possible that Apple will eliminate the home button in the iPhone 6, it's unlikely given the efforts it put towards TouchID on the iPhone 5s.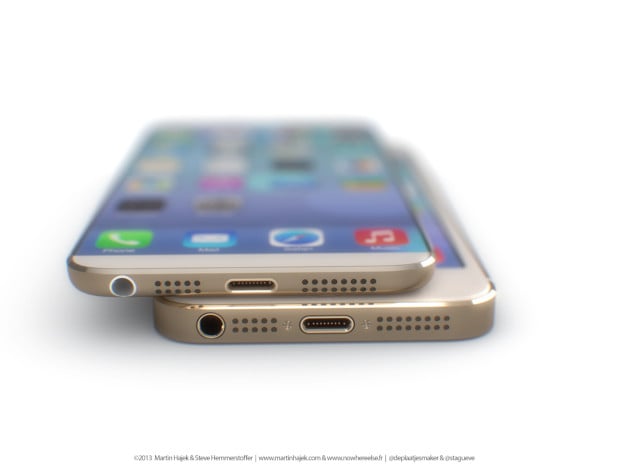 Early iPhone 6 rumors point to a launch during the summer rather than in the fall. If true, WWDC 2014 could be a possible launching pad for the iPhone 6 and iOS 8 which is likely going to be Apple's next piece of software. The last two iPhones have launched during the fall but Apple isn't above switching around its launch pattern. It did so with the iPhone 4s and it also did it with the iPad 4 which launched during the same year as the iPad 3.

This article may contain affiliate links. Click here for more details.