iPhone 6 Deal: Sprint Offers 4 iPhone 6 Lines for $100/month
Sprint is offering an unlimited data plan for just $50 per month for individuals and a family plan for four iPhone 6 users for just $100 per month.  These iPhone 6 deals will be available for a limited time and have several restrictions that are detailed below.
Like other carriers, Sprint is moving away from the tradition of subsidizing the cost of new devices. The iPhone 6 has a full retail price of $649 or more, but few people are willing to pay that amount up front. In exchange for two-year wireless contracts, carriers subsidize $450 of that cost, which means that consumers generally pay $199 for new iPhones. To shift more of the cost to subscribers, wireless carriers are coming up with all sorts of schemes to spread the full cost of iPhones over time. These schemes aren't necessarily bad deals, especially when wireless carriers select the right one.
The Sprint Simply Unlimited deal for the iPhone 6 costs $50 per month for service. As the name of the plan suggests, iPhone 6 users on this plan will be able to place unlimited calls, text as much as they want and stream as much video as they want. That's $10 cheaper than the individual unlimited plan that Sprint recently introduced. That $50 per fee does not include the actual iPhone 6 itself. Sprint will give iPhone 6 buyers the option to lease the device for 24 months and trade it in for a newer device at that time. Those who want to keep the iPhone 6 can pay $58 upfront and make $20 per month payments for the next two years. Those that are okay with a two-year contract can get a $10 discount and pay $20 per month, plus the $58 upfront payment.
There's one big problem with the $10 per month discount however. All of a sudden, that $50 per month promotion disappears and customers have to pay $85 per month for unlimited data, calls and text. Why anyone would want to do that is beyond me.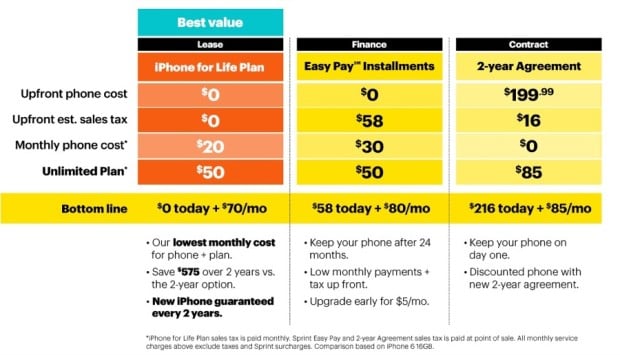 Confused? Thankfully Sprint provides a chart that explains it all. Clearly, the best deal is leasing the iPhone 6 rather than financing it or signing up for a contract. What the chart doesn't show is the total cost for each option however. The total price of the iPhone 6 and service with the two-year contract is $2,256. The total cost with the lease promotion is $1,680. That's $575 lower than the two-year contract price.
The real deal though is for customers willing to switch their entire families over to Sprint to get new iPhone 6s. For a limited time, Sprint will give a family of four 20GB of data, unlimited calls and unlimited texts for just $100 per month. Prices for the iPhones are a bit convoluted, with leasing adding on $20 per month per iPhone. That's a total of $180 per month for a family of four. Financing the cost of the new iPhone 6s costs a total of $220 per month after a $232 down payment. Going with a two-year contract ups the data plan up to $260 per month. If you don't mind leasing your iPhones, you'll save a lot of cash month-to-month. The downside is that you'll never own your phones and at some point you'll have to re-up with Sprint or another carrier to get new devices. This situation is not ideal for families that pass phones down to their kids or other relatives.
Another caveat of the $100 per month plan is that it's only guaranteed through the end of 2015. That means Sprint's $15 per month line access charge will start showing up on subscribers' bills in January of 2016, adding $60 per month.
Both of these deals are certainly attractive depending on your situation and assuming that Sprint delivers solid coverage in your locale. Like Verizon subscribers, Sprint subscribers will benefit from new wireless technology that allows simultaneous talk and iPhone data for the first time on CDMA networks.
Read more about the iPhone 6 in our recent articles below: