iPhone 6: Early Look at What to Expect
Apple stuck to its usual launch pattern this year and released an 'S' version of its iPhone in the iPhone 5s. However, this time, it wasn't alone. The iPhone 5c joined the iPhone 5s on shelves, replacing the iPhone 5 and iPhone 4 in the company's lineup. Next year however figures to be a big year for the iPhone, a number year for the iPhone, meaning, the company is expected to debut a big time upgrade in the iPhone 6.
For much of 2013, we heard rumors about new iPhones. While most of those rumors had to do with the iPhone 5s and iPhone 5c, the devices that Apple launched on September 10th, we've also seen a number of rumors pertaining to another iPhone, an iPhone 6, that could potentially launch next year and replace the iPhone 5s.
Apple is a company that uses patterns when it comes to product launches. For instance, the company tends to launch its products around the same time each year. It typically releases a new iPhone and new iPads each and every year. It also releases an 'S' version of a phone every two years that utilizes a design similar to its predecessor.
Such is the case with the iPhone 5s, a device that looks a lot like the iPhone 5 but comes with a number of different upgrades including a better camera, processor, and Touch ID, its fingerprint reader. The company tends to stick with a design for two years before releasing something new. And it's that notion that has people extremely excited about the prospects for next year and Apple's next iPhone.
That iPhone is currently being called the iPhone 6, something that suits it well considering Apple typically goes from numbered iPhone, to 'S' iPhone, and then back to numbered iPhone. Already, we've seen some whispering about the iPhone 6, well ahead of its launch date. And while nothing is for certain just yet, rumors and history have started to paint a canvas.
Here now, we take a peek at what we expect from next year's iPhone, presumed to be called the iPhone 6.
Release Date
iPhone 6 rumors have been surfacing now for months and while we're likely still far away from a launch, we're starting to hear about when we might see the iPhone 6 arrive. Fortunately for those excited about the iPhone 6, early rumors have started to mention a release earlier in the year.
Respected analyst David Hsieh, from NPD DisplaySearch, has thrown his weight behind an early iPhone release in 2014. Specifically, Hsieh thinks that the device will launch in Q2, meaning, April, May or June. This lines up with previous rumors that suggested that Apple would be moving its iPhone launch back to June. Of course, this is something that we also heard about the iPhone 5s ahead of its launch, a launch that took place in September rather than June, so it's possible that this will flame out as well.
That said, summer does remain a possibility for Apple and the iPhone 6. We've seen Apple switch up its pattern when it deems it necessary, the iPad 4 launch is a good example of this, and with iPhone 5c sales said to be waning already, we could see Apple make a big move earlier in the year.
Samsung is also rumored to be coming out with a brand new, redesigned Galaxy smartphone with a premium design and it could be that Apple will launch earlier in order to give it less breathing room. Samsung has typically launched its Galaxy S line ahead of the iPhone, giving it a jump start in sales.
So while nothing is concrete, iPhone buyers can expect, at this point, an iPhone 6 release in the summer or in the fall. The beginning of the year is lonely now that the iPad has been shifted to the fall, but we don't expect Apple to bury the iPhone 5s that early, not when it's selling like it is.
Display
One feature that iPhone users have been pleading for for years is a larger screen. Apple, for years, has watched its competitors launch devices with massive, high-resolution displays. And instead of following suit, the company has opted to offer 3.5-inch and 4-inch smartphones, last year's iPhone 5 being the first iPhone with a larger display.
Earlier this year, Apple CEO Tim Cook took a shot at large screen phones while also leaving the door open for a big-screen iPhone in the future. Here is what Cook said back in January:
The iPhone 5 offers as you know a new 4-inch Retina display, which is the most advanced display in the industry and no one comes close to matching the level of quality as the Retina display. It also provides a larger screen size for iPhone customers without sacrificing the one headed ease-of-use that our customers love. So, we put a lot of thinking into screen size and believe we've picked the right one.
Since then, iPhone 6 rumors have all pointed to a larger display. The most recent of the rumors come from Hsieh, Cantor Fitzgerald's Brian White, and Jefferies & Co. analyst Peter Misek. All three analysts agree that the iPhone 6 will be coming with a larger display with Hsieh suggesting 4.7-inch and 5.7-inch options and White and Misek pointing at a 4.8-inch iPhone 6 model.
These follow in the footsteps of a Wall Street Journal report that claimed Apple was testing iPhones with screen sizes as large as 6-inches. And while iPhone prototypes come and go, all signs are pointing to a larger iPhone next year.
At this point, consumers can expect the iPhone 6 to deliver the larger display option that many have been seeking for years. Apple is a company that is known for taking its time with major hardware upgrades, LTE being a prime example. From the sound of things, it's slowly but surely getting there, thanks to its internal testing.
Numbered iPhone models are typically huge leaps from their predecessors, the iPhone 4 and its new design, the iPhone 5 and its larger display and 4G LTE, so the stage is set for an iPhone 6 with some massive changes and it's looking like a large display could be one of them.
Design
We also expect to see some design tweaks to go along with a new display though we it's not clear what those design tweaks might be. Apple historically has offered a new design with its numbered iPhone model. We saw the iPhone 4 take a huge leap from the iPhone 3GS and iPhone 3G and the iPhone 5 offered a brand new redesign, different from the iPhone 4 and iPhone 4S.
One thing that we do expect is Apple to keep the design of the iPhone 6 compact, even if it decides to upgrade the size of the display. As we've pointed out, the iPhone 5s and Moto X are similar in size despite the larger 4.7-inch display in the Moto X, so its possible that Apple could add in a massive display without increasing the size.
As for build materials, Apple only goes forward, not back, so we expect the iPhone 6 to feature a premium all-around design that is lightweight, thin and extremely easy to grip, just like the iPhone 5 and iPhone 5s. Don't expect the company to change its ways and offer microSD storage and a removable back. Those simply won't happen.
Specs
We haven't seen many specifics in regard to the rest of the iPhone 6 specs but we do have some expectations. Every year, Apple puts a new processor and new camera on its iPhone. So, it's safe to assume that the company will outfit the iPhone 6 with a brand new high performance processor that will be able to handle even more than the A7 chip in the iPhone 5s. At the very least, expect the iPhone 6 chip to feature 64-bit support.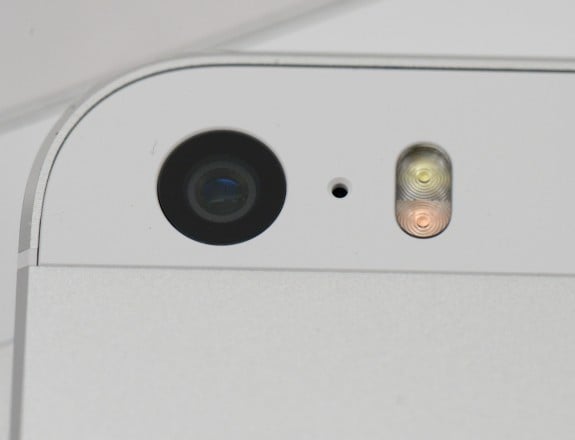 As for the camera, Apple continues to make incremental improvements to the iPhone's camera and we expect a big time camera on board the iPhone 6. Camera tech is going to be a focus for many companies in 2014 as they look to add things like Optical Image Stabilization and Optical Zoom.
Given the large display rumors, we imagine that the iPhone 6 will come with a large battery to keep battery life top-notch . We also wouldn't be surprised if Apple kept its usual storage options around including 16GB, 32GB, and 64GB. While there are people who want an 128GB iPhone, Apple doesn't seem to want to move beyond the 128GB iPad. We also suspect that Apple will keep its fingerprint reader, Touch ID, around for the next iPhone as well.
Software
Apple always releases a new piece of iOS software with its iPhone. With the iPhone 4s came iOS 5. Last year's iPhone 5 came with iOS 6. This year's iPhone 5s, iOS 7. And so on. So there is no reason to think that Apple will be skipping a new iOS update with the iPhone 6. Instead, we fully expect the company to deliver an iOS 8 update to iPhone, iPad and iPod touch owners that builds upon the company's recent iOS 7 upgrade.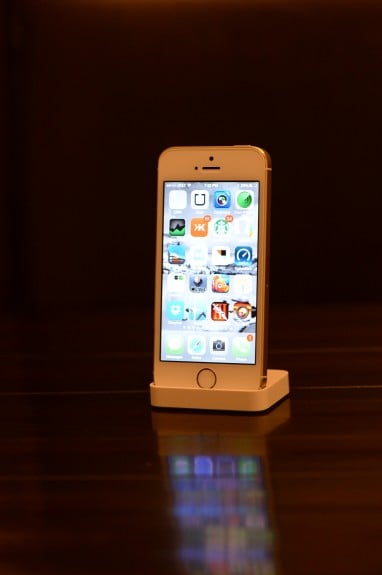 iOS 7 represents the biggest change to iOS in years and it's Apple's mobile software of the future. Like the previous versions, Apple will continue to improve on the features and look of the operating system, something that happens over the course of several years rather than several incremental updates. iOS 8 will likely be a big update but we doubt it will be on par with the change from iOS 6 to iOS 7. Look for major tweaks but not a major overhaul.
Apple likes to include unique features on its brand new iPhones in an effort to sell them. So we wouldn't be surprised if we saw some software features that tie into the device's larger screen if that feature is indeed on board.
Name
Again, Apple follows some simple patterns with its iPhone releases. The iPhone 3GS followed the iPhone 3G which was followed by the iPhone 4, iPhone 4S, iPhone 5 and now, the iPhone 5s and iPhone 5c. So, it's safe to assume that the next iPhone will be called the iPhone 6, a name that consumers originally associated with the iPhone 5s.
Carriers
Carriers typically don't pop up this early in the rumor cycle so it's not surprising that we haven't seen any carriers rumored for the iPhone 6. That doesn't matter though. We've seen iPhone carriers stay mostly static over the years with Apple slowly building up its carrier base year-after-year. AT&T, Sprint, T-Mobile and Verizon are all locks for the iPhone 6 while we could also see U.S. Cellular potentially move in on the initial launch date.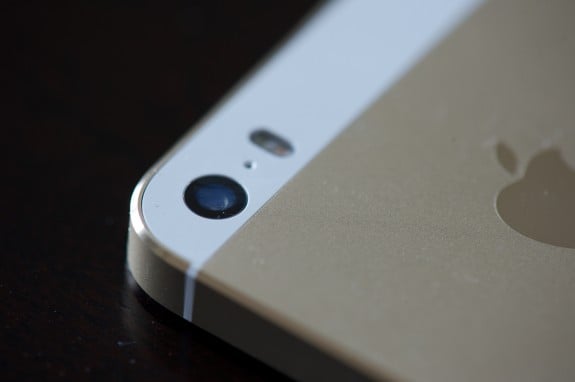 U.S. Cellular, the nation's fifth largest carrier, will at some point release the iPhone 5s, the first time that it has ever offered the iPhone. If sales do well, we could see it launch much earlier with the iPhone 6. The device should also see a number of pre-paid and regional carriers. So, expect there to be no shortage of iPhone 6 carriers on release day and in the weeks after.
Price
No word on price and we don't expect to hear much about it until we get much deeper into 2014. However, there is no reason to think that Apple will jack up the price of the iPhone 6 when it hasn't upped the price of any recent iPhone model. The company is comfortable with its $199.99 starting price point for the iPhone and even with the upgrades, this is where we expect the iPhone 6 to be.

As an Amazon Associate I earn from qualifying purchases.