iPhone 6 iOS 8.1.3 Review: Two Weeks Later
Apple's poised to deliver an iOS 8.2 update, an iOS 8.3 update and maybe even an iOS 8.4 update in the future. Right now though, iOS 8.1.3 reigns as the most current version of its mobile operating system. We continue to get tons of questions and feedback about the iOS 8.1.3 update and today, we want to take a close look at the iPhone 6 iOS 8.1.3 update's performance at the two week mark.
In the weeks since the initial iOS 8.0 release in September, Apple has been extremely busy. In effort to get a grip on the iOS 8 problems plaguing iPhone and iPad users, the company's rolled out six iOS 8 bug fix updates. iOS 8.1 delivered its Apple Pay service but it also came with a lengthy list of bug fixes for iOS 8 issues.
It's clear that the company isn't anywhere close to finished with iOS 8. Late last year, the company confirmed an iOS 8.2 update for iPhone, iPad and iPod touch, an update that remains unreleased. iOS 8.2 release date rumors point to an arrival in March though that remains unconfirmed.
Apple's also confirmed an iOS 8.3 update for release. The iOS 8.3 update, which was released into the beta program yesterday, is expected to be released sometime after iOS 8.2 and the Apple Watch. Apple did not tack on a specific release date and with an iOS 8.2 update planned for March, we could be several weeks away from a roll out.
The company is also rumored to have an iOS 8.4 update in the works though it, unlike the others, hasn't been confirmed. It's not clear if the company will put that update into the beta program at a later date. (We've started hearing about iOS 9 though its release is likely far off in the distance.)
While the attention of some iPhone and iPad users has started to shift to these new iOS 8 updates, others are more concerned with the right now, the right now being iOS 8.1.3. iOS 8.1.3 is Apple's sixth bug fixer and it's an update that's been lingering around for two weeks now.
Now that we're at the two week mark, it felt appropriate to offer some extended comments on the performance of Apple's current version of iOS 8. Today, we want to take a close look at the iPhone 6 iOS 8.1.3 update, an update that we've been using extensively over the past two weeks. Here's our iPhone 6 iOS 8.1.3 review at the two week mark.
iPhone 6 iOS 8.1.3 Review: Two Weeks Later
When I look at iOS updates, I like to look at five different areas: App performance, battery life, connectivity, bugs, and speed. These, at least to me, are some of the most important features on any iOS device and they are also areas that can change, sometimes drastically, after a minor update like iOS 8.1.3. Here's how all of those are holding up.
Apps
Apps remain fairly stable though Google Chrome crashes continue to plague the iPhone 6 and my other iOS 8 devices. The crashes seem to occur mostly when more than 10 tabs are open at a time. This is probably not an iOS 8.1.3 problem, I've seen crashes on all versions of iOS 8, but I think it's worth noting that the frequency has picked up over the past week or so.
Other than that, my iPhone 6 apps are all working properly. Apps like Asana, Slack, Spotify, SoundCloud, Google Maps, Dark Sky, Gmail, Hangouts, Waze, GrubHub, and more. I obviously haven't tested every single app on the App Store but I have close to 100 apps on my iPhone 6 and only Chrome's been problematic.
If you are experiencing problems with an application after making the move to iOS 8.1.3, try reinstalling the app. If that doesn't work, contact the developer. Most developers encourage feedback.
Battery Life
At the two week mark, iOS 8.1.3 battery life on the iPhone 6 is still excellent. I've been able to get full days out of the device, something that's been crucial for work and travel.
I haven't seen too much complaining about iOS 8.1.3 battery drain on the iPhone 6. But if you do happen to run into abnormal battery drain, I suggest taking a look at our list of fixes. Usually, one of them will help solve whatever is plaguing the device. Most of the time, it's third-party applications and not the iOS software itself.
Connectivity
4G LTE and Bluetooth remain solid after two weeks on iOS 8.1.3. I haven't run into any problems with either connection. Wi-Fi is a different story.
In the past three days, I've started to notice some stability problems. For whatever reason, my iPhone 6 randomly, and consistently, drops Wi-Fi. Its done this with several different routers and it's a big problem because I'm no longer on an unlimited data plan. Its bumped me to LTE and I've gone about my routine without noticing. That's problematic.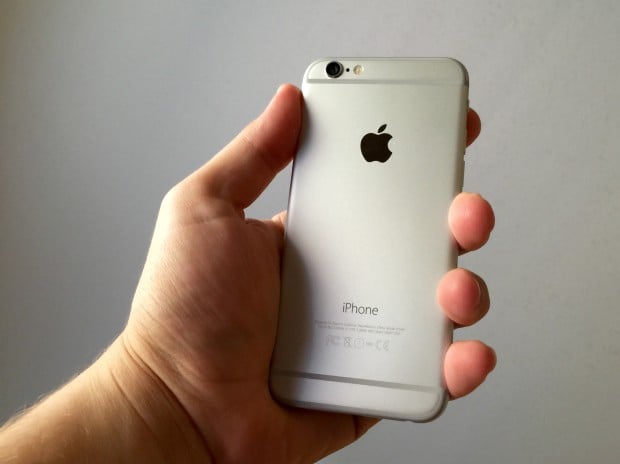 Now I've been very proactive about this. I've restarted my router, reset network settings on the phone, restarted my phone, tried it all. And the problems continue. I know there are a ton of people out there experiencing Wi-Fi issues and after iOS 8.1.3, I count myself as one of them. I've seen similar issues before and they subsided on their own so I'm hoping that I don't have to wait until iOS 8.2 comes out for a fix.
It's worth noting that my colleagues at GBM haven't seen this problem on the iPhone 6.
Bugs & Issues
At about the week and a half mark, I thought I was home free and in the clear of bugs and issues. Wishful thinking. While I haven't noticed any catastrophic bugs on board iOS 8.1.3 (the Wi-Fi issues don't qualify yet), I have run into an old friend in the past week.
The landscape issues that have plagued my iPhone 6 since launch have returned. Not with a vengeance, but they've returned nonetheless. If you're not familiar with this problem, allow me to enlighten you.
Imagine shifting the phone to landscape. Now imagine turning the phone back into portrait mode only to have the software remain in landscape. It's maddening, especially when it happens with the camera application open. There are some simple fixes for the issue but my hope is that Apple tackles this problem once and for all in one of these upcoming iOS 8 updates. I'm not the only one experiencing this issue.
Speed
Surprise, the iPhone 6 is still extremely fast. Its handled iOS 8 extremely well and my hope is that it retains this high quality performance in the weeks, months and years to come. iOS 8.1.3 is a pleasure to use from a speed standpoint.
Is the iPhone 6 iOS 8.1.3 Update Worth Installing Now?
I think there are two kinds of people that could really benefit from installing this update. Those of you dealing with iOS 8 problems on iOS 8.1.2 and below and those of you with 16GB iPhone 6 models. The former because iOS 8.1.3 has a chance to fix your problems, the latter because the update lessens the amount of storage needed to install updates like iOS 8.2 OTA.
If you are on iOS 8.1.2 or below and you're not dealing with any problems, proceed at your own risk. The problems I've run into are isolated but they're extremely annoying. With an iOS 8.2 update in the cards for March, you might be better off waiting for that update to arrive.