iPhone 6 + iPad Deal Is Too Good to Be True for Most
The brand new iPhone 6 release date is tomorrow, and those still looking to snag an iPhone 6 may want to consider a deal from Verizon Wireless when bundled along with a new iPad. Whether you want to look at this as an iPhone 6 deal, or an iPad deal, you'll still be saving $200 dollars.
The iPhone 6 finally arrives tomorrow, September 19th. Users have been looking for deals, trying to get a pre-order that will ship in time, or hopefully can get one on release day from an Apple store. If you've yet to order, we have a deal you may want to consider.
Read: Verizon iPhone 6 Release Brings Early Upgrade Option
Verizon iPhone 6 orders are selling out quick, with almost all options backordered until sometime in October, but those on Verizon Wireless still have a few options. Today though, we noticed a new iPhone 6 + iPad deal that delivers $200 in savings when you buy a new iPhone and a new iPad. However, the deal is too good to be true for most. Read on for more details.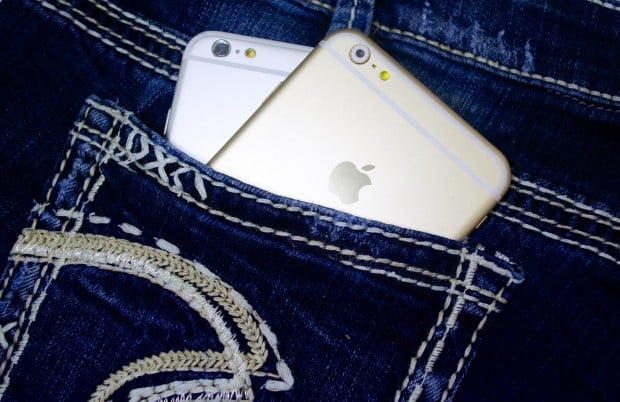 Trying to find a deal on the all-new iPhone 6 or iPhone 6 Plus is going to be extremely hard, especially considering the demand and popularity of Apple's latest creation. The phone is sold out on all fronts, and trying to get one next week might be nearly impossible as all carriers have the device on backorder.
The deal mentioned below is one option worth considering, but the problem with it is you'll be required to sign a new 2-year contract for both the iPhone, and your iPad. It's this, that makes this deal too good to be true for most. It's worth noting that AT&T offers something similar, if you'd like to take that route instead.
While pre-ordering the new iPhone 6 from Verizon Wireless you'll see this special offer page (below) during the checkout process, which offers $200 in savings when bundled with an iPad. You'll be saving $200 off the full price for the iPad, a 4G LTE model, and be required to sign a new 2-year contract.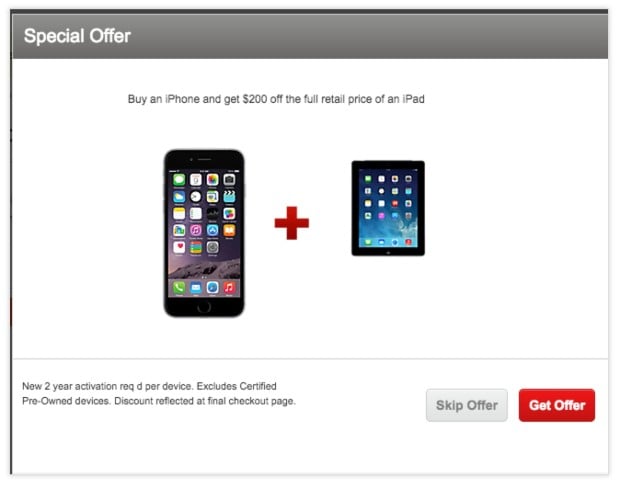 This means that in order to save $200 off your iPhone 6 (or iPad) you'll have to sign a new 2-year contract for both devices. This is unrealistic for most buyers, as you'll be locked into a contract with two devices rather than just buying the iPad separate. However, there's still tons of users who need a connected tablet, and don't have a tethering plan, so this should still appeal to many prospective buyers.
Read: iPad Deals Deliver Huge Back to School Savings
If you really want an iPad with 4G LTE and a contract, this is an awesome deal that will save you a pretty good chunk of cash. However, the vast majority of buyers aren't looking to sign a contract for the iPad, and would rather buy a WiFi edition. This iPhone 6 and iPad deal is still worth considering, but buyers will need to weight the decision before making a purchase.
If you're still on the fence about getting the new iPhone 6, there's a lot to like. If you aren't planning to get a new iPad anytime soon but still want a good deal, check out our iPhone 6 Trade In Deals Comparison. Lately multiple rumors suggest new iPad options are coming soon, so this may be one good deal worth passing up.
We've seen this offer from Verizon Wireless before, not to mention the same thing is available as we speak from AT&T. It's worth noting that Verizon is only offering this until September 30th, so if this is something you're interested in you better act fast.