iPhone 6 Launch Date: What to Expect
Apple's iPhone 6 launch date is all but confirmed for September. And with a date seemingly just a few short days away, we want to take a look at what we expect from Apple's annual iPhone launch event, a date that will almost certainly provide consumers with the iPhone 6 specs and the highly anticipated iPhone 6 release date.
For more than seven months, we've seen iPhone 6 rumors point to the iPhone 6 specs, iPhone 6 release date and the all important iPhone 6 launch date, the launch date being the day that Apple announces its plans. This year's iPhone 6 launch date figures to be a hugely important date for Apple, and consumers, because iPhone 6 rumors point to a significant bump up from the iPhone 5s.
iPhone 6 specs are rumored to include two larger screen sizes, an A8 processor, a brand new camera with image stabilization technology, Touch ID, and a redesign that features more metal and a slim frame. The device has been a fixture amongst smartphone enthusiasts for nearly eight months and now, as we approach the month of September, average consumers are starting to key in on the massive changes expected from Apple's new iPhone release.
For most of the year, iPhone 6 rumors have centered on an arrival in September. Those suspicions were seemingly confirmed by a pair of reports from Recode and The Wall Street Journal, both of which pegged the iPhone 6 launch date for early September. That date is not confirmed but the sources are credible and have proven accurate before. What this means is that we're likely just a few short weeks away from hearing about the iPhone 6 release date and the iPhone 6 specs.
We've taken a look at both of those and now, we want to take a look at the iPhone 6 launch itself. These details aren't confirmed but instead are educated predictions based on incessant iPhone 6 rumors, on gut feelings, and on years of covering Apple products like hawks. This is what we expect from the iPhone 6 launch date.
Media Invites
At this point, it's hard to expect the iPhone 6 launch date on any day but September 9th. That said, Apple still hasn't confirmed that date to the public though it will likely do so through its usual invites to the media.
We still don't know when those media invites will be sent out but we expect them to be sent out in early September, in and around September 3rd. And there's a big reason why.
Samsung is hosting an Unpacked Episode 2 event on September 3rd wherein it will introduce the new Galaxy Note 4, an iPhone 6 rival and a device that's expected to be out in September alongside the new iPhone. Apple, like most tech companies, likes to steal thunder from its rivals so we expect Apple to push out invites in and around September 3rd.
Our best guess at this point would be September 2nd.
We will almost certainly see Apple host an iPhone 6 launch event in California. The company uses Northern California, its home base, for its iPhone launches and we'd be shocked if it didn't announce the iPhone at the Yerba Buena Center for the Arts in San Francisco. The company is extremely comfortable at that venue and it makes things easy for those traveling into town for the event.
iPhone 6 Live Stream
We expect Apple to deliver a live stream. The company hasn't always offered consumers a chance to follow along live but this is a new day at Apple. Over the past year, the company has become more open. For instance, the company is offering an open beta program for OS X Yosemite, something that the old Apple never would have done.
The iPhone 6 is a huge announcement and one that comes shortly after two major Android launches in the Galaxy Note 4 and Moto X+1. Apple needs to sell the iPhone and explain the choices that it has made to consumers. Especially the jump to the larger display.
Apple's last three major product announcements (iOS 8, iPad Air/iPad mini with Retina) and iPhone 5s were all live streamed and we're expecting the same here with the iPhone 6. There's a lot on the line with this launch and Apple needs to get eyeballs on its products.
Same Script
We expect the same iPhone launch script from Apple. Expect the event to last somewhere between one to two hours as Tim Cook and his cadre of executives run down its new products and highlight the company's successes over the last year.
The company loves to focus on its new Retail Locations and we'd expect the company to talk a little bit about its recent expansions. We also expect the company to run down the successes of both iPhone and iOS in the past year or so as the company looks to position the two against its top Android and Windows Phone rivals.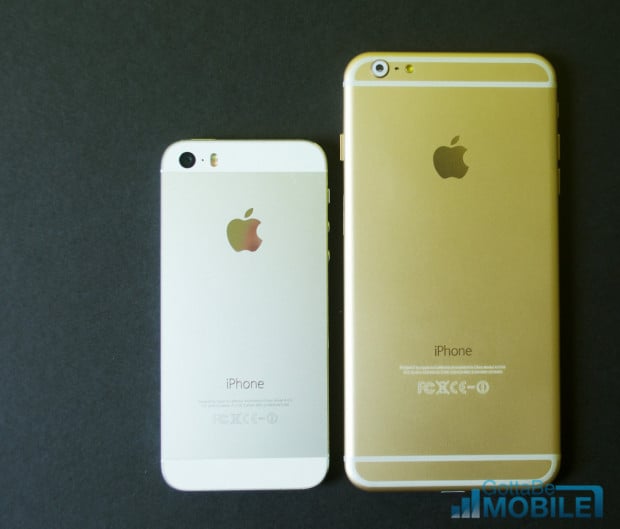 It would also not be surprising to see key Apple partners run down some significant changes to their applications (the iPhone 6's larger screen will be the catalyst for that we think) and we would not be surprised to see a game or two demoed on stage to show off the brilliance of the new display.
Apple's events are straightforward and extremely informative and we expect the same from this year's iPhone launch.
One Big Surprise at Most
The last time Apple introduced a new iPhone screen size (iPhone 5) we saw it introduce a brand new iPod touch to coincide with the change. We're expecting the iPhone 6 launch date to be pretty straightforward though if there is a surprise, we would bet on it being a brand new sixth-gen iPod touch with a larger screen size.
iPod touch sixth-generation release rumors have been back and forth in 2014 and at this point, a release is far from guaranteed. However, if Apple were to deliver a surprise, and it has delivered them in the past, we'd expect a new iPod touch that offers some upgraded specs and a larger display just like the iPhone 6.
If that doesn't happen, and there's a good chance that it won't, we expect the iPhone 6 launch event to be clear of surprises. iWatch rumors suggest that it's not ready and probably won't arrive until October. A MacBook Air with Retina likely won't arrive until Apple puts out OS X Yosemite. OS X Yosemite is rumored for October. And we simply can't see Apple announcing new iPads at an iPhone event. iPad Air 2 rumors have picked up and have pointed to an early release but it would be surprising to see the iPad share the stage with the iPhone.
Two iPhone 6 Variants
If Apple does have two iPhones up its sleeve, we expect the company to debut both on September 9th. If the company holds back, it could potentially cut into initial iPhone 6 sales as consumers take a wait and see approach into the month of October. With a 5.7-inch Galaxy Note 4 rumored for September, it's a risk that Apple is probably unwilling to take. We'd expect it to do the same thing it did last year with the iPad Air and iPad mini with Retina.
Thailand's National Broadcasting and Telecommunications Commission (NBTC) recently confirmed that two iPhone 6 models are on the way. The disclosure reportedly has led to a meeting with Apple something that helps to support our point.
iPhone 6 release date rumors have continued to point to two separate release dates. The latest rumor comes from VentureBeat who claims that a 4.7-inch iPhone 6 release date will happen in September while the 5.5-inch iPhone 6 release date could arrive up to a month after the initial release. This lines up with early iPhone 6 rumors including details from respected analyst Ming-Chi Kuo.
Last year's iPad Air arrived in early November while the iPad mini with Retina arrived later in the month. Both were announced on stage in late October.
iOS 8
At WWDC, Apple announced that it would release the iOS 8 update in the fall after a stint in its beta program. Apple always releases iOS updates in and around the new iPhone release and with an iPhone 6 release date coming up, we expect the company to announce the public release of the iOS 8 update at the iPhone event.
Look for Apple to take a few minutes to run down the features that will be coming with iOS 8. The update, which retains the overall look of iOS 7, will introduce some big changes to key apps including iMessage and Photos. Average consumers that didn't tune into WWDC will needed to be reminded of these features ahead of iOS 8's release.
Look for iOS 8 to play a big role on the iPhone 6 launch date but look for the spotlight to be on the new iPhone. We expect only a few minutes to be committed to running down the changes coming with iOS 8. Add a little more time if the iPhone 6 comes with some unique features.
Every Important Detail
Apple's launch events are important because they always reveal every single detail about the iPhone and its new iOS update. Specs, release date, pricing, and more are always confirmed at these events. It helps consumers to prepare and it ensures a smooth transition from one update/one device to another.
What this means is that we fully expect the iPhone 6 specs, iPhone 6 release date, iPhone 6 pre-orders, iPhone 6 price, and iOS 8 release date to all be detailed, in full, at the iPhone 6's launch event in September. Apple does not like to leave stones unturned and we should see the company reveal every important tidbit ahead of both releases.
Carriers
Finally, expect U.S. carriers to try and capitalize on the attention the phone gets on its launch date. We expect this to come in the form of iPhone 6 announcements and perhaps, iPhone 6 sign up pages. Carriers almost always offer sign up pages as a way to get official information about an upcoming smartphone release.
We're still not sure if there will be iPhone 6 pre-orders offered ahead of the iPhone 6 release date but if there are, expect carriers and retailers to detail their plans shortly after the iPhone 6 launch event.

As an Amazon Associate I earn from qualifying purchases.