iPhone 6 Plus iOS 8.1.1 Review
Last week Apple releases iOS 8.1.1 for devices including the iPhone 6 Plus. This is our iPhone 6 Plus iOS 8.1.1 review after using this small, but important update for a week we're ready to help you decide if it is worth installing on the iPhone 6 Plus.
The new iOS 8 update is a bug fix update, aimed at making iOS 8 run smoother on a variety of devices and it does just that. We've noticed several fixes for common iOS 8.1 and iOS 8 problems on the iOS 8.1.1 update. This comes two months after the iOS 8 release and the iPhone 6 Plus release delivered a fairly buggy iPhone experience.
Read: 21 iPhone 6 Plus Tips, Tricks & Hidden Features
Apple fixed some of these problems in iOS 8.1, but the iOS 8.1.1 update finally knocks out the landscape bug that drove us crazy for the last two months and fixes to other problems.
Although iOS 8.1.1 is not a major update, it is still very important. This bug fix update resolves problems that iPhone 6 Plus owners lived with since the release. Small updates can dramatically improve performance, but they can also cause problems, like locking users offline for days.
After using the iOS 8.1.1 update for the last week we're ready to share our iPhone 6 Plus iOS 8.1.1 review. You'll learn how this small iOS 8 update handles on the iPhone 6 Plus, the largest iPhone yet and one that requires using two hands for many tasks. After the update notification appeared on the Settings app around the world friends and readers started asking, "should I update to iOS 8.1.1?" and we're here to help you decide if it's a good fit for the iPhone 6 Plus.
iPhone 6 Plus iOS 8.1.1 Review
Even though I carry an iPhone 6 Plus and an iPhone 6 as well as an Android device for review I spent the last week heavily using the iPhone 6 Plus with iOS 8.1.1 to determine if this update is worth installing and if it does deliver a better overall experience.
The overall performance and appearance of any bugs varies from one device to the next, so even though my experience is bug free and positive, there is always a chance that some combination of apps or upgrade patterns lead to troubles for another user.
iPhone 6 Plus Apps on iOS 8.1.1
This update arrived while I was working on our list of the best iPhone 6 Plus apps, which led to a lot of added use this week. From playing games like Monument Valley to streaming movies on Netflix and watching some football with Sunday Ticket the iPhone 6 Plus performed great.
I did not run into any freezing behavior like I saw before iOS 8.1. Even better the iPhone 6 Plus no longer locks in landscape mode for no reason. iOS 8.1 fixed most of this issue, but it still happened in some messaging apps. This is no longer a problem with these apps.
If you run into any iOS 8.1.1 app issues you can try installing any app updates or deleting and re-installing offending apps. These two actions will fix most problems.
iOS 8.1.1 Battery Life
The iOS 8.1.1 battery life is still very good on the iPhone 6 Plus. Small updates can bring a fast drain to the battery on some devices, but the iPhone 6 Plus still lasts all day even with overall heavy usage.
If your iPhone 6 Plus no longer lasts as long, you can try our list of iOS 8.1.1. battery life fixes. These can help you quickly conquer many battery problems.
WiFi, Bluetooth and LTE
After the iOS 8.0.1 update broke LTE and the iOS 8.0.2 update made Bluetooth unusable in the car I was wary of installing iOS 8.1.1, but the iPhone 6 Plus is working perfectly fine.
I am able to connect to multiple WiFi networks without any hassles and the iPhone 6 Plus also functions fine as a personal hotspot to multiple devices. The AT&T LTE connection is also just as good as when I bought the device two months ago. Bluetooth connectivity is solid to headphones and for AirDrop.
Bugs and Issues
The best news about the iOS 8.1.1 update on the iPhone 6 Plus is that there are no major bugs or issues that I can find. There are some iOS 8.1.1 problems, but this is the best that the iPhone 6 Plus has run since I bought in September. There is still a chance that a problem or bug will appear in extended use, but overall this is a very stable iOS 8 update.
Speed
Overall the iPhone 6 Plus speed is snappy and quick. The phone is not faster on iOS 8.1.1, but without the need to go to multitasking to fix landscape issues the overall experience feels smoother, faster and less annoying. Animations and transitions when I switch apps and use multitasking are smooth and fluid.
Is iOS 8.1.1 for the iPhone 6 Plus Worth Installing?
The iPhone 6 Plus shipped with iOS 8 so there's no big decision about jumping from iOS 7 to iOS 8, but after problematic updates users are rightfully concerned about how the iPhone 6 Plus handles.
This is the easiest iOS 8.1.1 review decision to make. Unless you have a specific reason not to upgrade you should install iOS 8.1.1 on the iPhone 6. It fixes our biggest problems and doesn't add any more to the iPhone 6 Plus.
7 Awesome iPhone 6 Plus Cases
Spigen iPhone 6 Plus Cases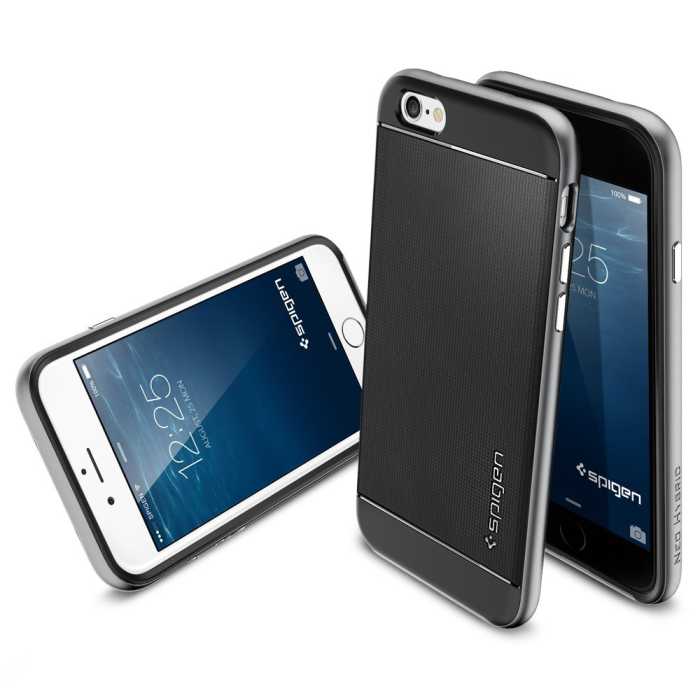 If you need an affordable iPhone 6 Plus case, Spigen is one of the best options you will find. Spigen offers a wide variety of iPhone 6 Plus cases from super thin to protective options and even a few iPhone 6 Plus wallet cases.
The company also offers an iPhone 6 Plus case with a kickstand, which is an excellent way to easily use that big screen for movies, videos and FaceTime.
Check out all of the Spigen iPhone 6 Plus Cases on Amazon starting at $7.99.