iPhone 6 Plus vs Galaxy Note 3: 5 Things Buyers Need to Know
Now that the iPhone 6 release has been confirmed, and all the details revealed, consumers are starting to weigh their options when it comes to buying a smartphone with a big display. The all new iPhone 6 Plus is the first iPhone to offer an alternative to the popular Samsung Galaxy Note lineup, and buyers will likely to comparing everything both flagship smartphones have to offer.
The Samsung Galaxy Note has been an extremely popular device over the past few years, most notable the Galaxy Note 2 and last years Galaxy Note 3. We can only assume it's what pressured Apple into finally releasing a bigger iPhone. Now that they're both here, below we'll go over five key differences that buyers will want to know.
Read: iPhone 6 vs LG G3: What Buyers Should Know
A new Samsung Galaxy Note 4 is on the horizon, which is expected to be released in October, but for those potentially looking to buy a new phone this month the choice is between the new iPhone 6 Plus or the readily available and impressive Galaxy Note 3. If you can't hold out for the Galaxy Note 4, below we've shared all the important details regarding the Note 3 vs the new iPhone 6 Plus.
Leading up to the iPhone 6 release everything was a rumor. And while some were more concrete than others, the thought of Apple releasing a massive 5.5-inch iPhone seemed highly unlikely, not to mention a few rumors suggested it had been delayed or canceled. However, Apple took the stage yesterday and confirmed all the details, and showed the world its first phablet. We'll call it the iPhablet.
If you're in the market for a new smartphone as the summer comes to a close, and can't wait for the Note 4 and a few other devices to arrive later this year, there's only a few choices for those interested in a big-screen smartphone. Lately more and more phones are increasing to sizes above 5-inches, and Apple is finally one of them.
iPhone 6 Release Date
As of right now, only one of these phones is available to purchase. Which is the Samsung Galaxy Note 3 that's readily available around the globe and from all major carriers in the United States. The iPhone 6 though, will be available to pre-order by the end of the week, and will be available sooner rather than later.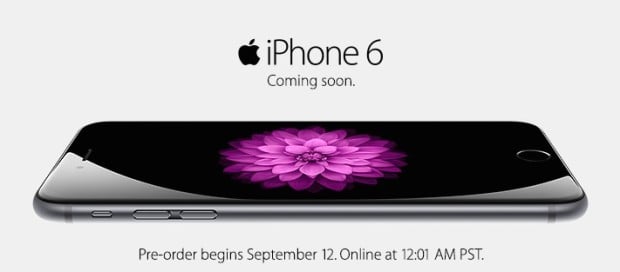 In fact, Apple announced the new iPhone 6 and iPhone 6 Plus pre-orders will officially start on September 12th (Friday) and the smartphone will go on sale around the United States and across the globe on September 19th. This means that if you're looking to get a new phone right now, the Galaxy Note 3 and its massive 5.7-inch screen is your best bet. Otherwise wait a few weeks for the iPhone 6, and then compare them both at a store near you.
It's also worth noting that new iPhone devices usually sell out quick and are in short supply and high demand, meaning buyers may not be able to get one on day one. You might want to place a pre-order just in case.
Size
If we're going to compare the new iPhone 6 Plus to the Galaxy Note 3 there's two main areas of importance. That is the size, and the display. Of course price and more are important, which we'll also talk about below. However, size is a big deal, especially for someone that's used to using a small iPhone for the past 3-4 years.
The Galaxy Note 3 is a big phone. Its dimensions come in at 151.2 x 79.2 x 8.3 mm (5.95 x 3.12 x 0.33 in) and weights around 168 grams. It's mostly made plastic, so it's still rather lightweight. Here's how that compares to the size of the iPhone 6 Plus.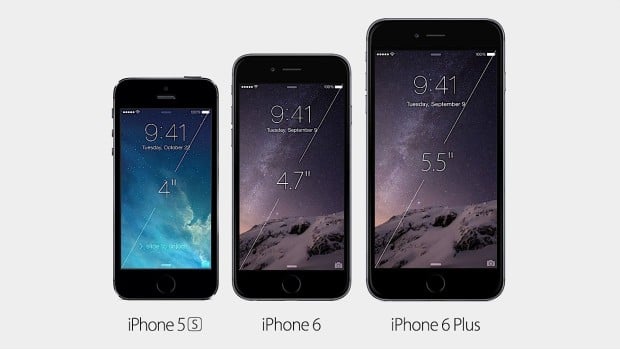 The bigger of the two iPhone options, the iPhone 6 Plus, comes in with dimensions of 158.1 x 77.8 x 7.1mm and weighs 172 grams. Essentially these are very similar phones in size, but the iPhone 6 is noticeable taller. That could make it hard for users with small hands to reach the top, but Android owners have been doing it without any problems for years.
The iPhone 6 Plus is slightly taller than the Galaxy Note 3, but also a little thinner, and more narrow. Both devices are huge, and you'll likely want to try it out in stores first before making a purchase, as a screen of that size isn't for anyone. Myself included.
Display
Another key factor is the display. While the iPhone 6 Plus is taller than the Galaxy Note 3 the screen is actually smaller. Apple's new iPhone 6 Plus comes with a 5.5-inch 1920 x 1080p full HD display. Samsung's option though, offers up a 5.7-inch 1920 x 1080p full HD AMOLED display.
Samsung managed to keep the bezels around the screen rather thin, making the overall physical size of the device smaller than Apple's, even though they offer a bigger screen. That may be one thing to consider when making a purchase, but at the same time many buyers will simply be happy with a bigger iPhone in general, and not concerned about the extra space gained by Samsung's Galaxy Note 3.
Samsung's known for making quality displays, but so is Apple, so we'll have to wait until the iPhone 6 release to fully compare the two side by side. It's also worth noting the new Galaxy Note 4 has a 5.7-inch 2560 x 1440 Quad-HD Display, something Apple's Retina HD screen can't match, but again, that won't be available until sometime in October.
Price & Storage
A big factor in any purchase decision is the price, and this is a huge thing you'll want to consider with the new iPhone 6 compared to the competition. Most Android phones and everything from Samsung has a micro-SD slot, which as any Apple buyer knows, controls the internal storage and drives up the cost. The iPhone 6 Plus will cost more than the Galaxy Note 3, so you'll need to decide if that's worth it to you. Here's the breakdown.
iPhone 6 Plus 16GB – $299

iPhone 6 Plus 64GB – $399

iPhone 6 Plus 128GB – $499
Samsung Galaxy Note 3 16GB -$199
The iPhone 6 Plus is a big phone and now has an all-new storage option delivering 128GB of internal storage. This is another first for the iPhone, and will allow you to pack tons of HD games and movies into your phone. However, a 128GB iPhone 6 Plus is $499 after you sign a 2-year contract, and nearly $1000 outright. Ouch.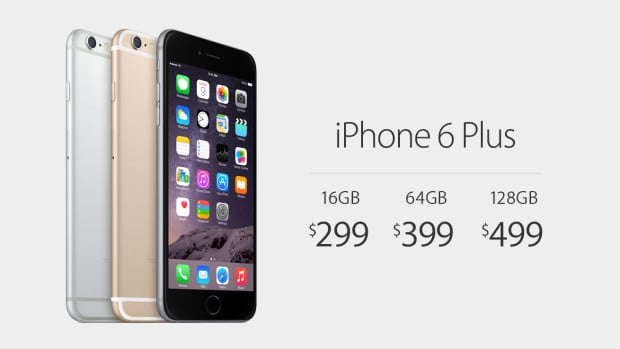 Samsung's Galaxy Note 3 comes with 16GB of internal storage, but you can get a 128GB micro-SD card for around $100, making it a $299 purchase that offers more storage than the $500 iPhone 6 Plus. That's a huge difference, not to mention you can swap SD cards as you'd like, and have more than one, and those looking for tons of storage will want to heavily weigh this choice.
Of course carrier payment plans in the US will make this a bit easier, but $499 on-contract is hard to swallow, no matter how you look at it.
S-Pen & Software
Comparing specs and processors on two different operating systems isn't ideal, and trying to say which is better between Android and iOS isn't worth the argument. To each his own. However, there are a few noteworthy differences between what the software these phones offer can actually do.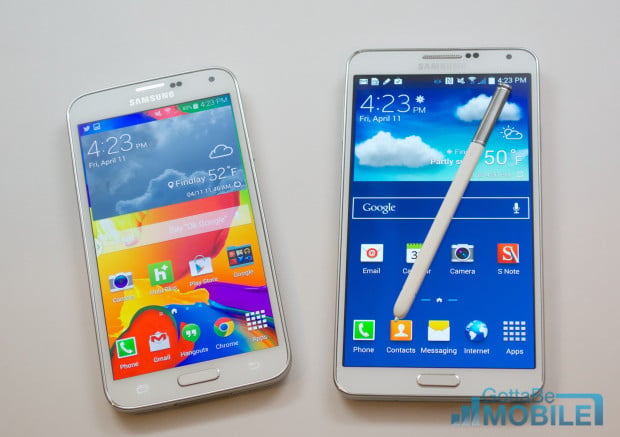 For one, the Galaxy Note 3 S-Pen stylus is a great addition to a large screen, and may buyers love it. Whether you're taking notes, capturing screenshots, editing photos, creating v-cards, or even drawing portraits. The S-Pen has tons of functionality that makes the Note 3 not just a content consumption device, but also a content creation device. There are a lot of good apps on the App Store, sure, but there's no dedicated S-Pen for the iPhone 6 Plus.
Multitasking is another one. Android has an excellent multi-tasking system, and of course the Note 3 lets you open two apps simultaneously using their Multi-Window mode.
Rumors suggested a split-screen multitasking system could arrive for the iPad on iOS 8, but it didn't. It's safe to assume that for now it isn't coming to the iPad, or the iPhone 6. At least not yet.
Final Thoughts
There is a lot more to consider when making a purchase, but these are a few of the important ones prospective buyers will want to know about, and be aware of. The Galaxy Note 3 is available from all major US carriers, and the iPhone 6 Plus will be too, obviously. Both devices have fingerprint sensors, awesome cameras with optical image stabilization (only the iPhone 6 Plus has OIS, not the regular iPhone 6) and much much more.
In the end though, users will want to head into a carrier store and try the Galaxy Note 3 out in their own hands and pockets. It's a big device, and one that isn't extremely easy to hold for some. The iPhone 6 Plus will have the same problem, and it's even taller. It's a tough choice, as both have some of the best specs, software, hardware and features available today. Once we get our hands-on the new iPhone 6 Plus we'll be sure to revisit this comparison.