The iPhone 6 Price: Everything We Know
With the iPhone 6 launch date all but confirmed for September 9th, consumers are starting to prepare for the inevitable iPhone 6 release date later this year. Ahead of Apple's launch, we want to take a look at everything we know about the iPhone 6 price including what we already know about Apple and the rumors that we've seen emerge over the past year.
For nearly a year, we've heard about the new iPhone 6 release that Apple has in store for 2014. Rumors have centered on the name iPhone 6, a probable name for a device that will come after both the iPhone 5s and the iPhone 5, though its name remains unconfirmed.
Apple iPhone 6 rumors have stretched far and wide and they've left no stone unturned. We've heard about the iPhone 6 release date that supposedly could happen in September and perhaps in October as well. Apple, like Samsung, typically does a good job of masking specific release details but rumors point to an arrival in the usual iPhone release window.
We've also heard about the ever so important iPhone 6 price, or, how much the iPhone 6 will cost both on and off-contract when it arrives later on this year. The smartphone world is extremely competitive at the moment and consumers are extremely curious about how much the iPhone 6 might cost compared to top Android rivals like the LG G3.
With just days to go before the iPhone 6 launch, and a flurry of other smartphone launches, we want to take a look at everything we know about the iPhone 6 price. These are the key details that prospective buyers will want to keep in mind as we head into the month of September and the iPhone 6 launch date that's set for September 9th at DeAnza College in Cupertino.
A Bit of History
Before we get to what we know about the iPhone 6 price, let's first discuss what we know about Apple. Apple is known for offering an iPhone lineup that hits on several major price points. The company's flagship model typically starts at $199.99 on contract and goes up to $399.99 on-contract for the largest storage variant. In the iPhone 5s' case, 64GB.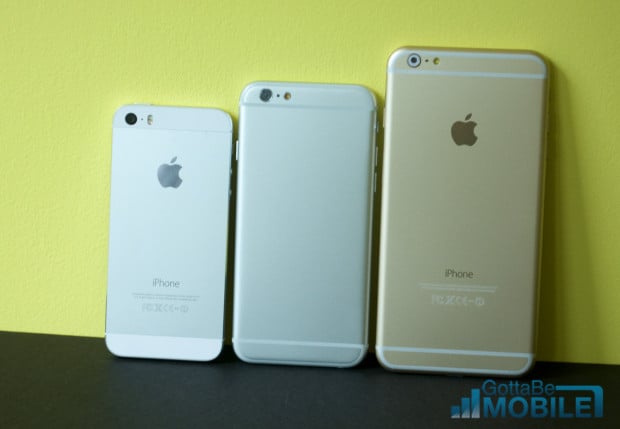 Apple now keeps an iPhone at $99 to compete against the budget Android smartphones on the market. The current $99 smartphone is the iPhone 5c, a plastic version of the iPhone that was aimed at emerging markets. The company also keeps a free on-contract iPhone, a device that appeals to those that want to buy into the Apple ecosystem with little cost. The current free-on-contract iPhone is the iPhone 4s.
We've seen Apple keep this setup for a number of years now though at the moment, it's not clear how the iPhone 6, rumored to be coming with two models, will slot in with the current iPhone models. This could, however, explain why we're hearing rumors about different price points for Apple's upcoming iPhone 6.
iPhone 6 Price
The iPhone 6 price, or perhaps prices, will be announced on September 9th at Apple's fall event. The iPhone 6 is all but confirmed for September 9th and a new report from The Wall Street Journal throws more fuel onto the iPhone 6 launch date fire.
Apple is well known for revealing every single key iPhone detail at its iPhone launch events and price always plays a big part during the unveil. While it's not confirmed, there is a very good chance that we'll hear a ton about the iPhone 6 price next week when Apple takes the stage. For now though, we're left with rumors and there are more than a few.
All the way back in November, shortly after the iPhone 5s release, Chris Caso of Susquehanna Financial Group predicted that the price of the iPhone 6 could jump up as much as $100. Caso's prediction was backed up by Jefferies analyst Peter Misek who also said that he believed there is a potential for a $100 price jump and that Apple is negotiating a $100 price jump with carriers. Raymond James analyst Tavis McCourtm courtesy of WSJ's MarketWatch, also has said that Apple will charge a $100 premium for the larger 5.5 iPhone 6.
This analysis was echoed by a note from Nomura Securities research. The firm thinks that the price of the 4.7-inch iPhone 6 model could arrive with a full off-contract price tag of $650. Nomura also believes that Apple will position the iPhone 6 5.5-inch model with a price tag that's $100 more than the 4.7-inch variant.
The firm also says that the 5.5-inch iPhone 6 could be priced at $100 more than the smaller model. This lines up with early analysis and, if true, it means that Apple could slot the iPhone 6 above and below the Samsung's 5.7-inch Galaxy Note 4. The Galaxy Note 4, a key iPhone 6 rival, is expected to command a $299.99 price tag on-contract, $650+ off-contract in the U.S.
A new report from Brian X. Chen at the WSJ suggests something similar. Chen says that while the price of the devices is not yet clear, the "larger version will be the more expensive model."
Another rumor out of Spain points to an off-contract price around 750 Euros for the 4.7-inch model and 950 Euros for the larger 5.5-inch model. European pricing never matches up exactly with U.S. pricing so it's not clear how this might translate to the the U.S. dollar. 750 Euros is 970 U.S. dollars.
iPhone 6 rumors also continue to point to the arrival of a larger 128GB iPhone 6 though it's still not clear how this large model fits into Apple's plans. The device would likely become the most expensive iPhone model but rumors remain non-specific ahead of Apple's launch date. It's not clear how this would affect the 16GB, 32GB, 64GB setup that Apple has going on.
So at this point, here is what iPhone 6 price rumors are saying:
4.7-inch iPhone 6 price $100 more than 5.5-inch model, possibly $199.99 on-contract, $650 off-contract.
5.5-inch iPhone 6 price more expensive, perhaps $299.99 on-contract to match Galaxy Note 4, $750 off-c0ntract.
These prices are not confirmed and the iPhone 6 price probably won't be made official until close to the end of next week's iPhone 6 event when Apple details all of the pertinent release information.
iPhone 5s Price & Others
Typically, when an iPhone gets replaced, it drops in price. Or, in the case of the iPhone 5, it gets discontinued. It's not clear what's going to happen to the iPhone 5s or the iPhone 5c though we know that the iPhone 5s and iPhone 5c will both be cheaper than the iPhone 6.
Unless Apple debuts the iPhone 6 for $100 or less, the iPhone 5s and iPhone 5c will be much cheaper than the iPhone 6 outside of the Apple Store. Retailers have already begun slashing prices and Walmart has permanently dropped the iPhone 5s down to $100 with the iPhone 5c also now sitting well below its $99 price point.
Consumers should expect the iPhone 5s price to drop across the board once Apple announces the all new iPhone 6.

This article may contain affiliate links. Click here for more details.