iPhone 6 Release: 10 Exciting Details
In just a few short weeks, Apple is expected to announce this year's new iPhone release, a device that's currently being dubbed iPhone 6. And while nothing is confirmed until Apple takes the stage, rumors have led to a fairly detailed iPhone 6 release timeline. Here, we take a look at what we consider to be the 10 most exciting iPhone 6 release details.
Over the last seven months, we've heard a ton about Apple's plans for the fall. At WWDC 2014, the company confirmed both iOS 8 for iPhone and iPad and OS X Mac for the fall. The Apple rumor mill has done some talking for Apple and we've seen an iWatch, new iPads and a new iPhone all but confirmed for arrival later this year.
In particular, iPhone 6 rumors have been rampant and they point to a significant change from last year's iPhone, the iPhone 5s. The iPhone 6 is expected to deliver some big times features to the iPhone including two new screen sizes, 4.7-inches and 5.5-inches, a new A8 processor, an improved camera with image stabilization technology, and a redesign that could feature a slimmer frame, a ton of metal, Touch ID, and some other smaller tweaks that should help separate it from its predecessors.
We've also heard a ton about its upcoming release and the iPhone 6 release date itself. iPhone 6 release date rumors have, in recent weeks, become more and more specific as we approach September and Apple's fall release window. And it's those iPhone 6 rumors that we want to take a look at today.
That said, we want take a look at what we think are the 10 most exciting iPhone 6 release details to come out in the past seven months or so. These are the details that we think prospective buyers should know about as we push deeper into the year.
iPhone 6 Launch Just Weeks Out
Apple still hasn't sent out any media invites to confirm an iPhone 6 launch event but that doesn't mean that we don't have a specific date in mind already: September 9th.
That September 9th date hasn't been confirmed by Apple but Recode's John Paczkowski is a solid source and it's looking more and more like Apple will confirm that date at some point between now and early September. We would not be surprised if Apple tried to take some steam out of Samsung's Galaxy Note 4 launch on September 3rd with some news of its own.
This is exciting because it means that the iPhone 6 launch is likely just weeks away. And it's at this event that we should hear all about the iPhone 6 specs and the elusive iPhone 6 release date that consumers around the world are after.
iPhone 6 Release in September Likely
That September 9th launch date is exciting for another reason. Apple is known for releasing new iPhones about two weeks after the announcement date. In other words, we're probably just a few weeks away from the iPhone 6 release date as well.
The Apple iPhone 6 release date remains out of reach and there's a good chance that it will stay in the shadows until Apple takes the stage on September 9th. With that date all but confirmed though we can make some educated guesses.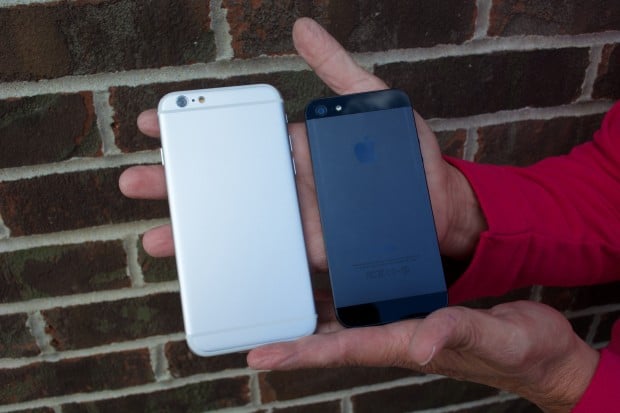 Again, Apple is well known for releasing its iPhones in and around two weeks after launch but it's also known for releasing new iPhones on Friday. The last two iPhones, the iPhone 5s and iPhone 5, both arrived on a Friday in late September.
This year, September 19th fits the criteria perfectly and unsurprisingly, the date is rumored to actually be the first of what could be two iPhone 6 release dates. It's not a date that we'd circle on the calendar in pen but it's a date that certainly looks good, especially when you consider the fact that every single rumor, leak and analyst believes that at least one iPhone 6 release will arrive next month.
Two iPhone 6 Releases
At this point, rumors suggest that we could see two iPhone 6 models, a 4.7-inch variant and a larger 5.5-inch model that's expected to contend with the likes of the Galaxy Note. These rumors are exciting because it means that we could see two powerful high-end iPhone models emerge instead of just one. Last year's iPhone 5s was accompanied by a cheap plastic iPhone 5c.
Phone 6 release date rumors have continued to point to two separate release dates for Apple's iPhone 6. VentureBeat claims that the 4.7-inch iPhone 6 release date will happen in September and that the 5.5-inch iPhone 6 release date could arrive weeks later or perhaps, even a month later. This lines up with early iPhone 6 rumors including details from respected analyst Ming-Chi Kuo.
If Apple does have two iPhone 6 models up its sleeve, expect it to announce both in September. Holding back on an announcement has the potential to hurt initial iPhone 6 sales with many consumers taking a wait and see approach. Apple can't risk that, especially when its been quiet all year.
iOS 8 Release Close
Apple always announces its new iOS software alongside a new iPhone which means that we're probably only weeks away from an iOS 8 announcement and an iOS 8 release.
The company typically unleashes its iOS updates a few days ahead of the iPhone release so we should see the iOS 8 release date take place a few days after September 9th.
It's possible that we could see Apple follow its usual timeline. Last year's iOS 7 update was released on September 18th for older devices. The iPhone 5s emerged on Friday, September 21st. If Apple follows a similar pattern and it's possible that it will, we could see the iOS 8 update released a few days before September 19th.
iOS 8 is available to iPhone and iPad owners in beta form right now but we're extremely excited about a stable public iOS 8 release alongside the iPhone 6.
Accessory Makers Ready
We're excited that iPhone accessory makers are ready for the iPhone 6 release. Spigen recently sent us a case for the iPhone 6 that fits our 4.7-inch iPhone 6 model. We first saw these iPhone 6 cases arrive on Amazon in July, and now we have them in to try on the iPhone 6 mock-up that is the product of iPhone 6 rumors and leaks.
It's not a surprise to see cases or accessories for a new iPhone well in advance, but the reason we are excited about these iPhone 6 cases is the track record of Spigen. In 2013 Spigen shared Nexus 5 cases with us ahead of the Nexus 5 announcement, and the cases fit the Nexus 5.
As we noted, the Spigen iPhone 6 cases are designed for an iPhone 6 with curved edges and a power button on the right side, which matches leaks and iPhone 6 rumors. The left side includes a new volume button area that accommodates the thinner volume buttons and the orientation switch.
With accessory makers like Spigen ready for an iPhone 6 release, iPhone 6 buyers should have no shortage of iPhone 6 accessory options come September.
$0 Down at Apple Stores
Apple now offers one more reason to buy a new iPhone at an Apple Store, and it will be in place in time for the iPhone 6 release date according to a new report.
9to5Mac's Mark Gurman claims that starting August 20th, you should be able to walk into an Apple Store and buy a new iPhone for $0 down on one of the new carrier payment plans that lets users pay for the full price of a phone over 20 to 24 months. Some of these plans also include cheaper monthly plan costs, since you are paying full price for the iPhone.
For users that choose the iPhone 6 on one of these plans it would allow for an early upgrade in as little as a year, just in time for the iPhone 6s or iPhone 7 in 2015. That's extremely exciting for those that hate contracts.
iPhone 6 Price
According to several analysts, a potential increase in size could lead to a change in price. Apple's current iPhone lineup consists of the $199.99 iPhone 5s, $99 iPhone 5c and iPhone 4s, but the arrival of two large screen models could present changes to consumers in the United States and around the world.
The latest iPhone 6 price prediction comes from Raymond James analyst Tavis McCourt courtesy of WSJ's MarketWatch. McCourt says that Apple will likely charge a $100 premium for the larger 5.5 iPhone 6. Furthermore, McCourt claims that consumers are willing to spend the extra cash for the larger screen.
In November, shortly after the iPhone 5s release, Chris Caso of Susquehanna Financial Group stated that he believed that the price of the iPhone 6 could jump up as much as $100. Caso's prediction was backed up by Jefferies analyst Peter Misek who says that he believes there is a potential for a $100 price jump and that Apple is negotiating a $100 price jump with carriers.
This analysis was recently echoed by Nomura Securities research. The firm thinks that the price of the 4.7-inch iPhone 6 model could arrive with a price tag in and around $650. Like McCourt, Nomura believes that Apple will position the iPhone 6 5.5-inch model with a price tag that's $100 more than the 4.7-inch variant.
A $300 iPhone 6 isn't the exciting part. The exciting part is that the smaller 4.7-inch iPhone 6 could come with all of these upgrades, larger display, sleeker design, improved camera sensor, and still sit at the company's usual $199.99 starting price point.
Samsung Galaxy Note 4 Launch Date
Last week, Samsung confirmed the Galaxy Note 4 release and tagged the device with a launch date of September 3rd. And it is there that we'll hear about a device that has the potential to be one of the iPhone 6's fiercest competitors.
The Samsung Galaxy Note 4 is expected to deliver a number of high powered features including a new 5.7-inch QHD display, a more efficient Snapdragon 805 processor, an upgraded camera with optical image stabilization, a UV sensor, a fingerprint sensor for added security, and a design that could combine sleek looking plastic with a metal frame.
Like the iPhone, the Galaxy Note series only gets released once per year which makes the timing all of this extremely exciting. Prospective iPhone 6 buyers are going to get a look at two of the biggest releases of the year in the span of a week.
Samsung Galaxy Note 4 Release Date
Maybe more exciting, at least for those in the hunt right now, is that the Galaxy Note 4 release date could come just a few short days after the Galaxy Note 4 launch.
We've heard that Samsung might get the Galaxy Note 4 out quickly to better compete with the iPhone 6 and the week of September 15th is currently rumored as a potential release window for Samsung's new smartphone.
If true, it could mean that both of these devices will be out in mid-September, something that is extremely exciting to us and should be exciting to smartphone shoppers around the world.
iPhone 5s Price Drop
Finally, the last exiting iPhone 6 release detail is that the iPhone 5s price has already dropped down to $99 on-contract at Walmart. And with an iPhone 6 release just weeks away, we should see other retailers and perhaps Apple drop the price of the current flagship down. Maybe even lower than the current $99 price point.
This is key because the iPhone 5s remains a solid device and it will be almost certainly be an intriguing alternative to the iPhone 6 models. Look for Apple's best iPhone to get a bit more attractive in September.