iPhone 6 Release All but Confirmed in New Leak
The iPhone 6 will most likely be announced in just a couple short weeks next month, and we've already been treated with a healthy number of leaks and rumors. However, today's leak is rather unique and interesting.
The Quick-Start Guide paperwork that will come with the iPhone 6's packaging as been leaked, showing off the device's design and where all of the buttons will be.
According to the image, which was leaked by nowhereelse.fr, the iPhone 6 will have the power button situated on the right side of the device instead of the top, and the volume buttons on the side look to be elongated ovals rather than round buttons like we've seen on the iPhone since the iPhone 4.
Furthermore, the date of September 9 is shown on the iPhone 6's screen on the guide, suggesting that the device will be announced on that date. Apple has been consistent in the past of putting the announcement date on the home screen of every new iPhone, and it's sort of a nifty easter egg that the company includes.
Nowhereelse.fr has a decent track record with past rumors, so we're inclined to believe that this is real. Of course, we take all rumors with a grain of salt, as this could also simply just be a fake card that was printed up. Plus, it doesn't appear to be a final copy of the start-up guide, but rather a draft that's still in the design phases, which could still mean that it's real.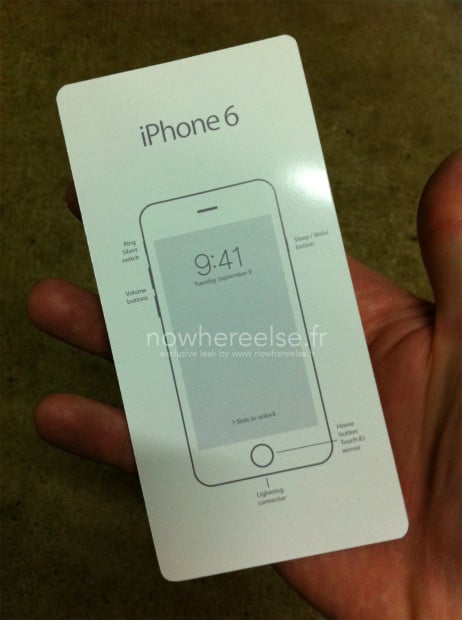 Of course, though, the design iPhone 6 on this start-up guide card is consistent with pretty much every rumor that we've heard on the iPhone 6's design, so we have no huge reason to believe that it's fake.
The iPhone 6 will most likely come in two different variants, both sporting larger screens. A 4.7-inch model and a 5.5-inch version are the two screen sizes that rumors agree upon, and we've already seen plenty of mockups depicting these screen sizes.
Aside from a larger screen and new design, the iPhone 6 is expected to come with an all-new processor (most likely the Apple A8), possibly more RAM, a better camera, and an improved Touch ID fingerprint sensor. The hardware of Touch ID is expected to receive a bit of an overhaul and will be more durable than the first-generation Touch ID sensors.
We also might see the first iPhone to come with 128GB of storage. With the iPhone 6 rumored to be larger in size thanks to bigger 4.7-inch and 5.5-inch screens, it may now be possible for an iPhone to come equipped with 128GB of storage. However, a past rumor suggests that the 128GB version may only come to the 5.5-inch iPhone 6 in order to convince more users to spend a bit more cash and get the bigger screen.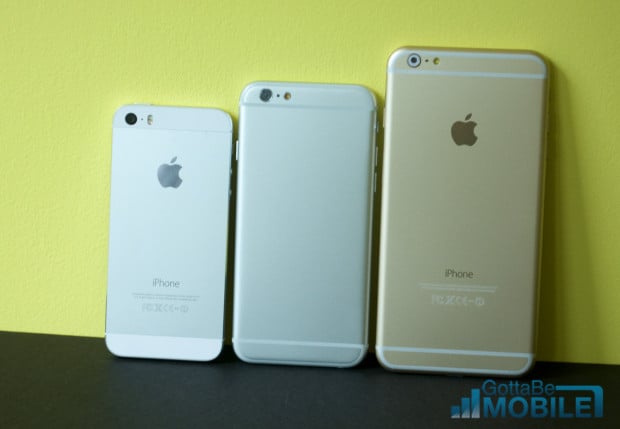 Plus, it's said that the 128GB exclusive on the 5.5-inch model would help differentiate the 4.7-inch and 5.5-inch models even more, considering that the only difference that we've seen so far between the two devices is screen size.
If this turns out to be true, the 5.5-inch iPhone 6 will get the lauded 128GB of storage, while the 4.7-inch model could still be stuck at a 64GB maximum.
It would certainly make sense for Apple to get rid of the 16GB option for the iPad and just go with 32GB, 64GB and 128GB, but we think the iPhone is a device that still needs a 16GB option in order for the company to offer an inexpensive subsidized device for budget-minded consumers.
Essentially, a 128GB iPhone 6 would be the end-all model for many users, officially making extra storage accessories obsolete. Of course, the price of a 128GB iPhone 6 will be something that many users will take into account, as it certainly won't be cheap by any means, but if users need that kind of storage, the extra price will most likely be worth it.

As an Amazon Associate I earn from qualifying purchases.