iPhone 6 Release Could Bring New Wall Charger
While it's rumored that the iPhone 6 could be getting a new reversible USB Lightning cable, new leaked photos and videos point to a redesigned wall charger as well.
A new image was posted to the Chinese social networking site Weibo, which shows what appears to be a redesigned Apple wall charger for iPhones, which we're guessing could be for the iPhone 6.
The new charger features a more rounded casing and is overall slightly larger than the 5W wall charger that we're used to seeing.
The 5W charger that has come with every iPhone for as long as we can remember has largely went unchanged, so we're a little curious as to why Apple might be changing up the design this time around, although this new leaked design looks be slightly more ergonomic and better for outlet placement. The charger has thumb indentations on either side, making it easier to grip as you remove it from an outlet.
Furthermore, the new shape could make it more friendly towards outlets and create more room for other things to be plugged into outlets without the iPhone charger getting in the way, but that will remain to be seen until it officially releases.
Accessory vendor Moca.co has an in-depth look at the new charger design, as well as a video showing off the new charger along with the reversible USB Lightning cable that we've been hearing so much about (embedded below).
However, along with that, Moca says that it has knowledge that Apple isn't going to release its reversible USB cable alongside the iPhone 6.
This rather disappointing news, as we've been looking forward to such a USB cable for quite a while, but we at least still have hope that a new iPhone wall charger could come to the iPhone 6. However, it is important to point out that this new design for the wall charger is actually already available in Australia from Apple. Apparently, that's the design they use down under because of the different prongs. So essentially, Apple would simply be bringing the design of the Australian charger over to the US.
As for why Apple would want to being that design to the US is unknown, but it seems like a superior design anyway, so we wouldn't be surprised if that was the case here. Obviously, this is still a rumor, so we're taking this with a grain of salt, but the past few rumors we've been hearing point to an overhaul with the USB Lightning cable and the accompanying wall charger, so don't be surprised if the iPhone 6 device isn't the only thing that has changed when you open up the box.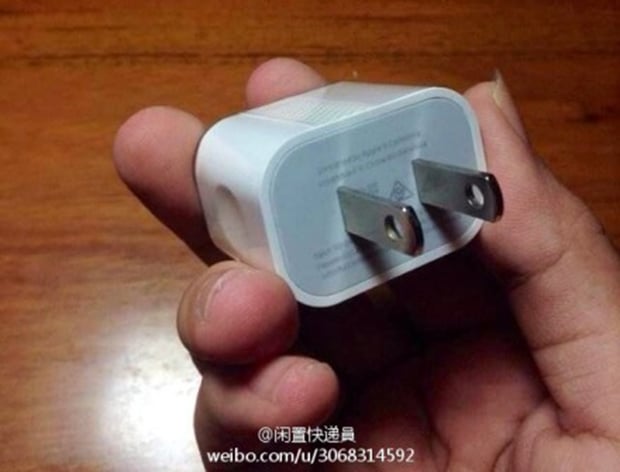 n any case, Apple will most likely announce the iPhone 6 on September 9, with a public launch rumored for September 19. These dates are completely based off rumors, but it seems many reputable sources agree upon these dates, so we're going with it for the time being, but it's not carved in stone.
The new device will see a complete design overhaul, ditching the squared-off edges for a more rounded design that's much similar to the iPad Air and iPad mini, making the entire iOS device lineup uniform as far as design is concerned. We'll also most likely see two new models sporting larger screens, one with a 4.7-inch display and the other with a 5.5-inch screen, the latter of which could sport a faster processor and more storage space as an incentive to upgrade to the larger screen, but that's also still roaming around in Rumorville.

This article may contain affiliate links. Click here for more details.