iPhone 6 Release Date Again Pegged for Summer
The iPhone 6 release date, which has been pegged to be taking place during the summer instead of the fall like the iPhone 5 and iPhone 4S, is again rumored to be coming at some point during the summer months of 2013.
Read: iPhone 6 Release Date, Specs, News and Rumors.
Canaccord Genuity analyst T. Michael Walkley, courtesy of BGR, expects that Apple will launch the iPhone 6 some time this summer, a departure from the past two iPhone releases which took place in September and October respectively. Walkley believes that Apple could launch the iPhone 6 by June and could also introduce a cheaper iPhone to compete in markets like China and Eastern Europe.
The higher-end iPhone 6 will, according to Walkley, arrive with a 4-inch display just like the screen on the iPhone 5.
Walkley's beliefs fall in line with previous remarks from Topeka Capital Markets analyst Brian White and Jefferies analyst Peter Misek who believe that Apple will bump up the release date of the iPhone 6 to the summer instead of during the fall. White and Misek believe that Apple will introduce new colors for the iPhone, that will complement both the white and black that are already available. New colors could include blue, pink, yellow, white and silver according to White.
Apple has never offered an iPhone with multiple screen size options. Customers at the moment have a choice due to the fact that the iPhone 5 sports a 4-inch display and the iPhone 4S, iPhone 4 and iPhone 3GS all have 3.5-inch displays. With the iPhone 6, Apple may be looking to offer multiple screen sizes from the start. No exact sizes have been mentioned though Walkley believes the phone will be for emerging markets which likely means a smaller display.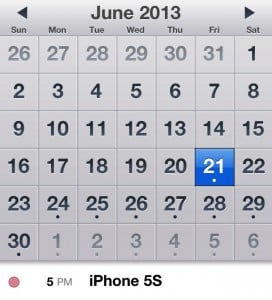 Something to keep in mind is that notes from analysts aren't always accurate and often, they are flat out wrong. However, what's interesting is that many of them, so far, seem to think that Apple will be introducing a new iPhone in the middle of 2013 rather than in the latter half of the year.
Read: iPhone 6 Rumors: Summer Release, More Sizes, Colors & Options.
It's certainly possible that Apple will stick to its usual release protocol and wait until the fall but at this point, there are many signs pointing to the summer and potentially, WWDC 2013 as an iPhone 6 launch date.
Other iPhone 6 whispers currently state that the device may take advantage of a new IZGO display that could bring more pixel density to the iPhone 6′s display and help to increase the overall battery life.
Misek believes that Apple may introduce a new display and an improved camera that he calls a Super HD camera. It's possible that Apple could include pixel oversampling, similar Nokia's current PureView technology, which would produce better photos without having to increase the mega-pixel count.

This article may contain affiliate links. Click here for more details.