iPhone 6 Release Date Rumored for September, August Unlikely
Apple may be preparing to launch the iPhone 6 in September after all, thanks to German website iFun, which says that Apple Store retail employees in Germany are being asked not to take any vacation time starting in mid-September, which seems like a wonderful time to launch a new iPhone.
This seems to counter the recent rumors we've been hearing about Apple possibly launching the iPhone 6 in August, which would be a bit earlier than normal for the company when it comes to releasing a new iPhone, especially since no employee restrictions have been reported for the month of August.
It's said we'll see two new iPhones come fall, both of which will sport larger screen sizes than the iPhone 5s/iPhone 5. A 4.7-inch model is expected, as well as a 5.5-inch unit for those who want a larger display to rival the larger Android devices of today.
As for whether or not these two iPhones will see a split launch, that seems highly unlikely, seeing as how this rumor from iFun states that the vacation restriction block is only for a couple of weeks in September, meaning that Apple will most likely launch the two iPhones simultaneously on the same day. If this wasn't the case, then most likely that vacation restriction block would be much longer.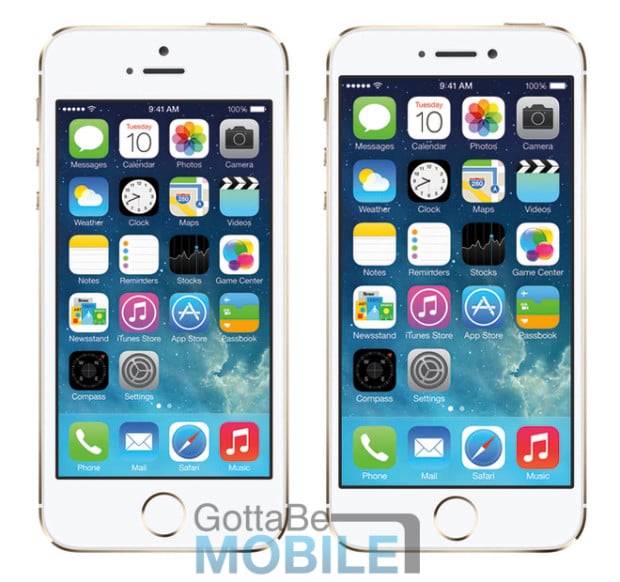 A September launch for the iPhone 6 seems to be the agreed-upon time window for the device's launch. Analysts and news outlets like KDW Daewoo Securities, Ming-Chi Ku, Nikkei and the Industrial Commercial Times all say that the iPhone 6 will launch in September.
There has been no shortage of iPhone 6 rumors and leaks over the past couple of months, but many of them agree on the overall design of the iPhone 6. According to leaked cases that have been floating around lately, the iPhone 6 could take the shape similar to that of the iPod Touch, with rounded edges that are also present on the iPad Air and the iPad mini. This kind of design choice would make sense if Apple wants to introduce a unified design throughout its lineup of iOS devices.
The button and port layout will most likely remain untouched from the iPhone 5s, but the design looks to be changing a bit. For example, one of the biggest changes we'll see with the buttons is that the volume buttons might feature an elongated oval shape rather than simple circles. Again, this sort of design would go right along with the iPad Air and iPad mini tablets.
Of course, it's a bit difficult to imagine these types of changes in your head, especially when you're using an iPhone 5s as a reference, but we've already been treated with side-by-side comparisons of iPhone 6 mockups next the iPhone 5s, and while it isn't official, it will at least give you a good idea of what to expect come September when we see the iPhone 6.
Specs are something that are a bit murky at this point, but mostly because we can obviously expect improvements across the board. The iPhone 6 will no doubt come with a faster processor, better camera, and improved performance all the way around. However, it will be interesting to see if the iPhone 6 will be the first iPhone to sport a 128GB storage option. The iPad has had this option for a quite a while, starting with the iPad 4, but we have yet to see it on the iPhone. With a larger screen comes more room on the inside for circuitry, so we think it wouldn't be a problem for Apple to launch a larger 128GB model.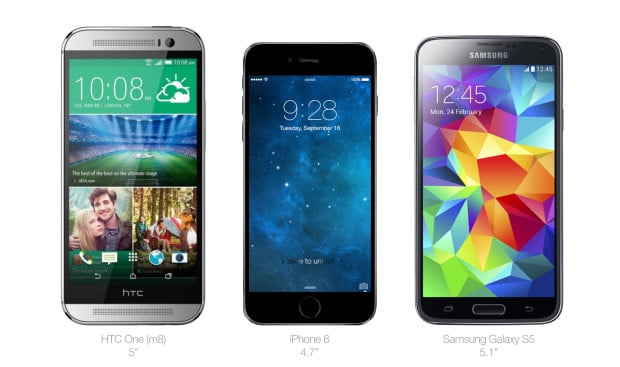 Along with the iPhone 6, we should be seeing iOS 8 arrive in September as well. Apple will most likely announce iOS 8 next month at its WWDC developers conference, with multiple betas releasing over the next few months, but if the release timeline will be anything like iOS 7, we should be seeing iOS 8 arrive around the time when the iPhone 6 will launch.
As far as what we might see in iOS 8, rumors have suggested that it will mostly just come with a handful of new features, while the design will stay mostly the same from iOS 7. Rumors point to new Siri features that will unlock third-party app support just slightly, although built-in Apple apps will still have the advantage.
iOS 8 will most likely also come with several new stock apps, including Healthbook, which looks to be Apple's entrance into the health and fitness industry. With Healthbook, users will be able to monitor and track various activities throughout the day and watch what they eat.
Other new apps coming to iOS 8 might also be iOS versions of OS X's Preview and TextEdit — the latter of which won't necessarily replace the Notes app, but could just be a supplemental app for heavier typers.
Lastly, iPad split-screen multitasking is the latest iOS 8 rumor to hit the ether, which will allow users to truly multitask and use two apps at once. It'll be interesting to see how Apple implements this, but it'll sure be a boon for productive iPad users.

As an Amazon Associate I earn from qualifying purchases.