iPhone 6 Release Date, Specs, News and Rumors
The iPhone 5 has only been out since September but already, rumors are swirling about the next iPhone, presumed to either be called the iPhone 5S or the iPhone 6. We've heard everything from potential features to possible launch dates and while we're still likely far off from its unveiling. Paint that will at one point depict the iPhone 6 as a whole is already being applied to the canvas.
In September, Apple released the iPhone 5 to great fanfare as the company finally included a few features that consumers had been lusting over for a number of years, namely 4G LTE data speeds and a larger display. Those new features came in addition to a fantastic design comprised of aluminum, glass and metal, upgraded cameras, a new dock connector called Lightning, and of course, Apple's new operating system, iOS 6.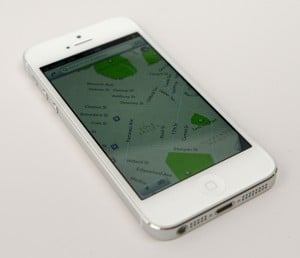 The device has seemingly been a hit since then with supply only finally meeting demand in December, right around the time the holiday shopping season arrived. That demand hasn't stopped rumors of a new iPhone from leaking to the surface however.
In the weeks since the release of the iPhone 5, rumors of a new iPhone potentially dubbed iPhone 5 or iPhone 6 have emerged. The fact that rumors of the iPhone 6 have emerged this soon are not surprising. Last year, just two months after the release of the iPhone 4S in October, rumors started swirling about a re-designed iPhone 5 set for launch sometime in the fall.
Turns out, Apple indeed released a re-designed iPhone 5 in the fall of 2012. So while there's a good chance some of these iPhone 6 rumors are off-base, there is also potential for them to turn out to be true. And as we've suggested, there are already rumors aplenty. And while they will likely frustrate some owners who took the iPhone 5 plunge this year, they are certainly exciting for many others.
Here now, we take a close look at everything we know so far about the Apple iPhone 6 release date, features, software, and more.
iPhone 6 Release Date
While both the iPhone 4S and the iPhone 5 were released in the fall, current rumors peg the iPhone 6 launch date and quite possibly, its release date, as happening sometime in the middle of 2013.
Back in 2012, the first iPhone 6 rumors chimed in claiming that Apple would be announcing and releasing the iPhone 6 at some point in the middle of 2013. If true, it would likely mean an unveiling at WWDC 2013 in June and a release date a few weeks afterward. Apple, prior to the iPhone 4S, announced several of its iPhone models at its developer's conference.
We saw that rumor then get backed up by a note from Jefferies analyst Peter Misek who believes that Apple will be releasing the iPhone 6 at some point during the month of June.
Read: iPhone 5S Release Date & Features: What to Expect.
More recently, a report claimed that Apple was already testing what is believed to be the iPhone 6 with iOS 7 on board. That report was then followed by another note from an analyst, this time Topeka Capital Markets' Brian White, who claims that Apple is going to be releasing an iPhone 6 or as White called it, the iPhone 5S, at some point during May or June.
White believes that production of the iPhone 6 will ramp up starting in March or April.
So thus far, virtually every rumor and report suggests that Apple will be shifting away from the fall and will return to an iPhone launch date and release date during the summer. Remember that Apple also shifted the launch date of the iPhone 4S to fall after previous using WWDC. And while it would be a bit strange given Apple's previous two iPhone launches, it certainly remains a possibility.
One, Apple has proven that it doesn't necessarily adhere to a yearly cycle with its mobile devices as was evidenced when it released the fourth-generation iPad long before the iPad third-generation's first birthday. Two, it may want to move the iPhone 6's release date up to better position itself in a battle against the Samsung Galaxy S4 which Samsung is rumored to be releasing by mid-year.
In 2012, the Samsung Galaxy S3 posed a great threat to the iPhone 4S and iPhone 5 and by launching it earlier in the year, Apple may be hoping to curb some of Samsung's success with its flagship.
Of course, it's entirely possible that Apple will follow protocol and stick to the fall, right before the holiday shopping season, rumors right now suggest otherwise.
iPhone 6 Form Factor
Apple tends to stick with designs in pairs. With the iPhone 3G and iPhone 3GS, it kept a similar design. With the iPhone 4 and iPhone 4S, it did the same. And because of that, many are likely expecting Apple to keep the iPhone 5 design with the iPhone 6/iPhone 5S. At this point, there is nothing out there that says that it will be revamping the overall design of the iPhone 6.
In fact, a photo that leaked out late last year claiming to be the back shell of the iPhone 6 looks remarkably similar to that of the iPhone 5's. The alleged image, from ETradeSupply, shows the same anodized aluminum back that Apple used with the iPhone 5.
Read: iPhone 6 Rumors: Summer Release, More Sizes, Colors & Options.
That being said, there is an interesting rumor out that suggests that the iPhone 6 may come in two different sizes and with different color options. Analyst Brian White believes that Apple may release several sizes of the iPhone, something that it has never done in the past. Customers currently have a choice as the iPhone 5 features a 4-inch display and the iPhone 4S and iPhone 4 have 3.5-inch displays but Apple has never released different sized devices simultaneously.
What's more is that White believes Apple could offer the iPhone 6 in several different colors including blue, pink, yellow, white and silver and black and slate. Previous iPhone models have only come in either black or white. Jefferies analyst Peter Misek believes that Apple will indeed release different colors for the iPhone 6 as well.
So, it could be that Apple tweaks the industrial design it already has by offering different sizes and new color options. At this point though, the overall design of the iPhone 6 looks like it could mirror the iPhone 5.
iPhone 6 Screen
With the iPhone 5, Apple kept the Retina Display intact but increased the size of the iPhone's screen to 4-inches and changed the aspect ratio to 16:9 in order for it to display widescreen content. However, with Android manufacturers poised to deliver 1080p resolution on smartphones like the Samsung Galaxy S4, HTC M7 and more, consumers are wondering whether Apple will make some changes to its non-HD screen.
Read: Apple Testing New Screen Technology For iPhone 5S or iPhone 6.
Rumors seem to point to that being a possibility as several potential changes have emerged in reports. One, from the hit-or-miss publication DigiTimes suggests that Apple is in talks with Sharp to use IGZO displays in the next generation of mobile Apple devices. IGZO technology, the name which is derived from the materials it uses including  indium gallium zinc oxide, could bring more pixel density to the iPhone 6's display and help to increase the overall battery life.
Sharp IGZO displays also use a thinner glass edge which would allow for Apple to make an even thinner iPhone 6. The iPhone 5 is currently extremely thin, checking in at 7.1mm in size. It might also help with more accurate touches on the iPhone 6's touchscreen.
A report from China Times also suggests that Apple may already be testing IZGO screen technology for the iPhone 6 which seems to back up the previous rumor.
iPhone 6 Specs
Unfortunately, beyond the display and the possible changes to the form factor, there isn't much out there about the rest of the iPhone 6. Misek believes that Apple could be upgrading the rear camera to a Super HD camera though what changes that might entail remain unclear.
As we pointed out, it could be that Apple includes pixel oversampling similar to the Nokia PureView technology which would produce better photos without having to increase the mega-pixel count.
Apple tends to tweak the rear camera in every iPhone model so it wouldn't be surprising to see the company outfit the iPhone 6 with an even better camera then the one found on the iPhone 5.
Read: T-Mobile iPhone Confirmed for 2013.
The usual 128GB storage rumor has also cropped up, a rumor that emerges every year. This year, it seems more possible than ever with the increasing sizes of applications and files driving some smartphone owners to adopt phones with larger storage. Apple phased out the 16GB iPod touch with the latest generation so it's entirely possible that Apple will get rid of the 16GB model and make the 32GB iPhone 6 its base model.
Though no rumors have emerged, Apple will likely include a more powerful processor, possibly an A6X chip, the same chip found in the fourth-generation iPad that was released last year.
And while the iPhone 5 has stellar battery life on 4G LTE already, Apple may make some tweaks to give the iPhone 6 even better battery life on networks around the world.
We should see the device launch on the usual suspects' (AT&T, Sprint, Verizon) 4G LTE networks, though with T-Mobile slated to introduce a 4G LTE network and confirmed to be carrying the iPhone next year, it could be that T-Mobile offers the iPhone 6 right from the get-go as well.
iPhone 6 Software
Apple historically releases a new version of its mobile operating system, iOS, with the launch of a new iPhone. With the iPhone 6, it will likely be no different and there are already rumors, from The Next Web, that suggest that Apple is currently testing its next version of the operating system, iOS 7.
Thus far, no rumors have emerged in regards to iOS 7 itself, though with iOS Chief Scott Forstall out of the company, there could be big changes on the way. Forstall was replaced by OS X head Craig Federighi and Eddy Cue, who, will now oversee Siri and Maps.
Read: Apple Begins Testing iPhone 6 With iOS 7 According to Developers.
Jony Ive will now lead the team responsible for the Human Interface (a.k.a. User Interface) across Apple. So, it could be that iOS 7 is when we finally see the look of iOS start to change a bit from the interface that has been around for a number of years now.
There are also cries from the jailbreak community, pleading for Apple to make iOS 7 an open OS, but we expect those pleas to fall on deaf ears, as iPhone 5 owners continue to wait for an iOS 6 jailbreak method.
At the very least, expect iOS 7 to arrive alongside the iPhone 6 either at WWDC 2013 or later on in the year.
iPhone 6 Price
Apple has stuck to its guns and released the iPhone at its usual $199.99 starting price point for a number of years now. At this point, there is nothing that suggests that Apple will shy away from what has been working, pricing the 16GB at $199.99 and giving the 64GB variant a $399.99 sticker, but given the rumors, it's possible that we could see multiple price points.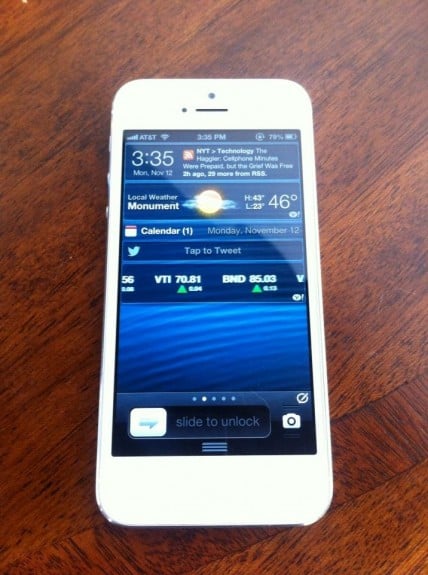 Again, analyst Brian White believes that Apple will introduce several different sized iPhones. It could be that we see an iPhone larger than 4-inches emerge with a steeper price tag and it's also possible that we could see a smaller, possibly 3.5-inch iPhone 6 arrive with a cheaper price tag to help combat the cheap Android and Windows Phone 8 devices.
The company has typically dropped down its previous iPhone in price to compete with the cheaper devices, in this case it would be the iPhone 5, but it could be that it does something different this time around.

As an Amazon Associate I earn from qualifying purchases.