iPhone 6 Rumors: Summer Release, More Sizes, Colors & Options
The iPhone 6 rumor mill is already hard at work in 2013 with one report suggesting that Apple is already testing the iPhone 6 with iOS 7 and now, another, suggesting that Apple is gearing up for an iPhone 6 launch date some point this summer in a multitude of colors and potentially, in different sizes as well.
Read: Apple Begins Testing iPhone 6 With iOS 7 According to Developers.
According to a note from Topeka Capital Markets analyst Brian White, Apple might be looking to launch the new iPhone 6, or as White calls it, the iPhone 5S, by the month of June. May is also mentioned as a possibility for the iPhone 6 launch date as well.
White also believes that Apple may launch the iPhone 6 with more choice for customers in terms of colors and screen size, much like it has with the iPod touch and its tablet, the iPad. The iPod touch comes in a variety of colors while the iPad now sports two different screen sizes in the 9.7-inch iPad fourth-generation and the 7.9-inch iPad mini.
With the iPhone 6, Apple could potentially introduce five new colors for the iPhone 6 including blue, pink, yellow, white and silver and black and slate. Previous iPhone models have only come in either black or white.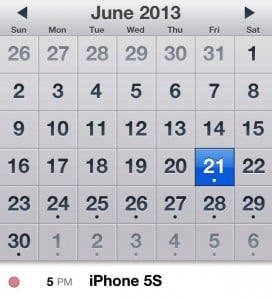 As for screen sizes, Apple has never offered an iPhone with multiple screen size options. Right now, customers have a choice due to the fact that the iPhone 5 sports a 4-inch display and the iPhone 4S, iPhone 4 and iPhone 3GS all have 3.5-inch displays. With the iPhone 6, Apple may be looking to offer multiple screen sizes right off the bat. It's unclear just how large or how small those screen sizes might be though.
It could be that Apple boosts up beyond the current 4-inch display found on the iPhone 5 or looks to release a smaller display iPhone for a price that is much more competitive than what it already offers.
Read: iPhone 5S Release Date, Specs, News and Rumors.
Keep in mind, notes from analysts aren't always accurate and often, they are flat out wrong so it could be that none of these things come to fruition. However, we have heard multiple times that Apple may be planning to release its next iPhone sometime during the middle of this year with reports suggesting that Apple may already be testing the iPhone 6 with iOS 7.
Before the launch of the iPhone 4, Apple used to announce at WWDC in June and release the iPhone shortly afterwards. And if rumors and analysts are to be believed, it could do so again in 2013.

As an Amazon Associate I earn from qualifying purchases.