The iPhone 6 Release Date: Everything We Know
Apple's presumed iPhone 6 launch date is fast approaching and that means that consumers are starting to prepare for the inevitable iPhone 6 release date. Ahead of the highly anticipated launch, we want to take a look at everything we know about the iPhone 6 release date including details that may not be announced at Apple's event on September 9th.
For almost a year, we're heard iPhone 6 rumors and seen iPhone 6 leaks emerge on a near daily basis. Rumors have centered on the name iPhone 6, a probable name for a device that will follow the iPhone 5 and iPhone 5. The iPhone 6 won't be the company's sixth-generation iPhone. Instead, it will serve as the company's eighth-gen flagship iPhone model.
iPhone 6 rumors have stretched far and wide and they've left no stone unturned. We've heard about the iPhone 6 specs that will supposedly include large high-resolution displays, a speedy A8 processor, a new camera and new design, NFC, and brand new software that should help separate it from other top smartphones on the market.
We've also heard about the all important iPhone 6 release date, or, the day that the iPhone 6 hits shelves. Apple typically does a good job of masking specific release details but that doesn't mean that we don't have a pretty good read on what is arguably the most important piece of the company's iPhone 6 puzzle.
With just days to go before the iPhone 6 launch, and a flurry of other launches, we want to take a look at everything we know about the iPhone 6 release date. These are the key details that prospective buyers will want to keep in mind as we head into the month of September and the presumed iPhone 6 launch on September 3rd at DeAnza College in Cupertino.
iPhone 6 Release Date Announcement
Reports from Re/Code, Bloomberg, and The Wall Street Journal all point to an iPhone 6 launch on September 9th. Gotta Be Mobile has also confirmed that date with our own sources. This is important because it means that we're only a few weeks away from learning about the iPhone 6 release date.
Apple always announces the iPhone release date at its iPhone events. It's a pattern that the company has used throughout its history and it's something that will likely to take place on September 9th.
It's still not clear if Apple will be holding a live stream for the event though there's a chance that the company will reveal something shortly ahead of the launch date. In the past, Apple has provided a live stream so that those not in attendance can follow the announcements in real time.
iPhone 6 Release Date Rumors Get Specific
As we've pushed onward toward September 9th, iPhone 6 rumors have gotten a bit more specific. New information from Chinese micro-blogging site Weibo points to a September 16-19th iPhone 6 release in China that matches with the best estimates and rumors for a U.S. iPhone 6 release as well as one in Germany.
Apple traditionally launches in a small set of countries before expanding later to cover more territory. Consumer smartphone preferences in Asia trend towards phones with bigger screens. As we've pointed out, this could be why early estimates peg Apple's iPhone 6 orders as significantly higher than in previous years. Apple's focus on the Chinese market makes it a prime candidate for an early release.
The report claims this rumored release date is for the Unicom version of the iPhone 6. The iPhone 5s arrived on China Mobile in January 2014, months after the initial release.
Apple is known for releasing its iPhone on the third Friday in September and September 19th lines up perfectly with the iPhone 6 launch event and that release window.
Two iPhone 6 Release Dates?
The larger 5.5-inch iPhone 6 release date may arrive later on the last Friday in September or even in October.
iPhone 6 release date rumors have continued to point to two separate release dates. The latest rumor comes from VentureBeat. The publication claims that a 4.7-inch iPhone 6 release date will happen in September with a 5.5-inch iPhone 6 release date that could arrive up to a month after the initial release. This lines up with early iPhone 6 rumors including details from respected analyst Ming-Chi Kuo.
While the company might use a staggered iPhone 6 release, rumors suggest that the company will introduce both of these devices at its September 9th launch event. If Apple does split the release dates, it would not be the first time. Last year's iPad mini and iPad Air were announced at the same time though the iPad mini with Retina arrived several days later.
Carriers Prepping
A recent leak shows AT&T is prepped for an iPhone 6 release date in the near future, with multiple iPhone 6 cases listed in inventory. Sprint, along with AT&T, T-Mobile, and Verizon were first to the iPhone 5s and iPhone 5c last year.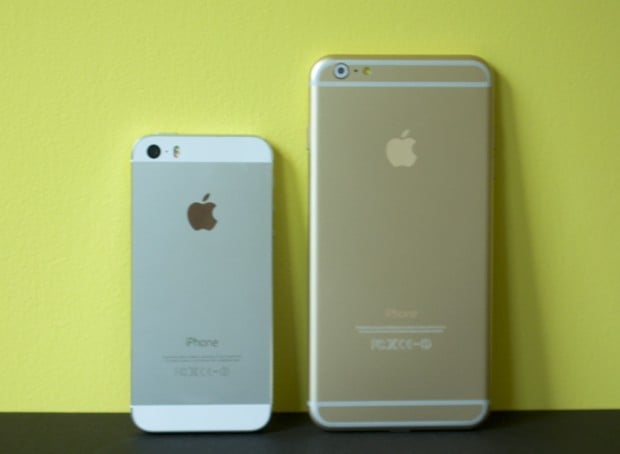 Plans indicate Verizon is almost ready to turn on VoLTE, a new technology that can deliver better phone calls and the ability to talk and use data at the same time. VoLTE support is rumored in iOS 8 for the iPhone 6 and possibly the iPhone 5s though it remains unconfirmed despite the presence of Apple's iOS 8 beta update.
There are still ways to trade in your old iPhone and get close to early upgrade pricing though we have not seen carriers offer the traditional early upgrades ahead of the iPhone 6 release.
iPhone 5s Deals
We don't still don't know if Apple will drop the price of the iPhone 5s though rumors suggest that it could potentially offer an 8GB version of the iPhone 5s after the arrival of the iPhone 6.
Even if Apple doesn't offer a deal on the iPhone 5s, there will be iPhone 5s deals to be had in and around the iPhone 6 release date. We've already seen retailers like Walmart permanently drop the price of the iPhone 5s and iPhone 5c ahead of the iPhone 6's arrival and we should see other carriers and retailers follow suit come September.
The price drops might not be immediate but we should see discounts arrive on or after September 9th.
Galaxy Note 4 Release
We know that there's a very good chance that the iPhone 6 release date could collide with the Samsung Galaxy Note 4′s.
Samsung's Galaxy Note 4 launch date is set for September 3rd and there, the company should detail the device's highly anticipated release. Galaxy Note 4 rumors out of Korea have hinted at a much quicker release this time around which means that its release could smash right into Apple's. Specific Galaxy Note 4 rumors put its date in the same week as the iPhone 6's rumored release date.
The Galaxy Note 4 looks like it will be a solid challenger to the iPhone 6 though it will come with some significant differences including Android and a bundled S Pen stylus.
Like the iPhone, the Galaxy Note only comes around once a year.
Moto X+1 & Moto G2
The iPhone 6 release should also fall in close proximity to the release of at least one other major Android smartphone, maybe two. On September 4th, Motorola is expected to debut the Moto X+1 and the Moto G2, successors to the popular Moto X and Moto G.
While specific release dates for both remain unknown, we've seen them clear necessary hurdles (FCC filings) and expect them to be released at some point inside September as well. This is great for consumers because it means that they'll be able to compare four of the top devices before settling on a new smartphone.

This article may contain affiliate links. Click here for more details.