iPhone 6 Release Day Pre-Orders Still Not Delivered
A small portion of iPhone 6 buyers that ordered phones for release day delivery are still waiting around for FedEx or UPS. In some cases, it appears that delivery drivers simply ran out of time to make final deliveries. In other cases, issues with wireless carriers' systems prevented Apple from shipping out orders on time.
Apple's iPhone 6 pre-order process got off to a rocky start. Customers who stayed up until midnight Pacific time on September 12th struggled to place orders, with Apple and wireless carriers' web sites and apps timing out or giving various errors. Those that were able to complete their orders and were given delivery dates of September 19th the lucky ones. As minutes ticked  by, Apple and its partners sold out of their pre-order inventory.
As the initial iPhone 6 delivery date of September 19th approached, some buyers received notifications from Apple of delays due to AT&T not being able to confirm upgrade eligibility. Apparently, Apple's online store was able to check upgrade eligibility at the time of order, but there is a secondary check before the iPhone 6 units ship out. Some Apple customers that ran into this issue saw their iPhone 6 delivery dates shift from September 19th to September 26-30. Adding to the frustration, Apple sent out these notifications less than a day before customers expected their iPhone 6s to be delivered.
The above email is regarding one of our iPhone 6 test review units that was ordered from Apple.com in the early hours of the pre-order process. We received a confirmation email noting that this unit would arrive on the 19th after placing the order. Apple sent the above email at approximately 4Pm on Thursday, September 18. Keep in mind that many iPhone 6 buyers made special arrangements to be home to receive delivery. Apple followed up late yesterday to inform us that this iPhone 6 unit would deliver on September 22.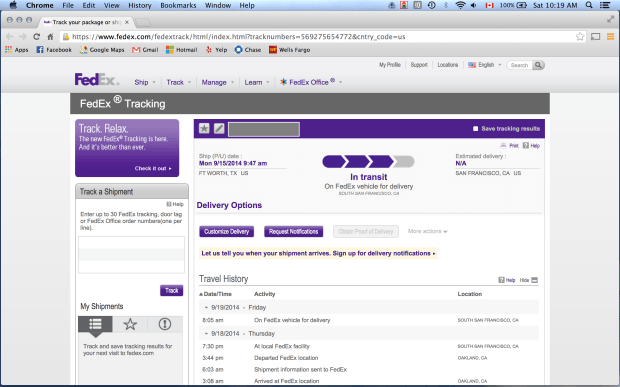 Some iPhone 6 buyers are reporting that FedEx and UPS just never showed up yesterday. They are frustrated because they either stayed home from work or made other special arrangements to make sure someone was home to receive the iPhone 6. Apple had promised deliveries by 8PM on September 19. Apparently FedEx and UPS dropped the ball and didn't have enough resources to hit that deadline. Below is an example of a FedEx tracking report from one reader who is still waiting for her iPhone 6 to be delivered. According to FedEx it is still out for delivery, but haven't actually promised that it will deliver today or given a deadline.
Are you still waiting for your iPhone 6 pre-order to show up? Let us know the details of your situation in the comments section below or on our Facebook page. 

As an Amazon Associate I earn from qualifying purchases.