Top 5 Phones to Consider Before the iPhone 6 Release [July, 2014]
Apple iPhone 6 release date rumors continue to point to a launch in September followed by a release in the same month. With the iPhone 6 launch likely just weeks away, it's important for consumers to start doing their homework and here, we take a look at five phones to consider ahead of Apple's brand new iPhone release.
In June, Apple took the stage and announced new products including its brand new iOS 8 update for iPhone and iPad. Apple introduced a number of new iOS 8 features, put the update into its beta program and then revealed that the iOS 8 release date would take place sometime this fall. It did not disclose a specific release date.
From past iOS releases, we know that Apple likes to release new iOS software alongside brand new iPhone hardware and with iPhone 6 rumors pointing to the fall, the company's hand appears to have been tipped ahead of time.
The iPhone 6 release date isn't set in stone but all signs are currently pointing to at least one iPhone 6 launch, and release, during the month of September. iPhone 6 rumors have pointed to an arrival on September 19th or September 25th though a specific date is far less certain than the company's iPhone release window.
As we've pointed out, there are some compelling reasons to wait for the iPhone 6. And while consumers can just sit back and wait for Apple to release its new iPhone, we suggest doing some homework ahead of the iPhone 6 release to ensure that it goes as smoothly as possible. In particular, we highly recommend checking out the iPhone 6's opposition as we get closer to launch day.
The iPhone 6 looks like it will almost certainly be able to compete against the biggest names in the business. From its larger display to its new design to an upgraded camera, iPhone 6 rumors peg the next iPhone as more than just an incremental upgrade. And while current devices probably won't exactly match the iPhone 6 spec sheet, there are some devices that will be able to keep pace, devices that we think need to be on your radar this month and in the weeks ahead.
Here, we take a look at the devices we think you need to weigh ahead of the iPhone 6's release. Some of you will probably walk out empty-handed, others may wind up with a brand new phone not called the iPhone 6.
LG G3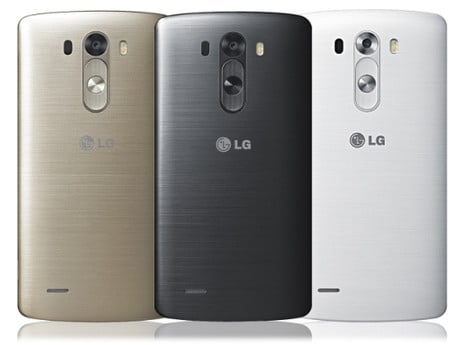 Earlier this month, the LG G3 arrived in the United States. And while it didn't receive the same fanfare as the HTC One M8 and Samsung Galaxy S5 did earlier this year, the LG G3 might just be better than the both of them.
LG's G3 is an impressive specimen and a device that we consider one of the best smartphones on the market. In our eyes, it might just be the best Android has to offer. That alone makes it worth checking out.
However, the fact that consumers can now get this device for $100 on-contract, or $100 less than the expected iPhone 6 price, makes it a device worth looking at this month. Even those who go into a store, take a look, and walk out empty handed will be doing themselves a service. This device will truly be one of the iPhone 6's top competitors.

This article may contain affiliate links. Click here for more details.