iPhone 6 Rumor Roundup: 9 Rumors & Details You Need to Read
The iPhone 6 price could jump $100 according to a new rumor and a leaked photo shows us how big a 4.7-inch iPhone 6 might actually be, which lets us look at an iPhone 5s vs iPhone 6 size comparison. These are just a few of the iPhone 6 rumors to arrive in April.
iPhone 6 rumors are flowing faster as we approach WWDC 2014 where Apple will likely show off iOS 8, the future of iPhone software. While we don't expect to see the new iPhone at the June 2nd event as the May through July window approaches we start to enter a period where leaks will come faster and if history is any indication when we will get our first look at an iPhone 6 design and rumors will start to firm up on features more than they already are.
iPhone 6 rumors in April continue to point to a fall release date, but the latest rumors start to point to an iPhone 6 release date that is staggered to handle issues with the larger 5.5-inch iPhone 6.
A new iPhone 6 report outlines numerous key details, from the man who predicted many iPhone 5s features well-ahead of the release. We also see hear about consumer demand for an iPhone 6 and help shoppers decide if thy should buy the iPhone 5s or wait for the new iPhone.
Here's a quick rundown of the latest iPhone 6 rumors, news, leaks and buying advice to get you caught up with what you can believe.
iPhone 6 Price Increase
Apple wants to charge more for the iPhone 6 according to a report on StreetInsider, which cites Peter Misek an analyst with Jeffries.
The report suggests Apple is negotiating a $100 price increase with carriers, but big players like Verizon, AT&T, Sprint and T-Mobile are resisting the price increase. The report suggests Apple and carriers may settle on a $50 price increase for the iPhone 6. Apple reportedly wants to charge a higher iPhone 6 price to make up for increased costs from a bigger display and other upgrades.
Misek discounts the Galaxy S5 from as a headline device, suggesting that carriers may see the iPhone 6 as the main device to move units this year. StreetInsider share's Misek's reasoning that carriers will cave to Apple demands,
"But we think this general lack of differentiation could be the reason why Apple may be able to get a price increase. Carriers realize that the iPhone 6 will likely be the only headline-worthy high-end phone launched this year and that they will lose subs if they do not offer it."
Apple currently sells the iPhone on all major U.S. carriers and it arrives on each carrier at the same time. AT&T enjoyed a period of exclusivity in the early iPhone days that helped the carrier grow subscribers. A report from October 2013 highlights the large percentage of sales that come from a new iPhone on all major U.S. carriers.
This is not the first time we've heard of an iPhone 6 price increase, but analysts disagree on whether or not Apple can pull off a price hike.
iPhone 6 Release Date Rumors
All of the iPhone 6 release date rumors continue to point to the fall, which means there is about six months left until you can buy a new iPhone.
The rumors are also starting to suggest Apple will need to opt for two iPhone 6 release dates in 2014, to accommodate the two iPhone 6 models that are rumored.
We look at what this could mean for an iPhone 6 announcement and for iPhone 6 release dates later this year, complete with the possibility of a larger iPhone 6 reveal alongside a new iPad Air with Touch ID.
EMSOne, Reuters, Ming-Chi Kuo and Steve Milunovich from UBS all point to a later iPhone 6 release date for a 5.5-inch model.
iPhone 6 Size Revealed?
This week two sources shared a photo of what may be an iPhone 6 mold. This alleged manufacturing tool is part of the design for a larger iPhone 6. Nowhereelse.fr shares a photo of this tool with an iPhone in place for reference, which allows the author to share potential iPhone 6 dimensions, which suggest the iPhone 6 size is 138mm x 64mm.
This would result in a taller and wider iPhone. It is possible that Apple will stretch the display out to a 4.7-inch size as shown in the illustration above. The image below shows what this would look like next to an iPhone 5s.
At this point it is tough to verify the authenticity of this photo and the initial report even suggests this could be for some form of box for an iPhone.
iPhone 6 Details Leak
The biggest iPhone 6 leak of April comes from Ming-Chi Kuo of KGI Securities, shared by MacRumors. in a long and detailed report Ming Chi-Kuo outlines the most pressing iPhone 6 questions. Kuo accurately predicted many of the iPhone 5s features, and while he is not 100% on rumors, he is one of the best sources.
iPhone 6 Screen Size and Resolution – 4.7- inch (1334 x 750) 5.5-inch (1920 x 1080)
iPhone 6 Release Dates – 4.7-inch in September, 5.5-inch in Holiday season
iPhone 6 Design – Power button on right, narrower bezels, larger iPhone 6 as two-hands needed
iPhone 6 Camera – No major Megapixel bump, but added image stability.
iPhone 6 Specs – A8, 1GB RAM, Touch ID, 6.5mm to 7mm thickness, NFC
Apple resisted adding NFC to the iPhone for several years, but it is gaining popularity with Android users who can pay for purchases with their phone.
iPhone 6 Could Deliver Better Sounding Phone Calls
A report from 9to5Mac suggests Apple is working to support VoLTE in iOS 8, which could bring VoLTE support to the iPhone 6 and iPhone 5s if carriers are ready for it. Check out our iOS 8 Rumor roundup for more.
With VoLTE the iPhone 6 could finally let Verizon iPhone users talk and use the internet at the same time, and because voice travels over LTE it could result in vastly better sounding phone calls for iPhone users.
Not all carriers and cell phone towers are ready, so this feature may not make the cut.
iPhone 6 Buying Advice
"Should I buy the iPhone 5s or wait for the iPhone 6?" is a question we get a lot, and the frequency will only increase as we move closer to the rumored iPhone 6 release date.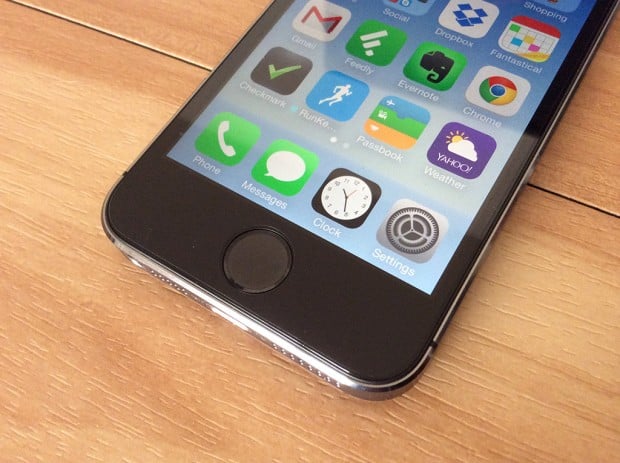 To help users decide if they need to wait for the new iPhone or if it is OK to buy the iPhone 5s, Gotta Be Mobile's Craig Lloyd runs down the rumored features and what the iPhone 5s can do right now.
Waiting for the iPhone 6 is a good idea if you can, but at the six month mark many users will simply pick up the iPhone 5s.
Consumers Demand Big iPhone 6 Upgrade
According to a survey from ChangeWave, published by Fortune, 40% of shoppers want an iPhone with a larger screen and a new version of iOS. The report also mentions gesture controls, but it isn't clear what that is.
This same report also highlighted the highest interest yet for a new Samsung phone, as consumers are ready and eager to purchase the Galaxy S5 with a 5.1-inch display.
iPhone 6 vs Galaxy S5 – What We Know Now
The iPhone 6 and the Galaxy S5 are at the top of many lists this year, and while there are no confirmed iPhone 6 details, the Galaxy S5 release arrived on Friday which sparked a comparison of what we know so far.
Shoppers thinking of buying a Galaxy S5 today, but possibly thinking of waiting for an iPhone 6 this fall should check out this comparison of what we know about the Galaxy S5 and how it compares to the latest iPhone 6 rumors.
Apple's iPhone 6 To Do List
The Apple vs Samsung court battle revealed a list of seven complaints from iPhone 5 owners back in 2012. Jay Yarrow shared the document on Twitter.
Longer battery life
Improve built-in Maps
Bigger screen
Unhappy with switch to lighting
Ability to customize the look and function of the phone
Improve Siri functionality
More durable/less fragile
Check out our detailed look at these potential iPhone 6 upgrades Apple has in mind, and how this compares with rumors.

As an Amazon Associate I earn from qualifying purchases.