iPhone 6 Rumors Heat Up as Spigen Cases Appear on Amazon
Not that you needed further proof that the iPhone 6 is coming, but several iPhone 6 cases from Spigen have appeared on Amazon, prepared to go on sale starting September 30.
A wealth of iPhone 6 cases from Spigen are listed on Amazon, but are not yet on sale. Plus, both 4.7-inch and 5.5-inch cases are available in a variety of styles and colors, including space gray, silver and gold, which is expected to be the same color array that Apple will use on the iPhone 6 after the success of the three color choices with the iPhone 5s.
The types of cases listed range from cheaper bumper cases all the way to heavy duty cases that will protect the iPhone 6 even in the most dire of accidental drops.
What's perhaps even more curiouser is that some of the cases are already marked down, suggesting that Spigen will be discounting its iPhone 6 cases at launch, but that's something we'll have to keep an eye on to see if it really happens. The cases are listed as going on sale September 30, which is around the time that the iPhone 6 is rumored to launch. Usually third-party cases launch on the day that the iPhone is released, but we find it hard to believe that Apple will wait until September 30 to launch the iPhone. The September 30 date listed could just be a placeholder and is subject to change.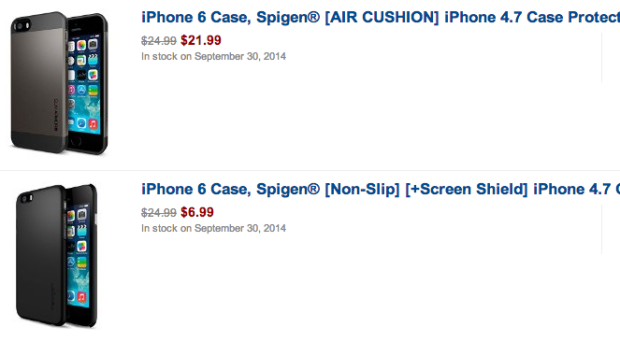 This isn't the first time that Spigen has revealed cases to smartphones that have yet to be released. The company unveiled a set of Nexus 5 cases before the device was even official and even let people buy them before Google launched the Nexus 5, allowing us to get a closer look at what the phone might've looked like before its unveiling.
These iPhone 6 cases, though, won't be available until the actual phone is launched, so that's partially a disappointment for those who want to get an early look at the iPhone 6, but we've seen so many renders, mockups and dummy models that it really doesn't matter anymore. In fact, these renders are probably the closest as to what the iPhone 6 will probably look like.
As for when we might see the iPhone 6 officially launch, it's been reported multiple times already that the device is expected to launch on September 19, which is a Friday. If you remember, the iPhone 5s also launched on a Friday last year, and Apple is very consistent on its release timeline every year for its product releases, so we wouldn't be surprised by a September 19 launch.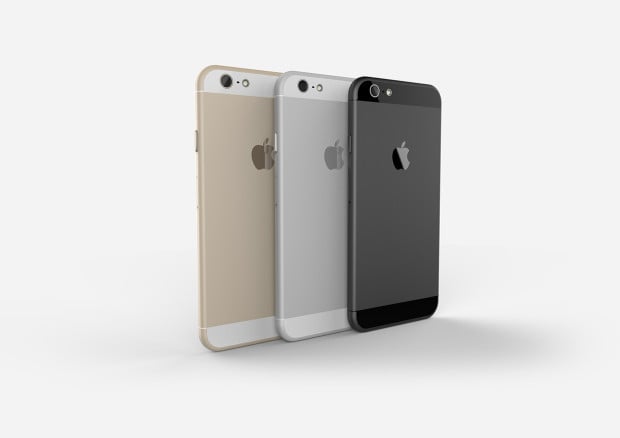 On top of the larger screen (which is rumored to come in 4.7-inch and 5.5-inch flavors), it's said that the iPhone 6 will also come with a higher resolution display, with 1704×960 being the agreed-upon resolution, which is a big step up from the iPhone 5s's 1136×640 screen and will even have a higher pixel density than past models.
Aside from a larger screen and new design, the iPhone 6 is expected to come with an all-new processor (most likely the Apple A8), possibly more RAM, a better camera, and an improved Touch ID fingerprint sensor. The hardware of Touch ID is expected to receive a bit of an overhaul and will be more durable than the first-generation Touch ID sensors.
As for storage options, it's said that Apple will change things up again and won't offer a 16GB model, making the 32GB version the entry-level iPhone 6, with 64GB as the middle tier and a new 128GB option as the highest storage option, although it's rumored that the 128GB flavor will only come to the 5.5-inch model, which makes a lot of sense.

This article may contain affiliate links. Click here for more details.