iPhone 6 Rumors Explode Ahead of Launch
Apple iPhone 6 rumors continue to firm up ahead of the company's confirmed September 9th launch event, an event that should serve as the iPhone 6 launch date.
The iPhone 6 launch date is all but confirmed for September 9th in Cupertino as Apple finally sent out media invites beckoning the media to an event in Cupertino on that day. All along iPhone 6 launch rumors have pointed to an arrival in the month of September and with the event landing in the usual iPhone launch window, consumers should expect to hear about the iPhone 6 specs, iPhone 6 release date and more in just a few short days.
Now that the iPhone 6 launch date is set in stone, we're starting to see big iPhone 6 leaks emerge as Apple makes final preparations for its September 9th event and its brand new iPhone release.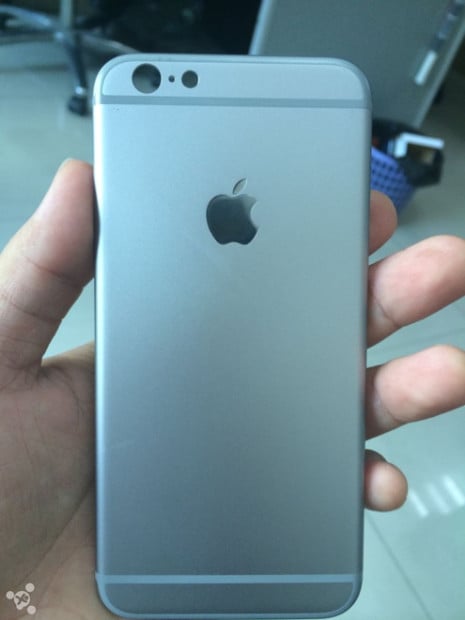 The first of these new iPhone 6 leaks comes from Chinese web forum Wei Feng where a user has seemingly posted photos of what appears to be a near final iPhone 6 rear shell. The rear shell matches up early iPhone 6 design rumors and it also seems to match another photo leak from French language site iPhonote, a photo leak that appears to show the iPhone 6's chassis.
These photos look similar to previous leaks and look like they pertain to the 4.7-inch version of the iPhone 6. Apple is rumored to be coming out with two versions of including a 5.5-inch model that's expected to compete against the Samsung Galaxy Note 4 among other top smartphones.
We also see a headphone jack, Lightning port, volume rockers, SIM tray, a relocated power button that's been the subject of rumors, and a microphone and we also see those familiar strips that run along the back of the device. Though, as AppleInsider points out, they are closer to the metal finish of the back shell which could indicate that this is a near final version of the iPhone 6's rear back plate.
These photos come on the heels of another potential iPhone 6 leak. iPhone 6 specs are said to include NFC (Near-Field Communication), something that would transform the iPhone into a mobile wallet. NFC has been a staple of Android smartphones for years though it has never appeared inside of an iPhone before.
Noted Apple blogger John Gruber has thrown more fuel on the fire and says that there is a very good chance that the iPhone 6 will come with NFC support on board. He claims that the feature will only be available inside of the new "iPhones" and that it will allow users to whip out their iPhone to pay for goods and services at brick and mortar stores.
He also claims that Apple's new wearable product, a product that's expected to debut alongside the iPhone 6 on September 9th, will come with NFC support as well. iWatch rumors have been swirling for years and it appears that Apple will finally make that announcement on September 9th. iWatch rumors are scarce though they point to a circular watch face that includes a modified version of iOS 8.
As for the iPhone 6, it's expected to deliver more than NFC and a pretty new face. In addition to the chip and the redesign, rumors suggest that it will come with higher-resolution displays, a new A8 processor, a brand new camera with image stabilization, tons of storage, and the company's iOS 8 software.
iPhone 6 release date rumors put the device's release inside the month of September with a release somewhere between September 17th and September 19th looking good at the moment. Apple is expected to confirm the iPhone 6 release date, and more, when it takes the stage in Cupertino on September 9th.

This article may contain affiliate links. Click here for more details.