New Photos Deliver Realistic Look at iPhone 6 Rumors
New photos deliver a gorgeous new look at the latest iPhone 6 rumors with a focus on the iPhone 6 design, a design that will supposedly include some significant changes from the design found on the current iPhone, the iPhone 5s.
Earlier today, Apple finally confirmed the iPhone 6 launch date, a date that's been swirling around for a couple of days now and a date that Gotta Be Mobile confirmed yesterday ahead of Apple's announcement. On September 9th, Apple is expected to announce the new iPhone 6 with a new iWatch launch in tow as well.
iPhone 6 rumors in recent weeks have centered around the iPhone 6 specs and iPhone 6 release date, two details that Apple will almost certainly detail at its September 9th launch event. In particular, iPhone 6 specs rumors have been rampant as we move closer to the device's release. And while we haven't seen the iPhone 6 itself emerge just yet, leaks and rumors have attempted to paint a picture for interested consumers.
The most beautiful canvas for iPhone 6 rumors comes from our friend and designer Martin Hajek. Hajek is well known for creating realistic looking renders that are based on real rumors. In this case, Hajek has created an extremely detailed look at the iPhone 6's rumored design, a design that looks like it will be made of metal and offer up an extremely thin frame.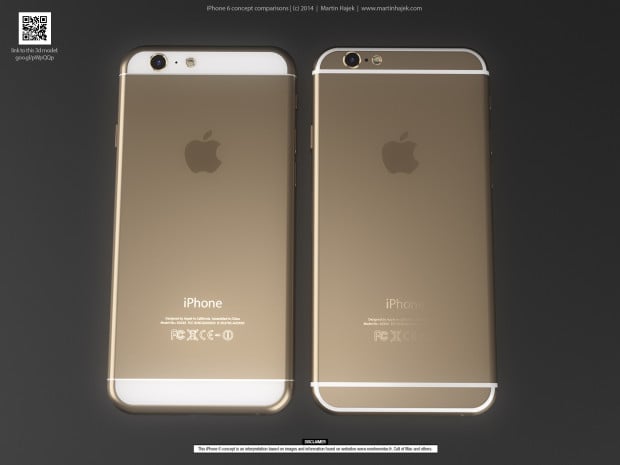 Hajek's latest iPhone 6 renders showcase the design that the iPhone 6 is expected to deliver in September. This iPhone 6 concept stands out with its attention to detail including its thin frame, curved edges, and its large display. Hajek's new iPhone 6 concept does add a nice looking twist to the rear of the iPhone 6's supposed shell.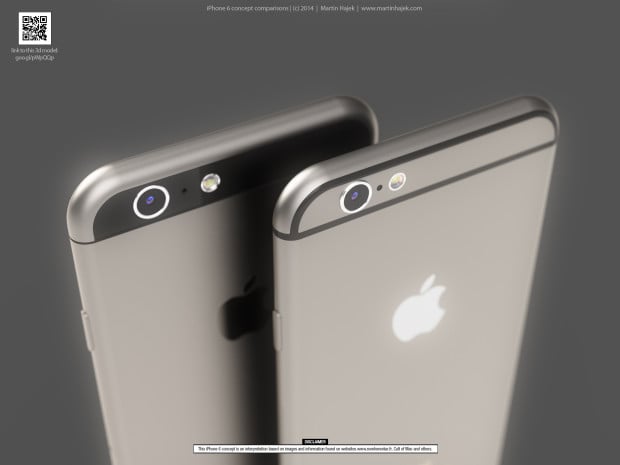 Instead of metal rear with a break like the HTC One M8's design, Hajek tacked on a new rear with glass, similar to the rear found on the iPhone 5 and iPhone 5s, Apple's current iPhone. It's a nice little touch though it's one that may not be on board the real iPhone 6 design. iPhone 6 design rumors point to straight metal rather than glass but that remains unconfirmed.
The real iPhone 6 will be announced on September 9th and there, we should see all of its specs confirmed. The new iPhone release is expected to feature 4.7-inch and 5.5-inch high-resolution displays that will be better for gaming, surfing the web, watching movies and TV shows, getting work done, and more.
In addition, it should bring a new camera sensor with image stabilization, a new design that features a thin frame and a lot more metal, a new A8 processor that could lead to improved battery life, iOS 8, Touch ID, and NFC.
The iPhone 6 release date is currently rumored for mid-September with a release between September 17th and September 19th emerging as the front runners for the iPhone 6 release date. Apple is known for releasing its iPhones just a few weeks after launch. It's also known for releasing new iPhones on the third Friday in September. September 19th fits the criteria perfectly though like the iPhone 6 itself, it remains unconfirmed.
Apple's iPhone 6 launch event could also deliver an unexpected surprise. New rumors indicate that Apple is indeed planning to launch a new wearable at its September 9th launch party though it's not clear what that wearable might be. Rumors all year have pointed to the arrival of an iWatch and it's possible that we'll see Apple announce something to compete with Android Wear and the various other smartwatches on the market.
iWatch is expected to feature a circular clock face with a modified version of iOS 8 on board. iWatch rumors have not been as rampant as iPhone 6 rumors which means that the device still could offer some surprises if and when it arrives.

This article may contain affiliate links. Click here for more details.