iPhone 6 Rumors Worth Believing
As we push towards the fall, we're starting to hear a lot about Apple's new iPhone release, a device that many believe will be called the iPhone 6. With consumers starting to get wrapped up with the rumored iPhone 6 release, we want to take a look at seven things we think we know about one of the most anticipated smartphones of the year.
Apple is well known for releasing a new iPhone every year. Since 2007, Apple has released a year upgrade to its iconic smartphone, pairing new hardware features with upgrades to its iOS operating system.
Last year, for the first time, Apple introduced two new iPhones dubbed iPhone 5s and iPhone 5c. These two devices pushed the iPhone 5 and iPhone 4 out of Apple's iPhone lineup and joined the iPhone 4s, Apple's iPhone from 2011. Like its predecessors, the iPhone 5s is considered one of the top smartphones on the market and a smartphone that most shoppers should take a look at before buying their next device.
Apple releases an iPhone just once per year. It has also has an extremely good track record. So, it should not come as too much of a surprise to learn that this year's iPhone, a device many are calling the iPhone 6, has consumers excited. (And some not so much.)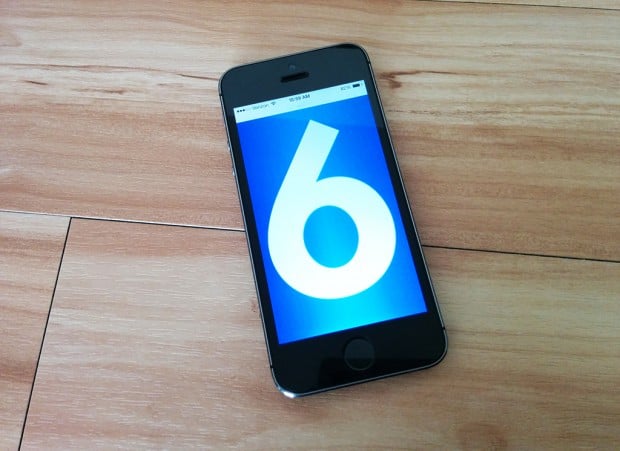 iPhone 6 rumors have been flying around for a number of weeks now, detailing everything from its screen size to its processor to its camera to its release date. As time has gone on, we've started to see a number of iPhone 6 rumors firm up. That is to say, they've been rumored time and time again.
iPhone 6 Rumor Breakdown
With that in mind, we want to breakdown these iPhone 6 rumors and take a look at what we think we know so far about Apple's upcoming replacement for the iPhone 5s and perhaps, the iPhone 5c as well.
iPhone 6 Launch
iPhone 6 launch rumors have been swirling around for months and they all point to an arrival in the fall. Literally, every single iPhone 6 launch rumor points to an arrival in the fall. Don't believe us? Here is a full run down of all of the iPhone 6 rumors that are pointing to a launch a few months down the road:
When there is a ton of smoke, there is generally a lot of fire and given that every single iPhone 6 launch rumor is pointing to an arrival in and around September, makes us feel confident that the iPhone 6 launch event will take place sometime in September.
If that wasn't enough proof remember that Apple's iOS 8 update, the update that's currently in the beta program, will be released in the fall. Apple always releases its iOS updates with new iPhone hardware and thus, we're pretty sure that the iPhone 6 event will take place in just a few short weeks.
iPhone 6 Release
In what should come as a surprise to no one, iPhone 6 release date rumors also center around the fall and more specifically, around September. Apple is well known for releasing its iPhone two weeks or so after the launch event so the timing makes a lot of sense.
In fact, it made so much sense to one German carrier that it began telling customers that the new iPhone release date is planned for September 19th. This is very specific and is likely a carrier prediction rather than an Apple timeline shared with a front-line customer service representative, but it is still a potential date.
It's a potential date because the iPhone 6 launch is rumored for September and because Apple's last two flagship iPhones, the iPhone 5s and iPhone 5, were released on the third Friday of the month. Regardless of the month, Apple loves to release its products on Friday.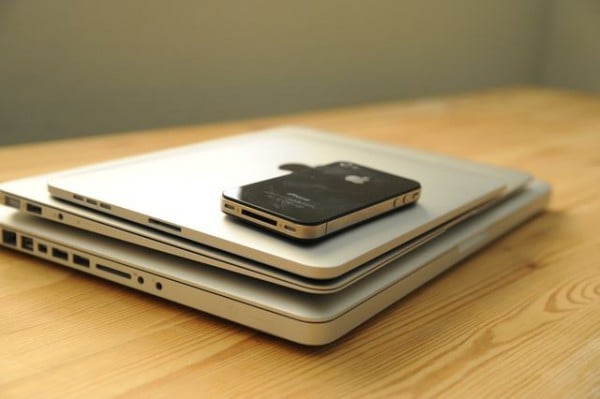 There is also another big reason why September makes sense. Apple's fiscal year ends on September 27, 2014 and typically we see the new iPhone release arrive early enough to count opening weekend sales on the final quarter of their fiscal year. Apple sold more than 5 million iPhone 5 units in 2012 and combined new iPhone sales topped 9 million with the iPhone 5s and iPhone 5c in 2013.
Rumors suggest that we could see a staggered iPhone 6 release with a larger model arriving later in the year, perhaps in October. Here's how those rumors breakdown:
We're not as confident about these rumors, given that Apple released the iPhone 5s and iPhone 5c side-by-side, but again it's hard to argue with the volume of rumors. At the very worst, expect one iPhone 6 in September.
Display
Like the launch date rumors, iPhone 6 display rumors have been persistent. And over time, they have firmed up around two very specific display sizes: A 4.7-inch iPhone 6 and a 5.5-inch iPhone 6.
These screen sizes would obviously be a vast departure from the 4-inch iPhone 5s and the 3.5-inch iPhone 4s but there are a few points that we should bring up. One, it's clear that this move is a direct challenge to Google's Android platform. Part of the success of recent Android smartphones is due to their massive, high-resolution displays.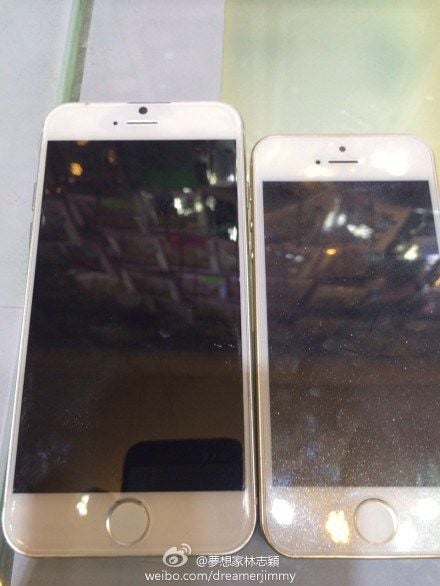 Phones are now so much more than just phones. People use them to play games, watch movies, browse the web, do college course work, and get work done on-the-go. A larger display makes all of those things easier. And that's what brings us to point number two.
Android manufacturers like Motorola have shown consumers that devices with big screens don't have to be monstrosities like the Samsung Galaxy Note 3. The Moto X, which sports a 4.7-inch, is actually comparable in size to the 4-inch iPhone 5s. Thin bezels, button placement and other little nuances helped to free up the space to keep the device compact.
Technology is at the point where Apple can tack on the larger display and a ton of upgrades and still keep the iPhone's size manageable and that's why we're buying into these iPhone 6 display rumors.
Oh and virtually every rumor, every analyst, and every leak points to an increase in size. Heck, even Apple itself is hinting at a big change to the size of the iPhone 6's screen. The iPhone 6 will almost certainly come with a larger display with better resolution.
Design
Every two years, Apple revamps the iPhone's design. We saw the iPhone 4 take a massive leap from the iPhone 3GS and we saw the iPhone 5 take a not so massive leap from the design found on the iPhone 4s. So, based on Apple's history, it's safe to assume that the company will offer some kind of redesign with the iPhone 6. And fortunately, rumors point to exactly that.
iPhone 6 design rumors have been among the most frequent iPhone 6 leaks and they point to some significant changes to the overall look and feel of Apple's smartphone. Rumors continue to point to a thin frame, perhaps as thin as 7mm, and they also point to the use of sapphire on the front to protect the display.
We've also seen an absurd amount of leaks hint at rounded corners, a power button that has shifted to the side, and a volume rocker that is flat and oval shaped. Think iPod touch fifth-generation. Rumors also point to Touch ID in the home button and given that Touch ID will play a role in iOS 8, it's hard to imagine that Apple will revert back to the original home button.
Given the rumors and given Apple's history, we're buying into a redesigned iPhone 6. And while it may not look exactly like the device portrayed in rumors, there is a very good chance that these leaks are onto something. It's hard to imagine a scenario where every single iPhone 6 design leak was dead wrong.
Camera
While it may not change the design or display every single year, Apple always swaps out the iPhone's camera for something better. It may not have joined the megapixel race started by companies like Samsung but the improvements that Apple makes typically keep the iPhone camera amongst the best on the market.
Surprise, iPhone 6 rumors point to an upgrade. For the iPhone 6, the well-sourced Ming Chi Kuo believes Apple will keep the iPhone 6 camera at 8MP and the aperture at f2.2. He does, however, predict an upgrade of optical image stabilization to help deliver better looking photos. This lines up with other rumors.
Sun Chang Xu of ESM-China believes Apple will keep the iPhone 6 camera at 8MP as well, but that the company plans to make the pixels larger, similar to the HTC One. Larger pixels can capture more light and produce better looking photos. Xu predicts Apple will use electronic image stabilization instead of optical. Electrical stabilization would allow for a thinner iPhone.
Apple's track record and the track record of the people leaking these supposed iPhone 6 camera features tell most of the story. The rest of the story says that Apple can't keep the exact same sensor inside the iPhone 6. It needs something to market against the competition, competition that annually upgrades its sensors as well.
Software & Processor
The iPhone 6 will almost certainly come with iOS 8 on board. iOS 8 rumors suggest that the software will bring VoLTE support along with it later this year. Given that U.S. carriers have started pushing their VoLTE networks live, we think there is a good chance that the iPhone 6 will come usher in a new era.
An era of better sounding phone calls and an era where Verizon iPhone users can finally talk and surf at the same time. That's right, Verizon iPhone users cannot talk on the phone and browse the web at the same time due to limitations. We believe that will end later this year with the arrival of VoLTE and the iPhone 6.
9t05Mac's Mark Gurman and Kuo believe that the iPhone 6 will come with a brand new 64-bit A8 processor. This is worth believing for a couple of reasons. The iPhone is coming with a larger, higher resolution display, it's going to need to come with some battery optimizations to offset the drain caused by high-res displays.
A larger battery would help but given that we think that the iPhone 6 will be thin, there's a chance that the battery size won't change too much. A more efficient processor is another way for Apple to ensure high quality performance. As Gurman puts it:
With a larger, higher-resolution display combined with the next iPhone's far thinner body, the A8 chip will be essential to maintaining the seamless, fluid iPhone experience that Apple prides itself on. Besides a new processor, it is likely that the new iPhone will include improved LTE components for voice-over-LTE support and various other new hardware elements.
These are two iPhone 6 rumors worth believing.