iPhone 6 Screen Protectors: Which Type Is Best?
If you're worried about scratching the display on your iPhone 6, then getting a screen protector is a great way to prevent that from happening. Here are the different types of screen protectors that you can buy, and which one is best for you.
Screen protectors come in all different styles, but most of them are usually made out of a thin and flexible plastic film that stick onto your device's screen using some kind of adhesive or just with static electricity.
More expensive screen protectors are made out of tempered glass, which are essentially just really thin sheets of glass that you stick on top of your iPhone's display. This makes it so that you'll still get that natural glass feel to the device, but it does add a bit of thickness, since glass screen protectors are a bit thicker than plastic ones.
Read: How to Put a Screen Protector on Your iPhone 6
There are also more rugged screen protectors from companies like Zagg who specialize in military-grade screen protection. These screen protectors are made out of an incredible material that's insanely scratch proof. They're overkill most of the time and are pretty expensive, but they can be good for users who work in construction that would have an iPhone exposed to extreme conditions most of the time.
Of course, these are just a few of the different types of screen protectors to choose from. Here's an overview of some of the most popular types of iPhone 6 screen protectors and which one is best for your needs.
Plastic Screen Protectors
Plastic screen protectors are the most popular option and usually the cheapest, and they're probably the best option for those that just need basic protection.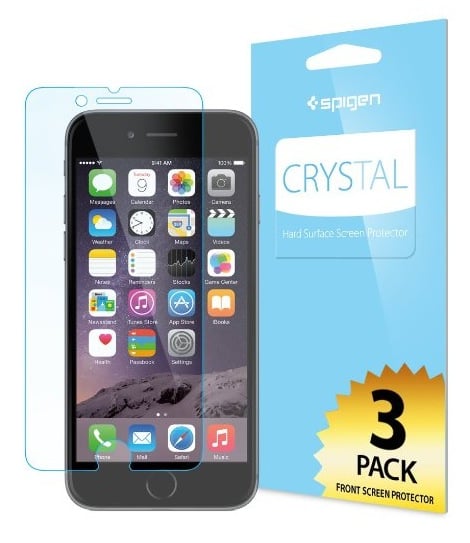 If you're just a casual user and want some piece of mind when it comes to your iPhone 6's screen, getting a cheap plastic screen protector is a good way to go. You can usually get a multi-pack for less than $10, or you can try scouring eBay to get a pack of them for less a couple of dollars from China.
And don't worry about the quality between different brands of plastic screen protectors. Pretty much all of them are identical and use the same materials. However, name brands like Spigen and Anker include extra goodies to get the job done, including a microfiber cloth, a squeegee, and dust removal tape.
Be aware, though, that most iPhone 6 screen protectors don't offer complete screen protection since the iPhone 6 has curved glass on the edges, but they will cover the entire screen and protect it from scratches.
Glass Screen Protectors
As mentioned earlier, if you want a screen protector but don't want to lose that signature feel of the glass display on the iPhone 6, then getting a tempered glass screen protector would be perfect for you.
Tempered glass screen protectors come in thin sheets of glass that you simply affix atop your iPhone's screen. They're a bit thicker than regular plastic screen protectors, so the Home button may feel more recessed than usual, but that's something you can easily get used to.
One thing to be aware of is that tempered glass is a bit more expensive than other screen protector options, simply because it's glass and not just plastic, but it's highly worth it if you want to keep that premium glass feel when using your iPhone 6. Another thing is that since the edges of the iPhone 6 display curve down, tempered glass protectors won't cover the entire screen, and it's especially noticeable since glass screen protectors are noticeably thicker than plastic ones. This may not be a big deal to some users, but it could be annoying.
InvisibleShield Screen Protector
While there are plenty of imitators out on the market, none stand a chance to the real thing. Zagg makes the ever-popular InvisibleShield screen protector, which is made of a unique military-grade material that essentially makes your iPhone's screen completely scratch proof.
There are plenty of videos you can find on YouTube that test the capabilities of Zagg's InvisibleShield, where scratching your display with keys doesn't do a single thing.
The texture of the screen protector is a little odd and it's definitely different than what a plastic or glass screen protector feels like, so it takes a bit of getting used to, but if you find yourself always scratching the displays on your devices, Zagg's InvisibleShield may be the best option for you, especially if you expose your iPhone 6 to hazardous conditions, like a construction site for example.
The InvisibleShield for the iPhone 6 comes in three different models: Original, HDX, and Glass, with the last two offering more clarity, but a higher price tag.
Privacy Screen Protector
If you're wanting to kill two birds with one stone and keep other people from looking over your shoulder while you play on your iPhone 6, then getting a privacy screen protector would be the way to go.
Essentially, these screen protectors come with a special film that blacks out the screen when you rotate the display to a different angle. For example, have you ever watched TV and noticed that the more you move off to the side, the more washed out the picture becomes? Privacy screen protectors act the same way, only instead of the picture getting washed out, it goes completely black so that you can't see it at all. This is to prevent people sitting next to you from seeing what you're doing on your iPhone 6.
It's important to note, though, that privacy screen protectors darken the screen a bit and can mess with the color reproduction, so be aware of that if you're thinking about getting one.
There are numerous brands that make privacy screen protectors, and they're a bit more expensive than regular plastic screen protectors, so be sure to look at reviews and pick a brand that's in your price range.

This article may contain affiliate links. Click here for more details.