iPhone 6 Specs: 7 Things to Know
The iPhone 6 specs are still up in the air, but consumers that want to know what new iPhone specs will power the features that Apple shows off on stage later this year can learn about what to expect in the iPhone 6 specs department.
Although attention turned to new iPhone features over the last several years, many users still want to know what the iPhone 6 specs are going to be. A steady flow of iPhone rumors outline potential iPhone 6 specs that we could see this fall.
Some new iPhone 6 specs like a larger screen are almost a given, while others like NFC remain something we hear in the run up to every new iPhone release.
Keep in mind these iPhone 6 specs are still only rumors, and we won't know exactly what Apple plans to offer until later this year. The most reliable reports suggest Apple plans a new iPhone event for mid-September, where the company could announce one or two new iPhones and unveil new iOS 8 features that only come on the iPhone 6.
These exclusive iPhone 6 features may tie into the potential iPhone 6 specs listed below. These are the most important iPhone 6 specs that shoppers should know about now.
iPhone 6 Screen Sizes
You won't even need to look at an iPhone 6 specs sheet to see the biggest change for 2014. According to every reliable report Apple plans to introduce a bigger iPhone 6 screen this year, and many reliable reports claim this could come in the form of two iPhone 6 screen sizes.
iPhone 6 – 4.7-inch –  1704 x 960 resolution, 416 ppi
iPhone 6 – 5.5-inch – 1704 x 960 resolution, 355 ppi
This is a very important part of the new iPhone 6 specs, since users interact with the iPhone display every time they turn the screen on. A boost in size would put the 4.7-inch model in competition with the HTC One M8 and the Galaxy S5. The 5.5-inch iPhone 6 would better compete with the LG G3, Galaxy Note 4 and Galaxy Note 3.
Other potential iPhone 6 specs that relate to the display include a Sapphire cover that may make it nearly impossible to scratch and a new touch sensitive layer that works even when water is on the display or a user wears gloves.
New iPhone Processor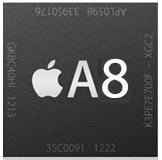 Expect to see a new iPhone processor listed on the iPhone 6 specs that Apple announces in September. Reports indicate Apple is working with a new partner who is working to deliver better iPhone battery life with new processors. The biggest gains in battery life may not arrive for the iPhone 6, but here's what iPhone 6 processor rumors tell us.
Apple A8 Processor 2GHz Dual Core
Possibility for Apple M8 co-processor for fitness tracking
1GB of RAM according to Ming-Chi Kuo
It is possible that Apple will pair the iPhone 6 processor with faster RAM as outlined in an analyst report from earlier this year.
iPhone 6 Battery
We can't talk about iPhone 6 specs without touching on the possibility of a larger iPhone 6 battery. Reports indicate Apple plans to boost the iPhone 6 batter size up to 20% from the iPhone 5s. This is an important bump due to the larger screen.
4.7-inch iPhone 6 battery – 1,800 – 1900 mAh
5.5-inch iPhone 6 battery  – 2,500 mAh
Early reports pointed to the iPhone 6 battery specs listed above, which is a 14-20% boost from the iPhone 5s to the iPhone 6 with a 4.7-inch display.
Another report shows what could be an iPhone 6 battery with 1,810 mAh capacity. This represents a 16% boost from the iPhone 5s, but with a larger screen Apple may need to rely on the iPhone 6 processor and iOS 8 to use this more efficiently if they plan to offer better iPhone battery life in 2014.
iPhone 6 Storage
Will the iPhone 6 finally offer 128GB of storage? That's not clear yet. There are some reports that Apple plans to offer a 128GB iPhone 6, but at this point we can't say for sure.
One reason this seems less likely is the new reliance on iCloud Drive and the new iCloud Photo Library in iOS 8. With iCloud Photo Library users can store all of their photos online and access them anywhere they have an Internet connection. This removes the need to store 40GB of photos on the iPhone 6 locally.
iCloud Drive offers access to your documents in the cloud as well, and even messages will clean up automatically to save storage space. It appears iOS 8 may negate the need for a 128GB iPhone 6 or any type of Micro SD card slot that some users still hold out hope for.
Touch ID
After a big screen, Touch ID is another item that is almost certain to appear on the iPhone 6 specs list this fall. Apple delivered this feature on the iPhone 5s, allowing users to buy apps and unlock the iPhone with a fingerprint, and is adding features in iOS 8.
iOS 8 lets users sign in to third-party apps using the fingerprint sensor and we already see demos showing how this can connect to a password manager to login to services.
The iPhone 6 mock ups also include a Touch ID style home button, and rumors agree on Touch ID for the iPhone 6.
NFC Possible
NFC is another potential iPhone 6 spec that may unlock an awesome feature for users. Ming-Chi Kuo believes we will see NFC on the iPhone 6 and a recent logic board leak also points to NFC as an iPhone 6 spec.
With NFC the iPhone could be a mobile wallet that lets users make payments in a physical store by tapping the iPhone on a credit card terminal.
We hear about NFC in the new iPhone every year, so this remains a possibility, but not one to get too excited about just yet.
iPhone 6 Camera Details Still Blurry
Rumors point to a better iPhone 6 camera in 2014, but it isn't clear what Apple plans to do. Rumors currently focus on several upgrade options including;
8MP sensor with bigger pixels
13MP sensor from Sony
Optical Image Stabilization or Electronic Image Stabilization.
As an iPhone 6 release date approaches we could see more information on this possible iPhone 6 spec come into focus.

As an Amazon Associate I earn from qualifying purchases.